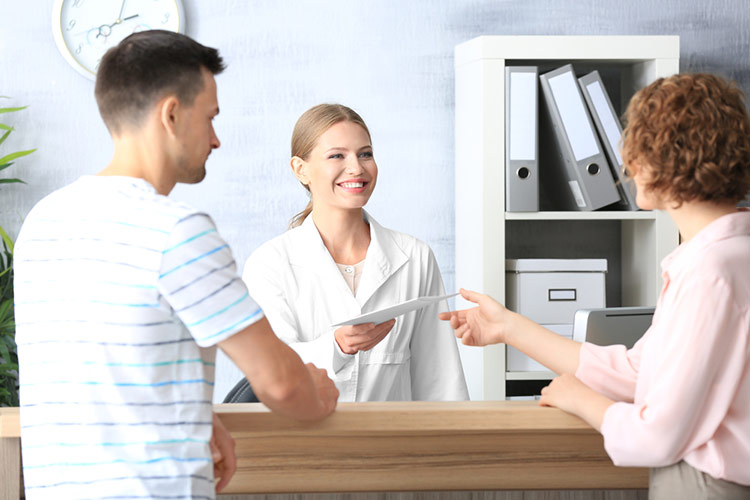 A medical receptionist must possess a welcoming personality, great organizational skills, and specialized knowledge. Many are also responsible for managing the offices they work in. In short, it's a rather steady career option with fixed working hours and low-stress levels.
Sounds good? Well, let's get down to the job application then. Assuming that you already had your resume done, let's work together on your cover letter. Below are several actionable tips, followed by a medical receptionist cover letter sample.
Write a Catchy Opening
Let's be honest. The first sentence of your cover letter is the most important. Write a generic cover letter opening, and the hiring manager will barely scan the rest of it. Write something catchy and interesting to help ensure that you get their attention.
For example, you could lead off with an accomplishment. Try something like this:
'In my three years as a receptionist at Northridge community medical clinic, patient satisfaction rates have increased by 75%.'
Share Your Specialized Knowledge
As a medical receptionist, you will be asked to perform a variety of tasks, different from those of a general receptionist. In addition to greeting patients and setting appointments, you may also:
Keep track of and order office supplies.
Enter patient data into the computer system.
Communicate with pharmacy reps and other vendors.
Schedule cleaning and other services.
If you are familiar with HIPAA and other regulations, indicate this in your cover letter as well.
Finally, medical specialists often prefer to hire staff with experience in that particular niche. For example, a medical receptionist with pediatric experience is more likely to be hired at a children's medical clinic. Likewise, somewhat with great medical scribing skills would be very welcome in a larger practice.
ADVICE FROM OUR EXPERT
---
Medical receptionists are responsible for handling a high volume of confidential information. Make sure you include examples of how you have handled sensitive information or adhered to strict confidential protocols.

Mary Ford
Executive Career Coach
Remember That You Are Part of a Caring Team
Every patient has to be treated with compassion and care, the minute they enter a medical facility. Though you won't be treating or diagnosing patients, your capacity for empathy is absolutely essential. So is your ability to be patient, especially when dealing with customers who are sick, and not necessarily in the best mood.
Use your cover letter to share an example or two of going above and beyond to help a visitor. This is also a good place to show that you understand the patient care goals of your potential employers. For example:
'I recently had the opportunity to help an elderly gentleman sort out a billing issue. It was very rewarding to see his relief when we were able to fix his insurance issue.'
Show You Have The Qualifications and Some Extras
Read the job listing, and make a list of keywords to use in your cover letter. This will show the hiring manager that you have the skills they need. Then, fill in the gaps with other information that could give you an advantage over other applicants.
For example, do you have a degree or certificate in Medical Office Management? Are you familiar with medical terminology or insurance codes to handle medical billing tasks? Do you have experience assisting customers with Medicare or Tricare?
Here's an example of how this can be framed:
'I noticed that your job listing requires two years of experience. I actually have three years of experience. In addition to that, I have also worked as a medical transcriptionist and recently obtained my certificate of completion in Medical Office Administration from Greene County Community College'.
Cover Letter Example for a Medical Receptionist in .docx Format
Here is a sample letter was written for an experienced medical receptionist.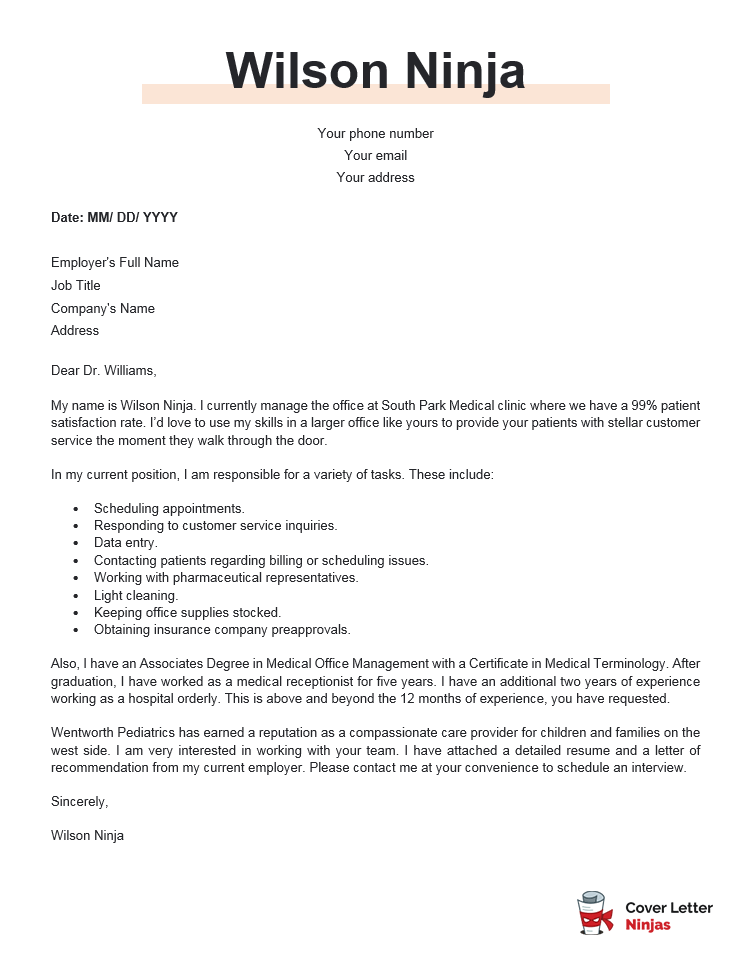 Download example (Word version)
Medical Receptionist Cover Letter Sample – Text Format
Dear Dr. Williams,
My name is Wilson Ninja. I currently manage the office at South Park Medical clinic where we have a 99% patient satisfaction rate. I'd love to use my skills in a larger office like yours to provide your patients with stellar customer service the moment they walk through the door.
In my current position, I am responsible for a variety of tasks. These include:
Scheduling appointments.
Responding to customer service inquiries.
Data entry.
Contacting patients regarding billing or scheduling issues.
Working with pharmaceutical representatives.
Light cleaning.
Keeping office supplies stocked.
Obtaining insurance company preapprovals.
Also, I have an Associates Degree in Medical Office Management with a Certificate in Medical Terminology. After graduation, I have worked as a medical receptionist for five years. I have an additional two years of experience working as a hospital orderly. This is above and beyond the 12 months of experience, you have requested.
Wentworth Pediatrics has earned a reputation as a compassionate care provider for children and families on the west side. I am very interested in working with your team. I have attached a detailed resume and a letter of recommendation from my current employer. Please contact me at your convenience to schedule an interview.
Sincerely,
Wilson Ninja
One Last Tip: Add A Short P.S.
This is a quick, attention-grabbing way to add a bit of information about your experience, or what you can do for your employer. It might look something like this:
'P.S. I noticed that your office plans to accept Medicaid in the next 12 months. I have several years of experience working with Medicaid patients, and understand all the relevant regulations.'