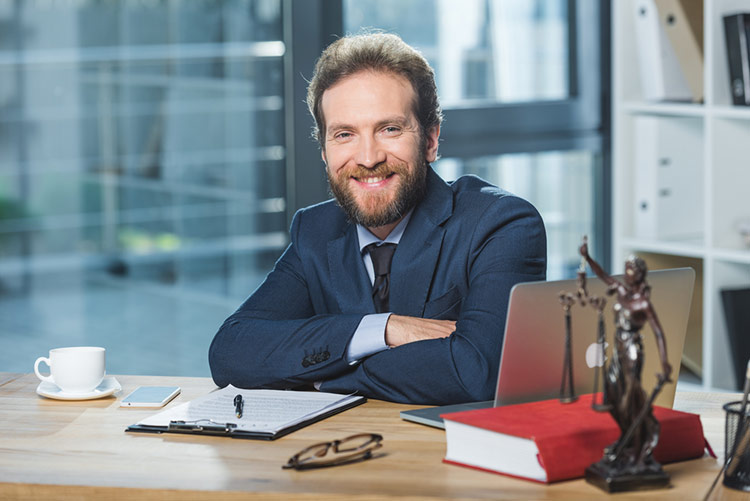 Many students finish law school and opt to go directly into practice. This usually means working as an entry-level or associate attorney. There's nothing wrong with this path.
However, you've set your sights a bit higher. You might have future political aspirations, or you plan to work for a prestigious law firm on the types of cases that make history. You've decided to pursue a judicial clerkship.
The application process for a judicial clerkship can be quite complex. Only the most stellar law graduates tend to land these jobs. We've written this article to help you with a small, but important part of this process. Here, we've provided you with several actionable tips and insights for writing a cover letter for your judicial clerkship applications. Be sure to read to the end, and check out our judicial clerkship cover letter sample.
Start With a Very Clear and Detailed Introduction
This cover letter will be a bit different from most others. Keep in mind that judges appreciate brevity, and want the pertinent information upfront. Forget about a catchy opening. Instead, make certain you've included the following information:
Your name
The law school you attended/graduated from
The date of your graduation
The clerkship term that interests you
The first paragraph is also a good place to note your connections to the area. For example:
"I have resided in the Park City area since starting law school at Park City university, and intend to make it my home for the near future."
Finally, pay close attention to the judge's request for applications. If they've requested any specific information, include that in your first paragraph or so.
ADVICE FROM OUR EXPERT
---
Many judicial clerkships require specific information to be submitted with application materials. Read through the posting carefully to make sure you included all requested documents and you correctly list the required documents in the final paragraph of the cover letter.

Debi Douma-Herren
Senior Certified HR Professional & Career Coach
Explain Why You've Selected This Particular Judge
If this job is your number one choice, you should say so in your letter. Of course, there's no need to mention it if it isn't. In addition to that, give a brief explanation as to why you want to work under this judge.
The key here is to avoid fawning. Instead, be simple, direct, and brief. You might write,
"I'm interested in learning more about the work you do preside over the Emery County mental health court program."
Now Address Why The Judge Should Select You
Next, consider things from the judge's point of view. They will invest a significant amount of time and effort mentoring you. Most will want to know that their efforts will payout in the future. It is a positive reflection on a judge's reputation when a former clerk of theirs goes on to do something great in the practice of law.
Make a list of the work you've done so far. Think about legal research, anything you've had published in legal journals, internships, cases you've assisted with, etc. Then, choose between one and three items that will be most relevant to the judge.
Include What You Would Like to Learn And Improve
In some ways, this is a long-term, paid internship that involves quite a bit of mentoring by a judge and their staff. It is expected that you will have skills you want to develop, and competencies that you want to improve. You should mention these in your letter so that the judge has a better idea of what their role is going to be.
Judicial Clerkship Cover Letter Example in .docx Format
Here is a brief example to illustrate some tips listed above.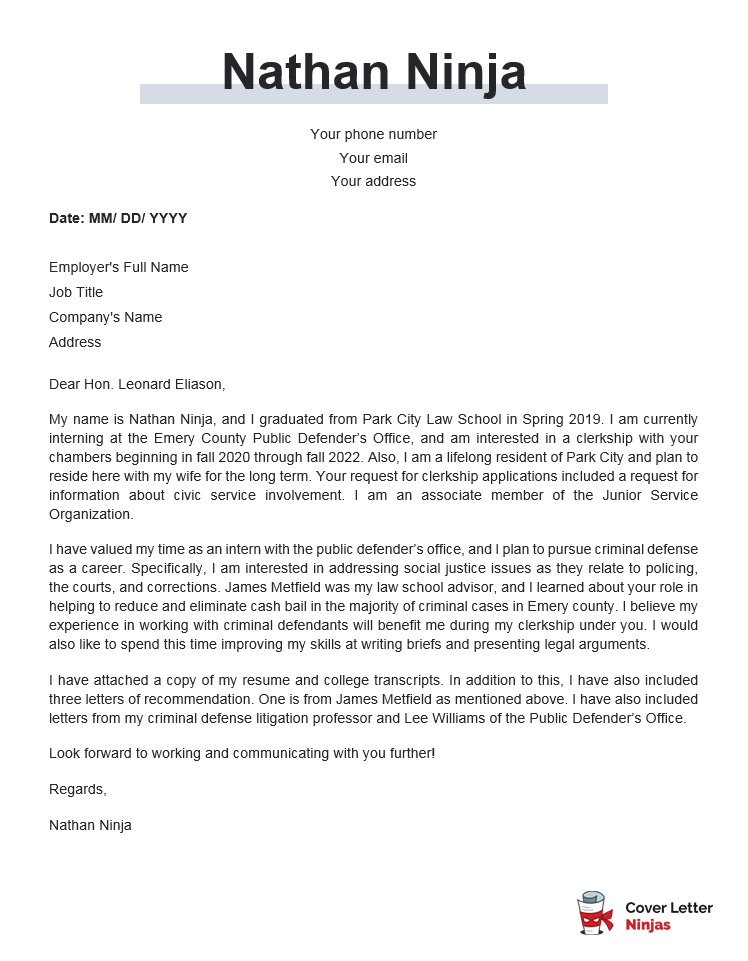 Download example (Word version)
A Brief Sample Clerkship Cover Letter – Text Format
Dear Hon. Leonard Eliason,
My name is Nathan Ninja, and I graduated from Park City Law School in Spring 2019. I am currently interning at the Emery County Public Defender's Office, and am interested in a clerkship with your chambers beginning in fall 2020 through fall 2022. Also, I am a lifelong resident of Park City and plan to reside here with my wife for the long term. Your request for clerkship applications included a request for information about civic service involvement. I am an associate member of the Junior Service Organization.
I have valued my time as an intern with the public defender's office, and I plan to pursue criminal defense as a career. Specifically, I am interested in addressing social justice issues as they relate to policing, the courts, and corrections. James Metfield was my law school advisor, and I learned about your role in helping to reduce and eliminate cash bail in the majority of criminal cases in Emery county. I believe my experience in working with criminal defendants will benefit me during my clerkship under you. I would also like to spend this time improving my skills at writing briefs and presenting legal arguments.
I have attached a copy of my resume and college transcripts. In addition to this, I have also included three letters of recommendation. One is from James Metfield as mentioned above. I have also included letters from my criminal defense litigation professor and Lee Williams of the Public Defender's Office.
Look forward to working and communicating with you further!
Regards,
Nathan Ninja
Final Tip: Highlight Relevant Work
If you've written a noteworthy legal brief or a journal submission that you believe could have a positive impact, include that. Simply make note that it is attached to your application packet. While your resume will provide the most insights about your legal work experience, it's always worth to additionally reiterate some of them within your cover letter.