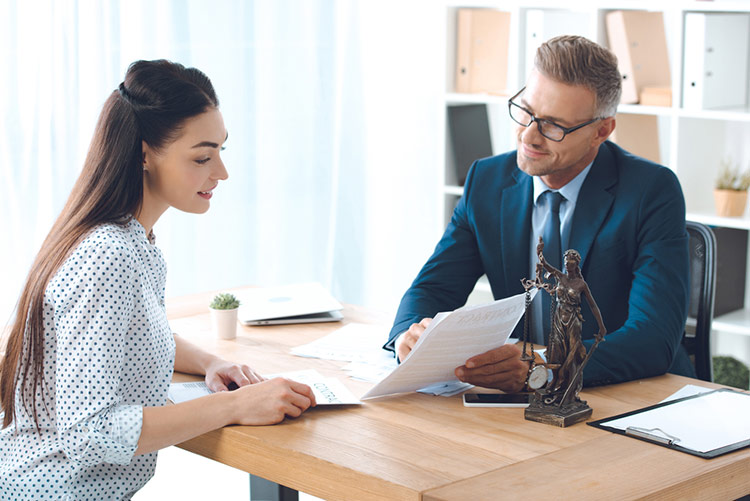 What is your dream legal career? Are you a recent graduate who wants to work in constitutional law, or as a human rights attorney? Do you envision yourself winning big cases in corporate law? Maybe you have your eye on the prosecuting attorney's office and a potential future in politics. Whatever the case may be, you will need a resume and cover letter that truly makes a connection with the legal offices to which you apply.
A great cover letter introduces you to your potential employer. It communicates that you are the perfect candidate, and it creates the lead you need to move on to the job interview. In order to help you get started, here are some great tips for you to follow with a sample attorney cover letter for reference.
Answer The Most Important Question First
That is: why are you the perfect fit for this specific job. Explain this in detail. Don't just focus on the position though. You should also focus on the law firm itself. Highlight your skills, your personality, and your passions. What are your career goals? Show how they align with the organization. The HRs always favor applicants they believe will stick around for the long haul.
Talk About Your Accomplishments, But Make Sure They Align With The Requirements of The Job
Your accomplishments are the most important part of your value as an attorney. Whether it's brokering deals outside of the courtroom, litigation, or proving a deep understanding of your specific legal specialty, potential employers want to know what you have done. More importantly, they want to know what you can do for them.
Prove you are an experienced, intelligent attorney by briefly parlaying your successes. But, do so in a way that ensures the reader you will be an asset to their law firm. Granted, this can be difficult if you are entering a new area of law, or if you are just beginning as a junior attorney.
Still, in these cases, you can focus on specific things you have done that would make you a good fit for the new position. For example, if you are moving from business law to criminal defense, you can focus on how you ensured that small business owners were always treated fairly by large corporations. That would communicate your willingness to stand up for the least fortunate.
ADVICE FROM OUR EXPERT
---
When creating cover letters in the legal field, keep your writing professional and succinct. Likely you bring to the table many anecdotes of success. However, remember that the proof is often in the metrics. Leverage key performance metrics whenever possible to give the reader greater context to your performance.

Claire Webber
Career Consultant, CPCC, CPRW
Leave No Doubt by Quantifying Everything
Anecdotes are interesting, but you need true proof to show that you are a strong performer and a perfect fit for the job. That means bringing out the numbers as you work to describe what you have done. Avoid generalities, and be specific. Don't say that you won most of your cases. Say that you received a favorable ruling in 95% of the cases you took to trial.
Keep it Brief
Have you ever been criticized by a judge or colleague for being too verbose? It's not uncommon. Lawyers tend to be great at verbal and written communications. That's wonderful, but this is a time when brevity will work in your favor.
Keep your letter to a single page, and about three paragraphs long. Avoid repeating points that you have already mentioned in your resume. Finally, avoid a lot of long sentences, big words, and needlessly complex legalese. You'll impress other attorneys least of all with that approach.
Close With a Strong Sentiment
Your final paragraph should begin by simply thanking the reader for taking the time to read your letter and the attached resume. Add a couple of statements summarizing your interest. Then, close out with a strong statement that presumes you are going to make it to the interview stage. This confidence is the kind of closing that will earn attention and respect.
Attorney Cover Letter Sample in .docx Format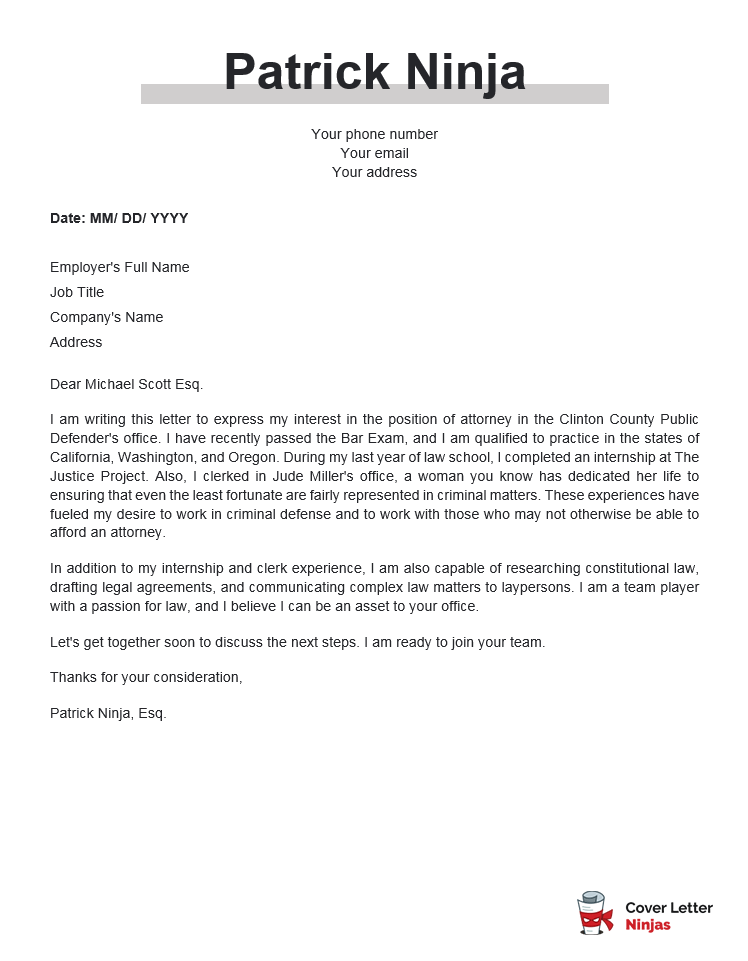 Download example (Word version)
Attorney Cover Letter Example – Text Format
Dear Michael Scott Esq.
I am writing this letter to express my interest in the position of attorney in the Clinton County Public Defender's office. I have recently passed the Bar Exam, and I am qualified to practice in the states of California, Washington, and Oregon. During my last year of law school, I completed an internship at The Justice Project. Also, I clerked in Jude Miller's office, a woman you know has dedicated her life to ensuring that even the least fortunate are fairly represented in criminal matters. These experiences have fueled my desire to work in criminal defense and to work with those who may not otherwise be able to afford an attorney.
In addition to my internship and clerk experience, I am also capable of researching constitutional law, drafting legal agreements, and communicating complex law matters to laypersons. I am a team player with a passion for law, and I believe I can be an asset to your office.
Let's get together soon to discuss the next steps. I am ready to join your team.
Thanks for your consideration,
Patrick Ninja, Esq.
Final Thoughts: Don't Go Rogue!
Pay close attention to any instructions provided to you about submitting your job application. Enclose all the documents in the right format, re-check contact details for your references and re-read the original job posting to ensure that you've hit all the marks.
More Recommended Cover Letter Examples