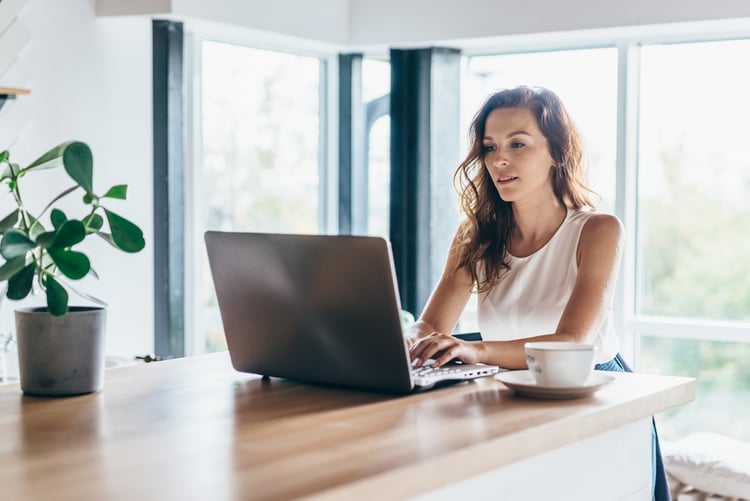 If you are writing a grant proposal, composing the proposal itself will take most of your time and effort. That is as it should be. However, you shouldn't write off the importance of the accompanying cover letter altogether either. This is an important document that serves as an introduction and contributes to the overall quality and persuasion of your grant application.
We assume your cause is worthwhile and that you have already slayed most of your proposal writing. So here we are focusing on your cover letter for the grant proposal. Keep reading for a great sample letter, then we have some great tips for composing your own.
Grant Proposal Cover Letter Sample in .docx Format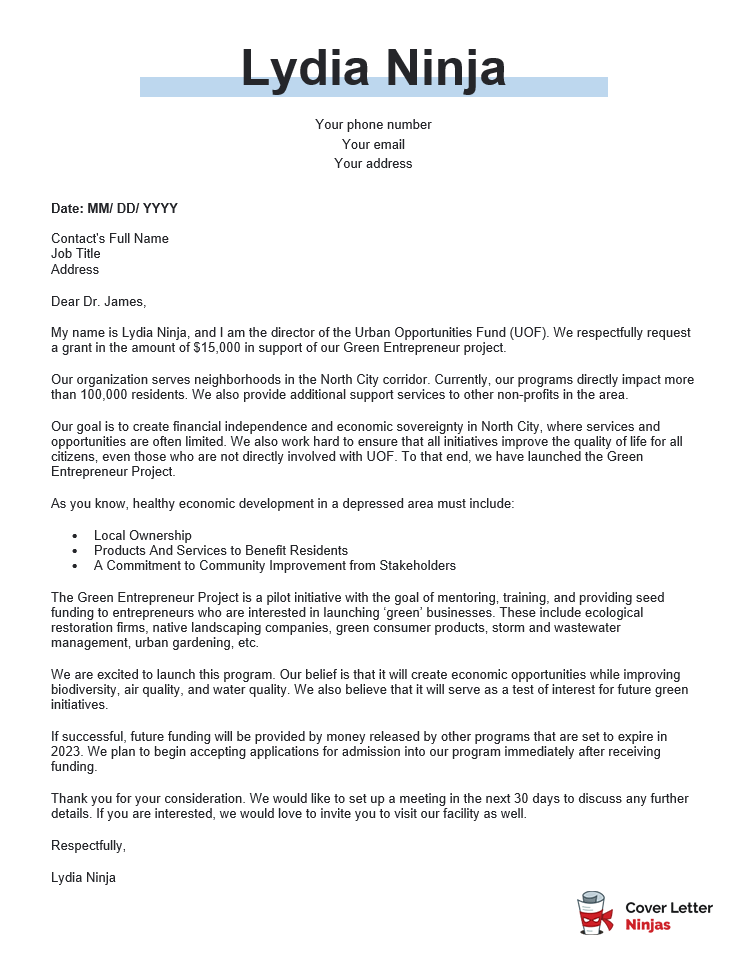 Download example (Word version)
Cover Letter Example For Grant Proposal – Text Format
Dear Dr. James,
My name is Lydia Ninja, and I am the director of the Urban Opportunities Fund (UOF). We respectfully request a grant in the amount of $15,000 in support of our Green Entrepreneur project.
Our organization serves neighborhoods in the North City corridor. Currently, our programs directly impact more than 100,000 residents. We also provide additional support services to other non-profits in the area.
Our goal is to create financial independence and economic sovereignty in North City, where services and opportunities are often limited. We also work hard to ensure that all initiatives improve the quality of life for all citizens, even those who are not directly involved with UOF. To that end, we have launched the Green Entrepreneur Project.
As you know, healthy economic development in a depressed area must include:
Local Ownership
Products And Services to Benefit Residents
A Commitment to Community Improvement From Stakeholders
The Green Entrepreneur Project is a pilot initiative with the goal of mentoring, training, and providing seed funding to entrepreneurs who are interested in launching 'green' businesses. These include ecological restoration firms, native landscaping companies, green consumer products, storm and wastewater management, urban gardening, etc.
We are excited to launch this program. Our belief is that it will create economic opportunities while improving biodiversity, air quality, and water quality. We also believe that it will serve as a test of interest for future green initiatives.
If successful, future funding will be provided by money released by other programs that are set to expire in 2023. We plan to begin accepting applications for admission into our program immediately after receiving funding.
Thank you for your consideration. We would like to set up a meeting in the next 30 days to discuss any further details. If you are interested, we would love to invite you to visit our facility as well.
Respectfully,
Lydia Ninja
Grant Proposal Cover Letter Tips
Now, check out some great tips to help you pitch your organization and get funding for your research initiative.
Verify That You Need a Cover Letter
As a general rule, applications for federal grants don't require cover letters. If that's the case, you should skip this step. You won't improve your chances by filling one. Thus, it is best to only include the required documents. For state, local, or corporate grants, review the application requirements. Then, follow those to the letter.
Your Cover Letter Will Probably be Long
There's a lot of information to include in your cover letter. You are introducing your organization, providing details about your project, and giving a basic explanation of how the funding will be used. You don't need to go into every detail. That's what the proposal is for. However, you shouldn't expect the letter to be less than three paragraphs, either.
Our advice, skip the short cover letter format and go for a slightly longer letter — up to two pages is alright in this case.
Show Who You Serve
Corporations and government agencies both want to be assured that their funds serve a diverse demographic and that services are offered to those who truly need it. Because of this, your letter should include a description of the community you plan to cater to during your project.
ADVICE FROM OUR EXPERT
---
The number one tip I can recommend when writing a cover letter for a grant proposal is to state your solid understanding of the grant funder and the goals. Then summarize how the proposal would meet the requirements without repeating information from the additional proposal materials.

Debi Douma-Herren
Senior Certified HR Professional & Career Coach
Be Specific
In the opening of your letter, be sure to include your full name, the formal name of your organization, the amount of money you are seeking, and the initiative you want to be funded. Next, detail what your project will specifically do, and the benefits the community served will gain.
Don't Be Redundant
Even though your cover letter requires a lot of details, it should be entirely its own document. Remember that you are essentially summarizing your request, and introducing your organization. You won't help make your case by simply repeating the points in your proposal or reciting your entire academic career. Keep in mind that this is your opportunity to make an emotional connection between your project, and the group that could help you with funding it. 
Final Tip: Professionalism is Key
Your proposal letter must be easy to read, attractive, and professional. The folks who read these, and determine if your package will make it for further consideration, are often quite critical. Thus, make sure you get everything right!
Choose a great cover letter template, make sure your writing is flawless, and have a friend read over it for clarity and sincerity. Then, you should be ready to submit your proposal.