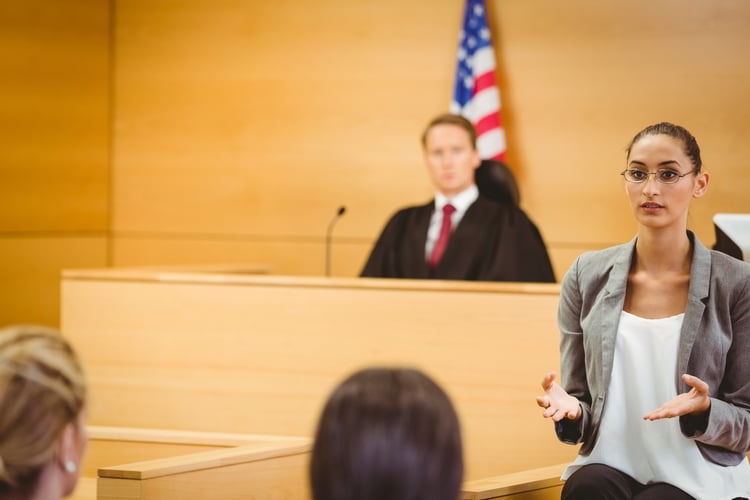 Every person accused of a crime is entitled to a defense. Money should never be a factor in that. That's why you are on your way to becoming a public defender. You have the skills and qualifications you need. What's left is landing a good job. You can take the first step by composing a great cover letter. We've got some great tips for doing that and an impressive public defender cover letter sample.
Use a Compelling Opening Sentence
Too many public defender cover letters have the same opening: "My name is___________. I recently graduated from law school and passed the bar. I am interested in joining the ______________ County Public Defender's Office."
There's nothing remotely compelling about this. It doesn't speak to your passions about ensuring that indigent people receive a rigorous defense in court or your passion for equal justice for all. Remember that people go into the legal field for a reason. It isn't money. So, use your opening to share why becoming a public defender is so appealing to you. 
Here's an example:
"When I was 20 years old, I learned that 90% of the people in prison for non-violent offenses had been impacted by poverty. I decided to become a public defender to right this injustice in some small way. That's why I'm interested in the position of Assistant Public Defender."
List Your Top Five Qualifications
You have to do more than pass the bar exam to become a great public defender. You have to spend years of rigorous study to acquire the needed skillsets. But don't rush to list up all your attorney experience within the cover letter. Curate just the most relevant bits.
ADVICE FROM OUR EXPERT
---
When applying to jobs in the legal field, focus on articulating your credentials, background, and skills pertaining to the position. Just as a client wants to be represented by an experienced professional, a hiring manager will seek applicants with relevant academic backgrounds. Use your cover letter to share your personal and professional motivation, emphasizing why it makes you the best fit for the role.

Claire Webber
Career Consultant, CPCC, CPRW
Instead, focus on highlighting between three and five of your top qualifications. You can use a bulleted list to make them stand out:
Writing and interpreting legal documents
Interviewing witnesses
Client advocacy
Conducting legal analysis
Preparing and filing legal pleadings and other documents
Don't forget to give some insights into how you've gained those skills. Obviously, if you are an experienced defender, your job history speaks for itself. If not, mention internships, law school projects, volunteer work, or judicial clerkship positions that allowed you to develop your qualifications.
Answer The Question 'Why Here?'
There is no shortage of public defender offices. Most of them desperately need help too. Nevertheless, if you give the impression you're applying at random to your potential workplace, they may not consider you.
Why? Because good employers know that people without a strong purpose quickly become disengaged at work or struggle to "fit" with the established teams or the community served. Hence, show that you know what you are signing up for in your letter.
The simplest way to do so is by explaining what about their office has attracted you. Consider something like this:
"I have lived in Davis County since I was a child. As a teenager and adult, I have been actively involved in community activism to help fight the impacts of abusive policing and poverty. Now, I want to continue this work as a public defender at your office."
Consider using this as part of your closing paragraph. It will help you segue into a request for a future meeting.
Public Defender Cover Letter Sample in .docx Format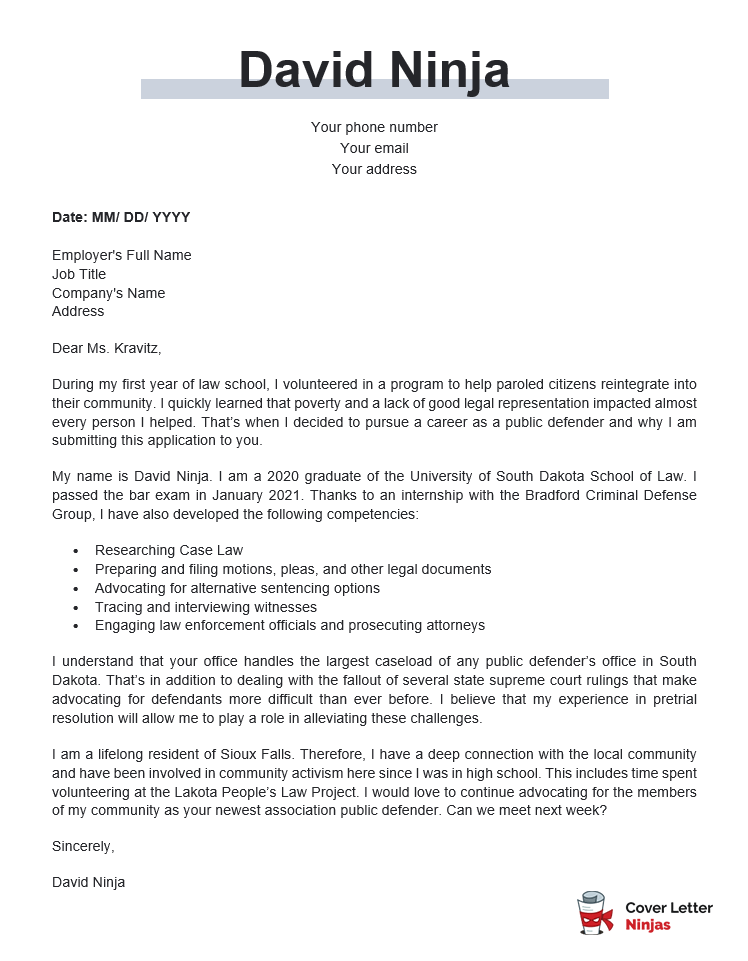 Download example (Word version)
Public Defender Cover Letter Example – Text Format
Dear Ms. Kravitz,
During my first year of law school, I volunteered in a program to help paroled citizens reintegrate into their community. I quickly learned that poverty and a lack of good legal representation impacted almost every person I helped. That's when I decided to pursue a career as a public defender and why I am submitting this application to you.
My name is David Ninja. I am a 2020 graduate of the University of South Dakota School of Law. I passed the bar exam in January 2021. Thanks to an internship with the Bradford Criminal Defense Group, I have also developed the following competencies:
Researching Case Law
Preparing and filing motions, pleas, and other legal documents
Advocating for alternative sentencing options
Tracing and interviewing witnesses
Engaging law enforcement officials and prosecuting attorneys
I understand that your office handles the largest caseload of any public defender's office in South Dakota. That's in addition to dealing with the fallout of several state supreme court rulings that make advocating for defendants more difficult than ever before. I believe that my experience in pretrial resolution will allow me to play a role in alleviating these challenges.
I am a lifelong resident of Sioux Falls. Therefore, I have a deep connection with the local community and have been involved in community activism here since I was in high school. This includes time spent volunteering at the Lakota People's Law Project. I would love to continue advocating for the members of my community as your newest association public defender. Can we meet next week?
Sincerely,
David Ninja
Final Tip: Don't Forget to Focus on The Needs of Your Employer
Of course, you want a career with upward mobility, opportunities to develop your skills as a lawyer, and a challenging caseload. However, your potential employer needs an attorney who can understand the uphill battles they face every day and help them run a successful office. Identify a challenge they are facing and address that in your cover letter. Doing so can help you with some extra consideration points for sure!