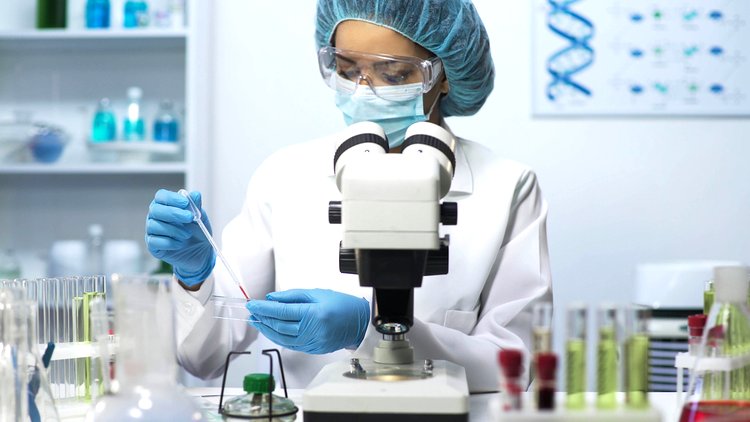 You graduated among the top in your class and already spent a couple of years in the workforce. While you enjoy the work, it has become a bit boring – the same type of lab work and the same tests day after day.
You want to do something that will provide some diversity and a chance for career growth. But you aren't prepared for any type of supervisory position yet, but you want to go somewhere that could offer that in the future. In short, you need a larger setting where more complex lab work is done and where you can demonstrate some leadership skills you know you have.
Just like that, your job search begins. You already have a great resume. But now you need to write up several customized cover letters to set you apart from the competition. Check our tips for writing those A+ letters, followed by a medical technologist cover letter sample.
Your Opening Should Command Immediate Attention
This is no time to be boring, with the typical opening that everyone else uses – "Please consider me an applicant for your medical technologist position" – or some variation. Instead, think of a time in which you took initiative. Or tell a quick story about what led you to become a medical technologist. For example, you may go with something like this: 
"In my teens, I was fixed on improving my problematic skin. I tried mixing different creams and lotions to get rid of some pimples and one day just ended with a light chemical burn on my cheek. This 'experiment' prompted me to learn more about chemical compounds and product formulations. And I'm now applying my 3+ years of experience in developing exceptionally gentle, yet effective custom creams". 
Highlight a Unique Accomplishment or Two
Look over the past two years of your work. Are there any unique experiences or accomplishments that you haven't brought up on your resume? Jot a few of these down, think about them for a while, and pick one that might show initiative, leadership, or greater responsibility. If you have experience that demonstrated good problem-solving, critical thinking, or analysis skills, this would be a good time to mention it.
ADVICE FROM OUR EXPERT
---
Roles in this industry require strong attention to detail to be successful in utilizing complex equipment and producing accurate results. Use your cover letter to offer insight as to your capacity and the organizational processes you've implemented that demonstrate the success you'd bring to the team.

Claire Webber
Career Consultant, CPCC, CPRW
Quantify Any Results if Possible
This may not be something you have thought about, but you should now. In your work, have you streamlined any processes? Has something improved because of your diligence or initiative? Perhaps during your tenure of two years, there has not been one incident of mishandling of any biohazard. That's a rare accomplishment and should be mentioned.
Keep the Focus on Employer Needs
Look carefully at the job description and analyze the needs this employer has. Browse through 'must-have' requirements and 'nice-to-haves'. For your position, they may range from anything like that ASCP certification to attention to detail, to multitasking, to communication skills, and research and analysis abilities. Your cover letter should address as many of these as possible. And if you can use some of the same terminologies, any applicant screening software should capture these and send you on through.
On the other hand, do not make blanket statements about your goals. Avoid saying things like: "Your opening is exciting because it will take me further toward reaching my career goal as a lab supervisor." Most employers don't want to learn about your career aspirations at this point. They want to understand what value you can bring to his lab.
Cover Letter Sample for Medical Technologist in .docx Format
Here is an example cover letter that you can review to see how all of these tips can be translated into a great piece of writing.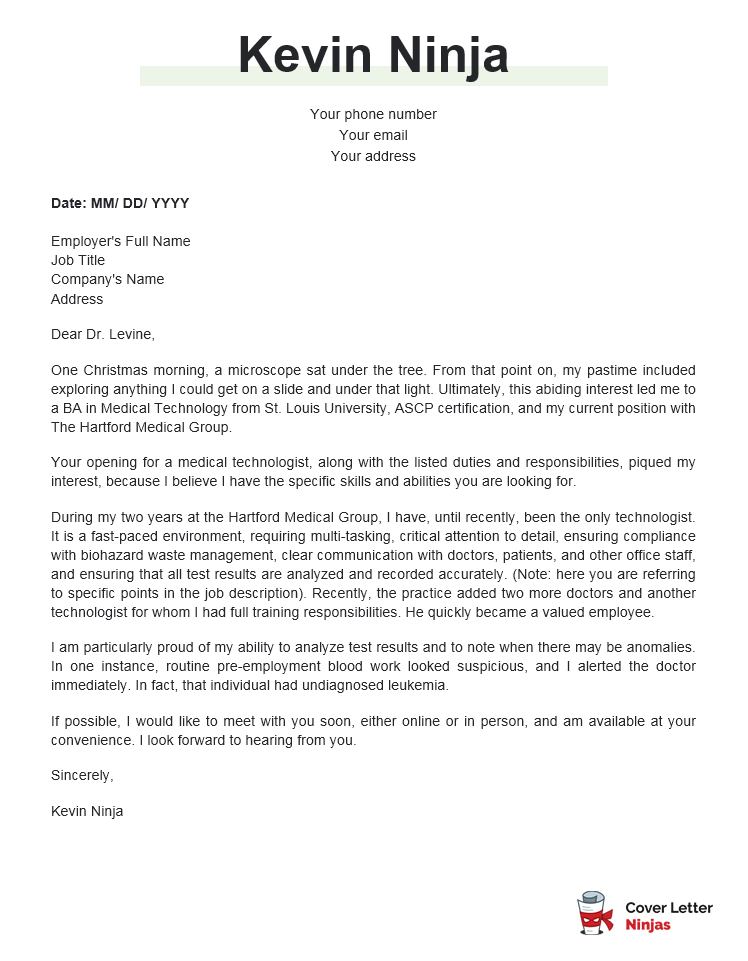 Medical Technologist Cover Letter Example – Text Format
Dear Dr. Levine,
One Christmas morning, a microscope sat under the tree. From that point on, my pastime included exploring anything I could get on a slide and under that light. Ultimately, this abiding interest led me to a BA in Medical Technology from St. Louis University, ASCP certification, and my current position with The Hartford Medical Group.
Your opening for a medical technologist, along with the listed duties and responsibilities, piqued my interest, because I believe I have the specific skills and abilities you are looking for.
During my two years at the Hartford Medical Group, I have, until recently, been the only technologist. It is a fast-paced environment, requiring multi-tasking, critical attention to detail, ensuring compliance with biohazard waste management, clear communication with doctors, patients, and other office staff, and ensuring that all test results are analyzed and recorded accurately. (Note: here you are referring to specific points in the job description). Recently, the practice added two more doctors and another technologist for whom I had full training responsibilities. He quickly became a valued employee.
I am particularly proud of my ability to analyze test results and to note when there may be anomalies. In one instance, routine pre-employment blood work looked suspicious, and I alerted the doctor immediately. In fact, that individual had undiagnosed leukemia.
If possible, I would like to meet with you soon, either online or in person, and am available at your convenience. I look forward to hearing from you.
Sincerely,
Kevin Ninja
Final Tip: There's No Need to Exaggerate
Resist the temptation to embellish your skills and experience both on your resume and in your cover letter. Instead, focus on being honest and forthright, Then, choose your most marketable skills to emphasize and build your narrative around them!

And if you are struggling with the writing part, browse even more tips and cover letter examples on our website!