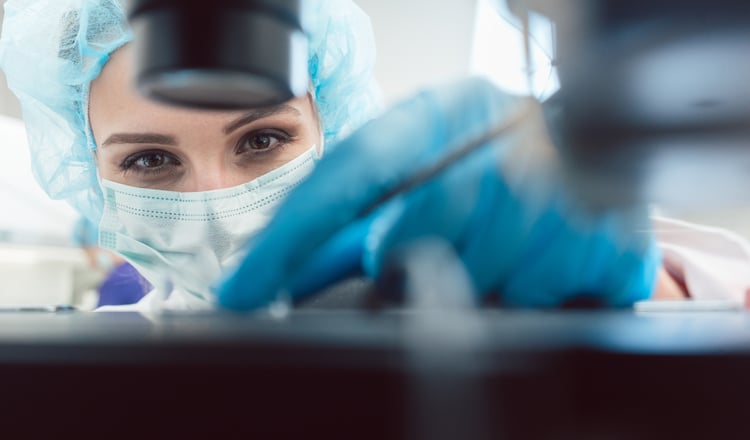 To work as a lab technician, you need an understanding of laboratory processes and procedures, excellent math skills, and top-notch attention to detail among other qualities. In addition to having the required hard skills, you should also be an effective communicator and team player.
Overall, this is a rewarding job that generally pays quite well, and often provides the opportunity to do interesting research work. So if you have the above qualities, you are up a good career path! However, it's you who'll have to pave the way to success by picking good jobs.
Thus, a great resume and cover letter for a lab technician are must-haves. In this post, we tackle the latter. Check out the sample cover letter first, followed by tips for writing, formatting, and using your letter to connect with the hiring manager.
Cover Letter Sample For Lab Technician in .docx Format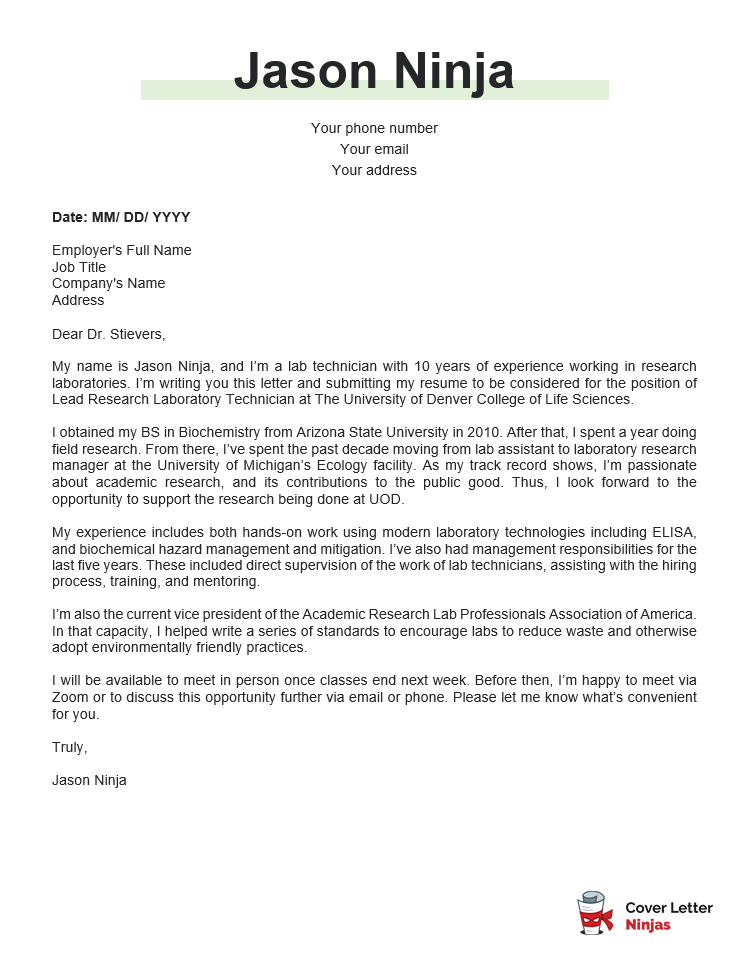 Download example (Word version)
Lab Technician Cover Letter Example – Text Format
Dear Dr. Stievers,
My name is Jason Ninja, and I'm a lab technician with 10 years of experience working in research laboratories. I'm writing you this letter and submitting my resume to be considered for the position of Lead Research Laboratory Technician at The University of Denver College of Life Sciences.
I obtained my BS in Biochemistry from Arizona State University in 2010. After that, I spent a year doing field research. From there, I've spent the past decade moving from lab assistant to laboratory research manager at the University of Michigan's Ecology facility. As my track record shows, I'm passionate about academic research, and its contributions to the public good. Thus, I look forward to the opportunity to support the research being done at UOD.
My experience includes both hands-on work using modern laboratory technologies including ELISA, and biochemical hazard management and mitigation. I've also had management responsibilities for the last five years. These included direct supervision of the work of lab technicians, assisting with the hiring process, training, and mentoring.
I'm also the current vice president of the Academic Research Lab Professionals Association of America. In that capacity, I helped write a series of standards to encourage labs to reduce waste and otherwise adopt environmentally friendly practices.
I will be available to meet in person once classes end next week. Before then, I'm happy to meet via Zoom or to discuss this opportunity further via email or phone. Please let me know what's convenient for you.
Truly,
Jason Ninja
Lab Technician Cover Letter Writing Tips
Alright, the example was inspiring, right? But how do you write something similar? We've got the tips!
Specify The Type of Lab Work You Do
Lab technicians work a wide range of labs doing a variety of jobs. One person might specialize in biotech and process samples for doctors, hospitals, insurance companies, and employers. Another will work in an academic research lab analyzing, categorizing, and ensuring the safety of samples collected during field research. Some technicians do largely hands-on work, others have the responsibility of management similar to research assistants.
For that reason, make your professional experience clear from the get-go. Stating it early in your cover letter will assure the hiring manager that you are likely to be a good fit.
Connect Your Experience to Their Needs
Your cover letter should demonstrate how you can apply the skills and experience in your day-to-day work. But in a way that clearly illustrates the "what's in it for us" to the reader. You can first do this by carefully reading the job listing. Consider how your skills align with the requirements of the position. Then mention one or two of the job functions you are particularly good at, alongside with possible benefits the employer will get from your expertise.
ADVICE FROM OUR EXPERT
---
It's important to highlight your relevant experience, academic background, and any credentials that prepare you to excel within lab or science-based environments. As you will likely be responsible for lab procedures, processes, and documentation in your role as Lab Technician, consider using your cover letter to share an example of how you conducted a successfully project in the past.

Claire Webber
Career Consultant, CPCC, CPRW
Cover Lab Competencies
It's always helpful to briefly mention your lab skills, understanding of methodologies, and experience following standard protocols for your specific discipline. Even though it may seem obvious that you would have these abilities, it's always a good idea to recap them for clarity. This is especially the case when the person considering your resume may not have a scientific background.
Don't Forget About Your Soft Skills
Lab work isn't just about test tubes and Petri dishes. You will be part of a team and must collaborate on your work with others. In some cases, you'll even communicate with people who have a limited understanding of the work you do and the importance of your findings.
Show that you can explain, report, and provide feedback well by listing some of the following soft skills keywords in your cover letter:
Communicate
Organize
Prioritize
Schedule
Coordinate
Teamwork
Research
Analyze
Support
Nurture
Feel free to come up with your own words and phrases that represent your soft skills.
Use The Right Format
You are detail-oriented, organized, and highly skilled. Your best approach is to let your skills and experience speak for you. There's no need for you to use an overly-embellished or complex layout or format for your cover letter. Instead, stick to one that is simple and traditional. This will help you organize your cover letter without being over the top. Go for a simple cover letter template if you wish to. But it's also okay to submit a plain Word file.
Final Tip: Culture Counts
Your ability to conduct laboratory experiments and run tests is key. However, one of the key indicators of success, happiness, and long-term employment at any organization is cultural fit. Before you write your letter, research the company online. Learn about their ethics, work environment, and overall company culture. Then, share how you believe you would fit into that.