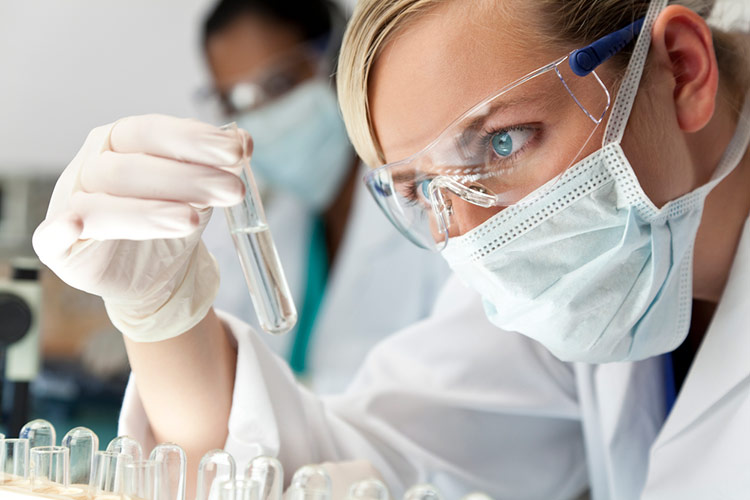 Whether you have your sights set on a career in academics or not, having experience working on important research projects is absolutely beneficial. This is a job that allows you to apply your theoretical knowledge in a 'real world' environment.
In addition to this, there are also research assistant positions available in the private sector. Paid research assistants earn a very respectable median salary. Besides, the research field continues to experience some growth as well.
Now, your first task is finding the ideal research assistant job. Keep reading for important tips to accomplish that. Then, take a look at the research cover letter sample we've included below. Feel free to use it as inspiration when you prepare your application packet.
Conduct an Inventory of Your Relevant Skills
A good research assistant will have a variety of hard and soft skills that allow them to be effective at the work they do. Before you begin your job search, create a list of these. Then, determine how and where you will communicate them.
Start with a list of your competencies such as:
Recruiting and interviewing research subjects
Analyzing data
Superior verbal and written communication skills
Experience using relevant research methods
Time management skills
Conducting literature reviews
Using software and equipment relevant to the research
Maintaining accurate records
Preparing materials for submission to academic panels and grants organizations
Now that you have your list of skills, you can begin thinking of ways to communicate these effectively:
In the skills section of your resume or CV.
As examples in the employment history portion of your resume
In your cover letter as an example of your experience and abilities
Through your personal website, portfolio or blog.
Indirectly via letters of recommendation and references.
ADVICE FROM OUR EXPERT
---
Whether you plan on working in academics or within the private sector, employers want to know that you are an analytical thinker and detail oriented. Cite specific examples of using these skills to give the reader confidence you will be a success in the position.

Debi Douma-Herren
Senior Certified HR Professional & Career Coach
Reach Out to Instructors and Other Mentors For Assistance
Many research assistants land their first jobs in the very academic programs they attend. Internships and summer fellowship programs are also a rich source of future job opportunities.
Remember that these are all people who are familiar with your competencies, and likely have an interest in helping you succeed. More importantly, you may find that your instructors, internship supervisors, and others also have connections to paid research assistant positions. This is why it's very important that you always build your network, and then use it when you need it.
Use Your Universities Resources
In addition to your instructors and other mentors, you should make use of your university's resources. Check-in with your career center. Most usually have a job board, listing potential employment opportunities for graduates. Alternatively, reach out to the office of the Director of Student Services to see if they could offer some guidance.
If you are an alumnus, be sure to stay connected with your school's alumni association. Many people are very loyal to their schools and will give preference to research assistants that hail from the same alma mater.
Build Your Skills and Experience in Any Way Possible
To make yourself as "employable" as possible, consider areas where you need to improve your skills and experience. Then, take the steps you need to accomplish that. This might include any of the following:
Take an additional course on research methods.
Volunteer to participate in upcoming research opportunities.
Offer to assist a research assistant with some of their daily tasks.
Find an online course provider to take any courses that could build up your skillset
Once you've developed the skills you need, and you've begun your job search, it's time to prepare documents such as your resume and a cover letter. Chances are you've been working on your resume for a while, but what about your cover letter?
Each time you apply for a position as a research assistant, you must include a customized cover letter. Here is one that you can use as an example.
Cover Letter Sample For Research Assistant in .docx Format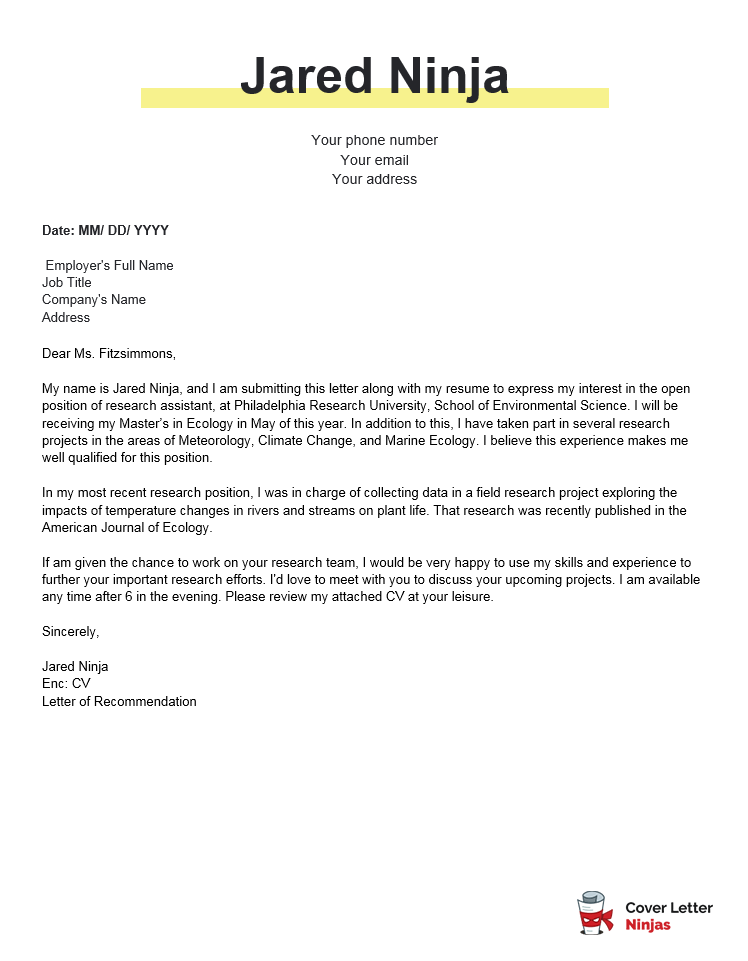 Download example (Word version)
Research Assistant Cover Letter Example – Text Format
Dear Ms. Fitzsimmons,
My name is Jared Ninja, and I am submitting this letter along with my resume to express my interest in the open position of research assistant, at Philadelphia Research University, School of Environmental Science. I will be receiving my Master's in Ecology in May of this year. In addition to this, I have taken part in several research projects in the areas of Meteorology, Climate Change, and Marine Ecology. I believe this experience makes me well qualified for this position.
In my most recent research position, I was in charge of collecting data in a field research project exploring the impacts of temperature changes in rivers and streams on plant life. That research was recently published in the American Journal of Ecology.
If am given the chance to work on your research team, I would be very happy to use my skills and experience to further your important research efforts. I'd love to meet with you to discuss your upcoming projects. I am available any time after 6 in the evening. Please review my attached CV at your leisure.
Sincerely,
Jared Ninja
Final Tip: Don't Ignore Tradition Jobs Boards
While most academic researchers tend to find jobs in universities, there are some very interesting research positions advertised to the "general public", especially by commercial organizations. Thus, it may be worth taking a second look at the popular industry job boards, plus browse the Career website section with various big companies directly.