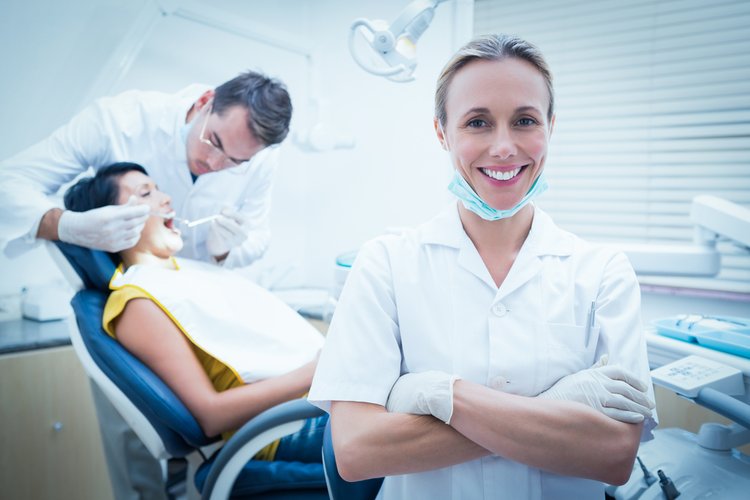 Dental assistants help dentists with patient care, schedule appointments, educate patients and execute many other tasks in a dental office. This is a solid career with a decent salary, and often benefits. What's even better, it does not require you to go through an expensive Med school.
As with many other healthcare careers, dental assistants are in high demand. However, the best jobs are not as common. To land employment in a prestigious clinic, you will need a great resume and an equally brilliant cover letter.
This quick post will show you how to get done with a cover letter in no time. How? Well, first follow our tips, then review a sample dental assistant cover letter and afterward use both to model your application. Lastly, don't forget to wrap it into an attractive cover letter template for that extra oomph.
Start With Your Credentials
Your first couple of sentences should simply introduce yourself. After that, provide a summary of your qualifications. This would usually include a summary of your experience including your specializations if any, relevant certifications, any equipment you know how to use, and other relevant skills. If you are licensed or certified include that as well.
Indicate Exactly Why You Would Be a Good Fit
Every dental office is different. Some dentists specialize in specific types of dentistry. Others pursue specific customer demographics. Determine how your skills, experience, and career goals can be best aligned with the position in that particular office. Then use that "intersection" to demonstrate how great you would fit.
For example, if you plan to apply to a pediatric dental office, you can mention your experience working with children while interning as a community dental clinic or briefly mention your babysitting gigs. By showing a connection to the dentist's target patient group, you provide evidence that you will be able to relate to them.
ADVICE FROM OUR EXPERT
---
Make sure you highlight your ability to provide excellent customer service while multi-tasking. Dental offices always look for candidates who can handle a lot of tasks under pressure, but can still maintain a superior level of customer service.

Mary Ford
Executive Career Coach
Don't Forget Your Other Skills
Many dental assistants also carry out office duties. You may have to enter patient information into a database, book appointments, answer phones, and help the dentist take care of other administrative tasks. In addition to this, the dental assistant is often the first line of contact for patients with questions or concerns. It's a good idea to spend a sentence or two highlighting your computer skills, customer service capabilities, and any other experience you have that make you a well-rounded dental care provider.
Make it Readable
Many dental offices are solo practices. Others may employ a small group of dentists and hygienists. In many cases, it is the dentist or their office manager reading through all of the resumes and cover letters they receive. This is a tedious task. So don't add to the reader's overwhelm.
You can do this first, be selecting a font like Arial or Times New Roman that is easy to read. Next, use short paragraphs. This adds white space to your letter, making it easier on the eyes. Remember the idea is to leave a good impression, not cause eyestrain.
End on a High Note
Don't write an ambiguous closing. Put it bluntly: you are very interested in the job and seek a reply. Better yet, close your letter as if you already know that an interview is upcoming. Don't say, 'if you are interested, I am available for an interview.' Instead, say, 'I'm very interested in working with you. Let's get together for an interview in the next week or so!'
Dental Assistant Cover Letter Sample in .docx Format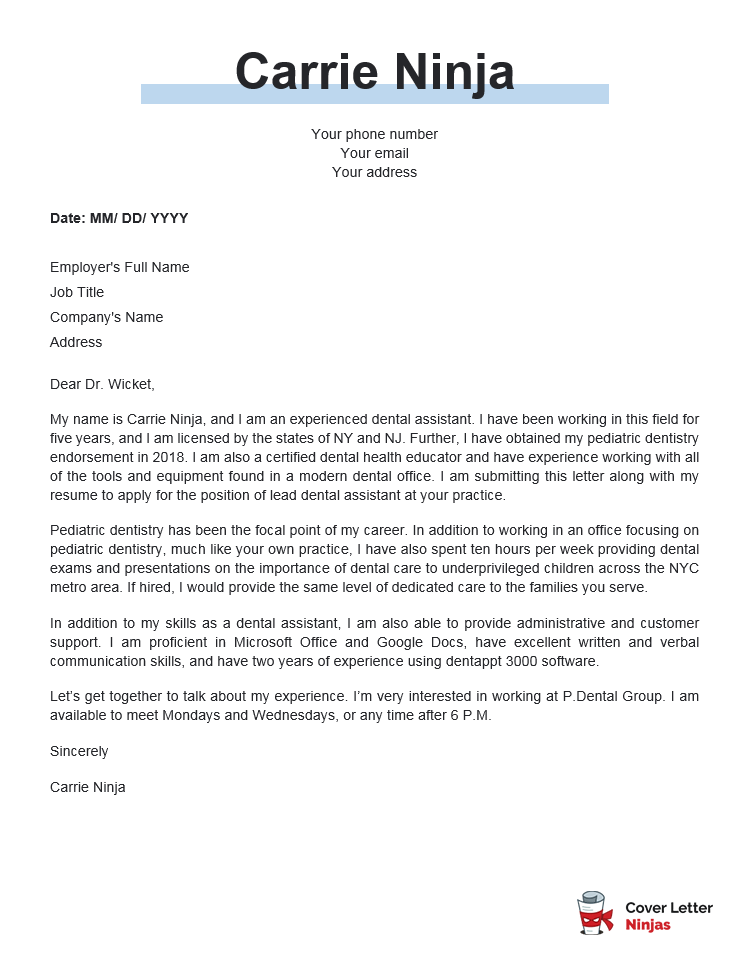 Download example (Word version)
Dental Assistant Cover Letter Example – Text Format
Dear Dr. Wicket,
My name is Carrie Ninja, and I am an experienced dental assistant. I have been working in this field for five years, and I am licensed by the states of NY and NJ. Further, I have obtained my pediatric dentistry endorsement in 2018. I am also a certified dental health educator and have experience working with all of the tools and equipment found in a modern dental office. I am submitting this letter along with my resume to apply for the position of lead dental assistant at your practice.
Pediatric dentistry has been the focal point of my career. In addition to working in an office focusing on pediatric dentistry, much like your own practice, I have also spent ten hours per week providing dental exams and presentations on the importance of dental care to underprivileged children across the NYC metro area. If hired, I would provide the same level of dedicated care to the families you serve.
In addition to my skills as a dental assistant, I am also able to provide administrative and customer support. I am proficient in Microsoft Office and Google Docs, have excellent written and verbal communication skills, and have two years of experience using dentappt 3000 software.
Let's get together to talk about my experience. I'm very interested in working at P.Dental Group. I am available to meet Mondays and Wednesdays, or any time after 6 P.M.
Sincerely
Carrie Ninja
Final Thoughts
Before you submit your application, take that final long look at the job listing. Are there any instructions regarding your resume and cover letter? If so, be sure to follow these to the letter. One of the fastest ways to have your application rejected is to show that you cannot follow application instructions. And if there are no such rules, press that send button with confidence!