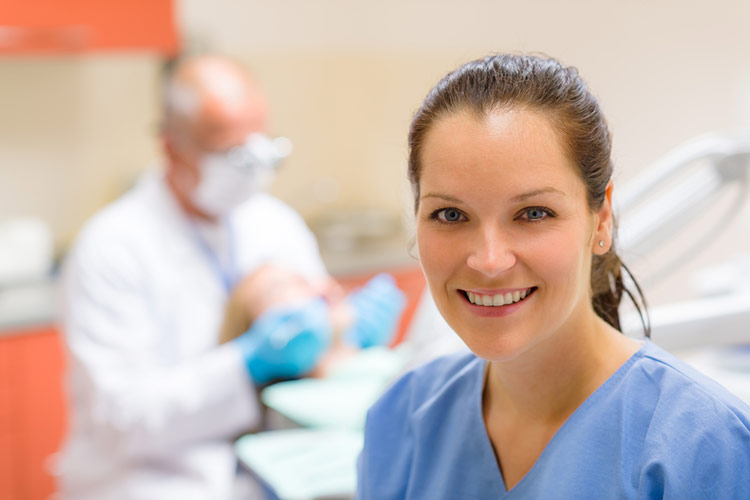 Dental hygienists command pretty good salaries these days. If you are one, you probably already know that the demand for you is high and that you have plenty of career options.
But those better gigs are not without competition. You need to stand out above the rest. One of the ways you can do this is to create an awesome cover letter that will grab the attention and offer a quick glimpse into your personality. After all, every doctor wants a teammate they are comfortable to work with.
The good news? You don't need to be a good writer to craft that engaging and persuasive cover letter. Just follow the tips below and refer to our dental hygiene cover letter sample!
Do Not Make Your Letter All "Me, Me, Me"
One of the biggest mistakes you can make is to keep the entire focus of your cover letter on your not-so-humble person. A lot of people waste space in their cover letters talking about their "move up" in their careers. Don't do that. Most dentists are not interested in that. What they do want to know is what value you can bring to their business. Focus on the employer's needs, not your wants.
ADVICE FROM OUR EXPERT
---
Dental hygienist positions have a strong focus on customer service, so mention examples of when you exceeded customer expectations, even if it's not related to dentistry.

Mary Ford
Executive Career Coach
Focus on Your Most Relevant Skills Based on The Job Listing
Review the job posting. Begin to make a list of the courses you have taken and the experience that you have that are relevant to the skills in the job listing. The list that you write will help you better understand what to include in your cover letter. By focusing on your employer's needs, you are likely to experience better results.
Remember, a dental hygienist may be asked to do a number of things in a dental office. Of course, you will be cleaning teeth. But you may also be in charge of educating patients on good dental hygiene. You may be taking X-rays. It might also fall to you to read those X-rays to determine underlying conditions (e.g., bone loss). As a hygienist, you may also determine how that will impact that patient's dental health. You will also be given responsibility for updating patient records. Sometimes you may also double as a general dental assistant in a smaller clinic.
Speak to Your Communication Skills
Dental hygienists have to deal with people from all walks of life. That's why having stellar communication skills is so important as a good bulk of your work will involve patient education. Thus, highlight that you have solid people and customer service skills. For example, you can add a quick story to illustrate how you've dealt with a patient at work.
Have an Amazing Opening
A creative, attention-getting opening can really make your letter stand out. Avoid the "tired" old statements, like "With great interest, I read your recent posting for a dental hygienist…" Try to add a bit of a unique twist. For example:
Tell a quick story
Share a belief statement
Work out your elevator pitch
Mention your biggest accomplishment.
Cover Letter Sample for a Dental Hygienist in .docx Format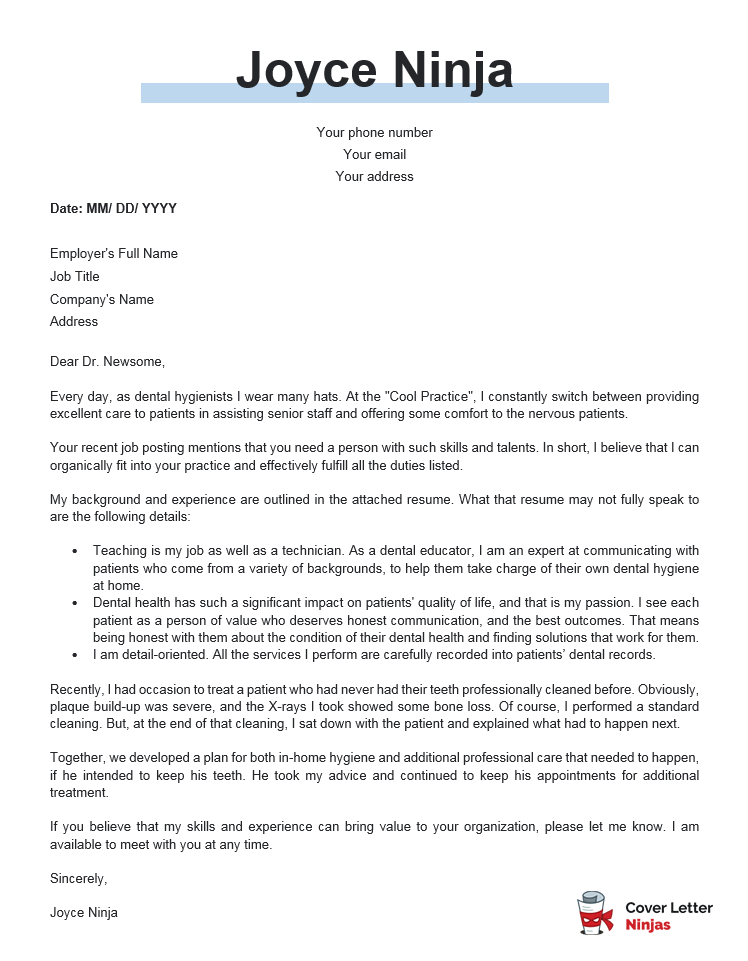 Download example (Word version)
Dental Hygiene Cover Letter Example – Text Format
Dear Dr. Newsome,
Every day, as dental hygienists I wear many hats. At the "Cool Practice", I constantly switch between providing excellent care to patients in assisting senior staff and offering some comfort to the nervous patients.
Your recent job posting mentions that you need a person with such skills and talents. In short, I believe that I can organically fit into your practice and effectively fulfill all the duties listed.
My background and experience are outlined in the attached resume. What that resume may not fully speak to are the following details:
Teaching is my job as well as a technician. As a dental educator, I am an expert at communicating with patients who come from a variety of backgrounds, to help them take charge of their own dental hygiene at home.
Dental health has such a significant impact on patients' quality of life, and that is my passion. I see each patient as a person of value who deserves honest communication, and the best outcomes. That means being honest with them about the condition of their dental health and finding solutions that work for them.
I am detail-oriented. All the services I perform are carefully recorded into patients' dental records.
Recently, I had occasion to treat a patient who had never had their teeth professionally cleaned before. Obviously, plaque build-up was severe, and the X-rays I took showed some bone loss. Of course, I performed a standard cleaning. But, at the end of that cleaning, I sat down with the patient and explained what had to happen next.
Together, we developed a plan for both in-home hygiene and additional professional care that needed to happen, if he intended to keep his teeth. He took my advice and continued to keep his appointments for additional treatment.
If you believe that my skills and experience can bring value to your organization, please let me know. I am available to meet with you at any time.
Sincerely,
Joyce Ninja
Final Thoughts: Mention Availability
As a dental hygienist, you may choose to become a full-time employee at one dental office. You might also prefer to work as an independent contractor on a part-time basis. In that case, you might divide your time among multiple offices. Use your letter to specify what type of work contract you are seeking.