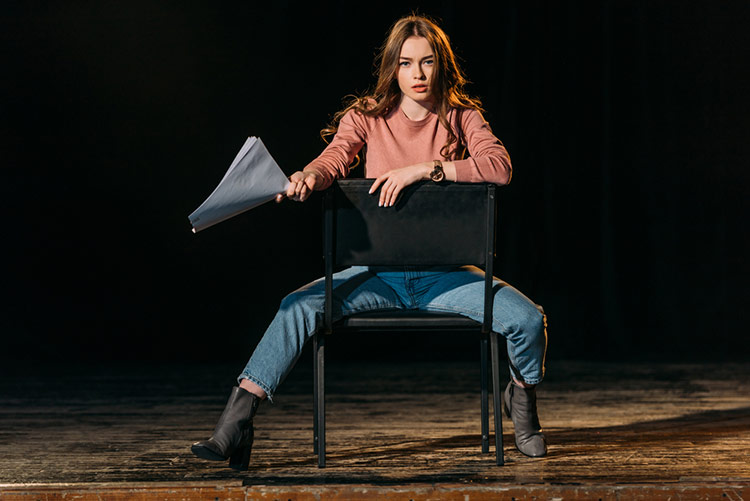 Kickstarting an acting career is somewhat tough. Apart from your skills and talent, you also need to have loads of stamina to go through all those auditions (especially if you are just starting).
But the good news is that you have plenty of sub-niches to dwindle into. Trained actors can work in local theater productions, off-Broadway, in television commercials, doing voice-over work, as presenters at events, and more.
And in most cases, you'll need to present a compelling resume and even write a cover letter to get called in for the audition. Use the following actionable tips to ace the writing part and be sure to check our persuasive actor cover letter sample at the end. Let's get the show started!
Understand the "Whys" Behind the Cover Letter
Cover letters are not a "must" in the entertainment industry. However, if a potential employer does request one, there are several good reasons for that. In most cases, you'll be asked to provide a cover letter if:
The role requires specific skills or attributes such as athleticism or having a certain build.
The work asks for a long term commitment, rather than part-time avaliability.
There are other duties involved besides acting (e.g.: assistant directing, coaching other actors, or screenwriting).
You are seeking professional representation.
You can second-guess the motivation after reading the job posting. Whichever it is, be sure to keep the purpose of the job in mind when structuring your letter.
ADVICE FROM OUR EXPERT
---
If you are submitting a cover letter to land an acting gig, write the letter in character. Feel free to include scenarios that are not in the original script to show you are prepared to fully embody this character!

Mary Ford
Executive Career Coach
Talk About Your Type
This advice is especially important for new actors. In many cases, it is your overall 'type' that will help launch your career. Later, your range and talent will allow you to work on projects that are more interesting to you.
For an example of this, take a look at the career of Dwayne 'The Rock' Johnson. His earliest roles all played to his massive size and intimidating looks. Later, he was able to take on roles in family films, animation, comedies, and more.
When you describe your type, take into consideration your age, body type, accent, gait, and other attributes. If you've done any notable work, you should also consider the impression you have left as a result of that as well.
Here's an example:
'I'm tall and thin with angular features and have a Brooklyn accent. That's why I'm frequently compared to a young Richard Belzer. I am often cast in roles as the 'dark loner', or 'sarcastically funny friend'. On the other hand, my looks and build work well for me in physical comedy.'
Address The Questions Your Reader Has
Knowing your audience is always the key to being a great performer. Here, the same rule applies. Find out who will be reviewing your cover letter. Then, work to write a letter that answers their questions.
Think of it this way, your cover letter could be addressed to:
Your future agent or manager.
A playwright who is attempting to cast his first theater production.
A volunteer who is doing paperwork for a local community theater.
An HR person at a marketing company that's hiring voice actors for audio content.
A student filmmaker, comfortable with factors with no field experience.
A casting director at a major Hollywood studio.
As you might imagine, each of these people is going to have different questions and concerns. Each also has a varying level of knowledge and appreciation for your craft. For example, the playwright and student filmmaker are probably interested in your acting methods and motivations. The HR person could probably care less about that. Write your letter accordingly.
A Cover Letter Sample For Actor in .docx Format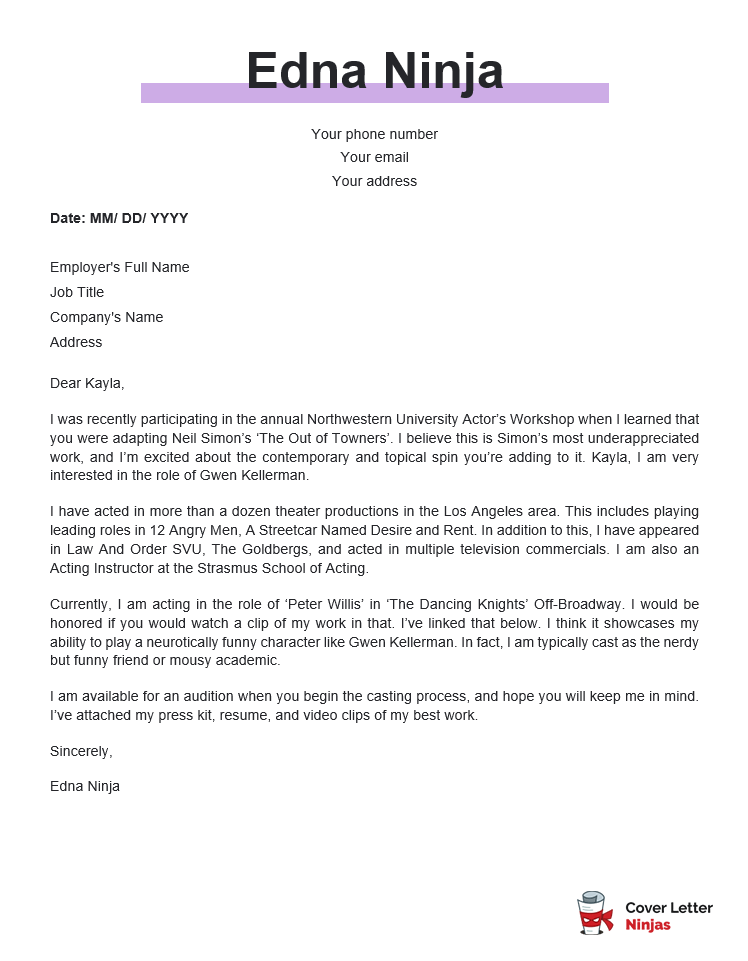 Download example (Word version)
Actor Cover Letter Example – Text Format
Here is a cover letter written by an experienced, but not yet famous, actor who is interested in a leading role in a major theater production.
Dear Kayla,
I was recently participating in the annual Northwestern University Actor's Workshop when I learned that you were adapting Neil Simon's 'The Out of Towners'. I believe this is Simon's most underappreciated work, and I'm excited about the contemporary and topical spin you're adding to it. Kayla, I am very interested in the role of Gwen Kellerman.
I have acted in more than a dozen theater productions in the Los Angeles area. This includes playing leading roles in 12 Angry Men, A Streetcar Named Desire and Rent. In addition to this, I have appeared in Law And Order SVU, The Goldbergs, and acted in multiple television commercials. I am also an Acting Instructor at the Strasmus School of Acting.
Currently, I am acting in the role of 'Peter Willis' in 'The Dancing Knights' Off-Broadway. I would be honored if you would watch a clip of my work in that. I've linked that below. I think it showcases my ability to play a neurotically funny character like Gwen Kellerman. In fact, I am typically cast as the nerdy but funny friend or mousy academic.
I am available for an audition when you begin the casting process, and hope you will keep me in mind. I've attached my press kit, resume, and video clips of my best work.
Sincerely,
Edna Ninja
Final Tip: Link Your Best Work
Give the reader a chance to see your acting for themselves. Put on your editor's cap, and create a video clip of your best work. This way, casting directors, agents, and others can get an idea of your range and talent without having to dig through various IMDB clips.