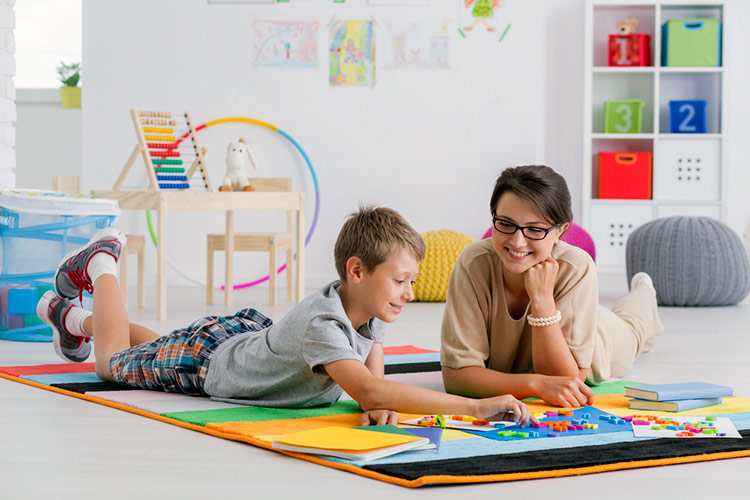 Parents rely on nannies to provide professional caregiving to their children as they work or travel. Thanks to their care, they can rest assured that their beloved offsprings stay safe, healthy and get quality time with an adult who is loving and responsible.
Whether you decide to pursue work as a nanny through a recruiting agency, or by directly responding to ads placed by parents, your application packet must be on-point. Since your resume may not be that "thick" at this point, gear most of your efforts into writing a friendly and appealing cover letter. Below are your tips for that, followed by a sample nanny cover letter.
Don't Rehash Your Resume
Your cover letter should organically complement your resume, rather than summarize it. Every resume has to include employment dates and an overview of your duties. While your cover letter can also talk about your employment, it's better to focus on your interactions with the children, and the positive relationships you fostered with them, rather than formal facts regarding your employment.
Here's an example.
"The first child in my care is now a university student in Boston. I was honored when he invited me to attend his high school graduation. In fact, I have been touched that several of 'my kids' have wanted to stay in contact with me, even after I have moved on."
Customize Your Letter to Fit The Needs of The Children
Read the job posting very carefully to learn about the kids who will be in your care. Then, find ways to show that you meet those requirements. For example, if the new position needs you to work with a special needs child, describe any relevant paraprofessional skills or experiences that you have. Did you take any first aid classes? Or perhaps you've listened to some special ed classes?
Ultimately, parents want to be assured that your experience makes you the best possible choice for their children.
ADVICE FROM OUR EXPERT
---
Parents want to know their children are safe with you in every situation. In your cover letter, make sure to mention a unique scenario (nothing too dangerous!) to show you can handle anything that happens on your watch.

Mary Ford
Executive Career Coach
Show a Passion For Child Development
A good nanny doesn't simply have qualifications and certifications that allow them to work with children. They are also passionate about helping kids grow up to be healthy, successful, and well-adjusted. Nannies are also responsible for communicating important things they observe to the parents.

To illustrate your enthusiasm for the profession, think of something that one of your children have accomplished while they were in your care and mention it in your cover letter.
For instance:
'When I began caring for my current charge, a six-year-old boy, he was exceptionally timid. In the past two years, I have been so happy to see him come out of his shell. Today, he participates in scouting, takes swimming lessons, and is regularly invited to playdates. His parents were so proud to see him become so outgoing.'
Cover Letter Sample for a Nanny in .docx Format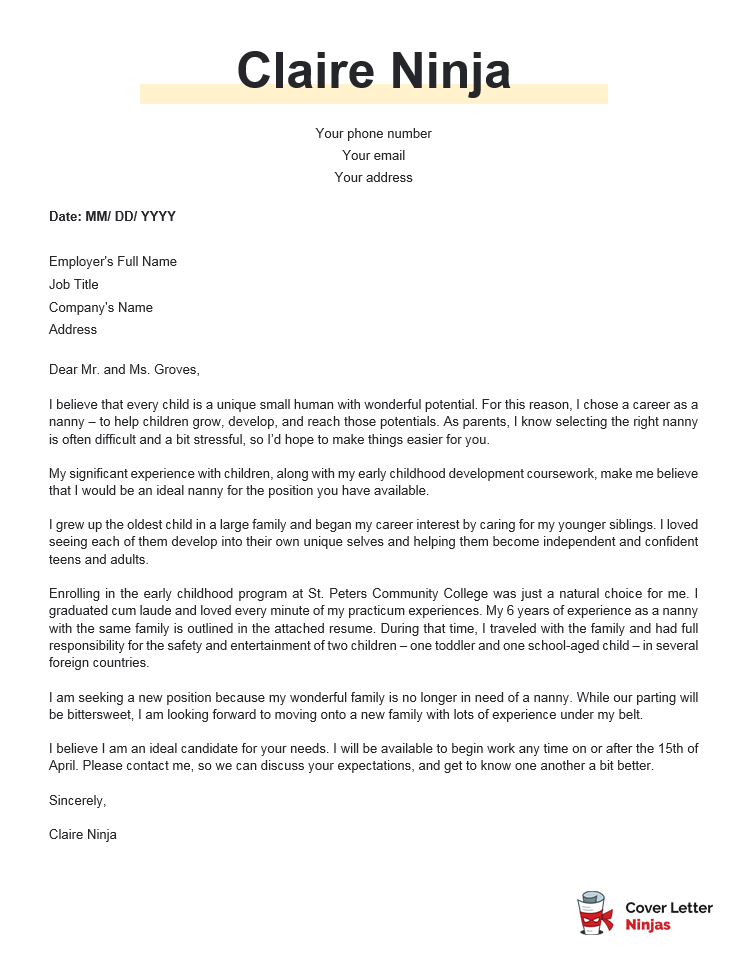 Download example (Word version)
Nanny Cover Letter Example – Text Format
Dear Mr. and Ms. Groves,
I believe that every child is a unique small human with wonderful potential. For this reason, I chose a career as a nanny – to help children grow, develop, and reach those potentials. As parents, I know selecting the right nanny is often difficult and a bit stressful, so I'd hope to make things easier for you.
My significant experience with children, along with my early childhood development coursework, make me believe that I would be an ideal nanny for the position you have available.
I grew up the oldest child in a large family and began my career interest by caring for my younger siblings. I loved seeing each of them develop into their own unique selves and helping them become independent and confident teens and adults.
Enrolling in the early childhood program at St. Peters Community College was just a natural choice for me. I graduated cum laude and loved every minute of my practicum experiences. My 6 years of experience as a nanny with the same family is outlined in the attached resume. During that time, I traveled with the family and had full responsibility for the safety and entertainment of two children – one toddler and one school-aged child – in several foreign countries.
I am seeking a new position because my wonderful family is no longer in need of a nanny. While our parting will be bittersweet, I am looking forward to moving onto a new family with lots of experience under my belt.
I believe I am an ideal candidate for your needs. I will be available to begin work any time on or after the 15th of April. Please contact me, so we can discuss your expectations, and get to know one another a bit better.
Sincerely,
Claire Ninja
Final Tip: Be Clear About Your Available Start Date
Keep in mind that families make very important plans around the arrival and availability of their newly hired nanny. At the same time, you may need time to extract yourself from your current placement. If it is relevant, provide your potential new family with exact information on the amount of notice you'll need to provide, and when you could potentially arrive to begin providing care to their children. If you are working part-time only, be sure to mention that up front.