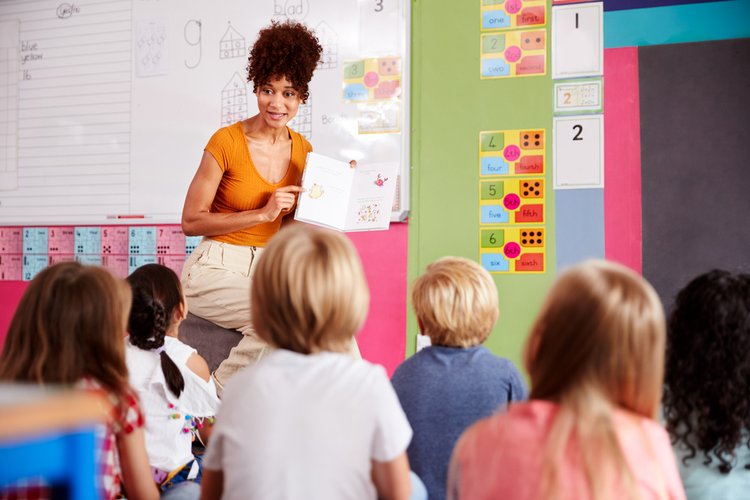 Paraprofessionals have a very important job of ensuring that students with disabilities get the education they deserve. Paraeducators aren't teachers, but they do provide instructional support.
They may even accompany the child to the lab, library, or media center to assist them. Some provide translation services and work directly with parents. Also, they help create lesson plans and ensure that students have the supplies they need and suitable accommodations. Being a paraprofessional educator is a rewarding career — it can provide you with plenty of opportunities to do a meaningful and important job.
However, it takes a special personality to do this type of work. And even most importantly, you'll need to show it in your cover letter, along with the required education and skills. To accomplish that, check out our actionable tips, then review an accompanying paraprofessional cover letter sample.
Mention Your Paraprofessional License or Certifications
In most states, you'll need a license to work as a paraprofessional or paraeducator. Some school districts can help you obtain the necessary qualifications. But most will expect you to already come with all the necessary credentials. Thus, in your letter, mention early on:
The specific license you hold
The grade levels for which you are qualified
Any other certificates or licenses
The date you obtained your certificate or license
Discuss Any Special Qualifications
As a paraeducator, you may be paired with students with any number of special needs. That said, many school districts hire paraeducators based on an immediate need. For example, if a student with a severe disability enrolls, they will need to have a full-time aide for that student.
More importantly, they will need an aide with rather specific skills. That's why you should always try to match your skills with the school's needs by mentioning your specific qualifications, such as:
Assisting medically fragile students
Aiding students with mobility issues
Working with specific devices such as adaptive communications technology
Recognizing signs of distress
Providing interpretive services
If you are transitioning to this role and don't have any relevant accomplishments yet, don't worry. You can always make a compelling case for yourself by outlining your experiences in social work, teaching, or even nannying at a family with a child with special needs.
ADVICE FROM OUR EXPERT
---
As a critical supporting role to the professionals you serve, it's advantageous for your cover letter to convey a strong sense of dependability. Particularly in detail-oriented and high-capacity roles within this field, take extra care to ensure you have not overlooked any grammatical mistakes or typos in the final version of your letter. While typos are never favorable in any professional documents, mistakes like these will glaringly stand out to the high-level professionals you will be supporting.

Claire Webber
Career Consultant, CPCC, CPRW
Write About Your Collaborative Skills
In your work, you'll be teaming up with teachers, assistant teachers, guidance counselors, curriculum specialists, and members of your students' IEP team. You will also develop a working relationship with each student's parents or guardians. You must be able to collaborate with the instructional team and parents to meet the needs of the student.
Share a compelling example of your using communication skills to get a positive result for the student. Perhaps, something like this:
"A student I worked with was struggling to keep up with others and enjoy themselves during the afternoon recess and physical education. Accommodations that were previously in place did not appear to be helping any longer. The student reported feeling too tired, but also mentioned feeling as if they were missing out when they did not participate. I communicated these concerns to the support team. We discussed the issue and took action to revise the student's physical therapy schedule. This left them with plenty of energy for playing with their friends, and participating in gym class."
Cover Letter Sample for Paraprofessionals in .docx Format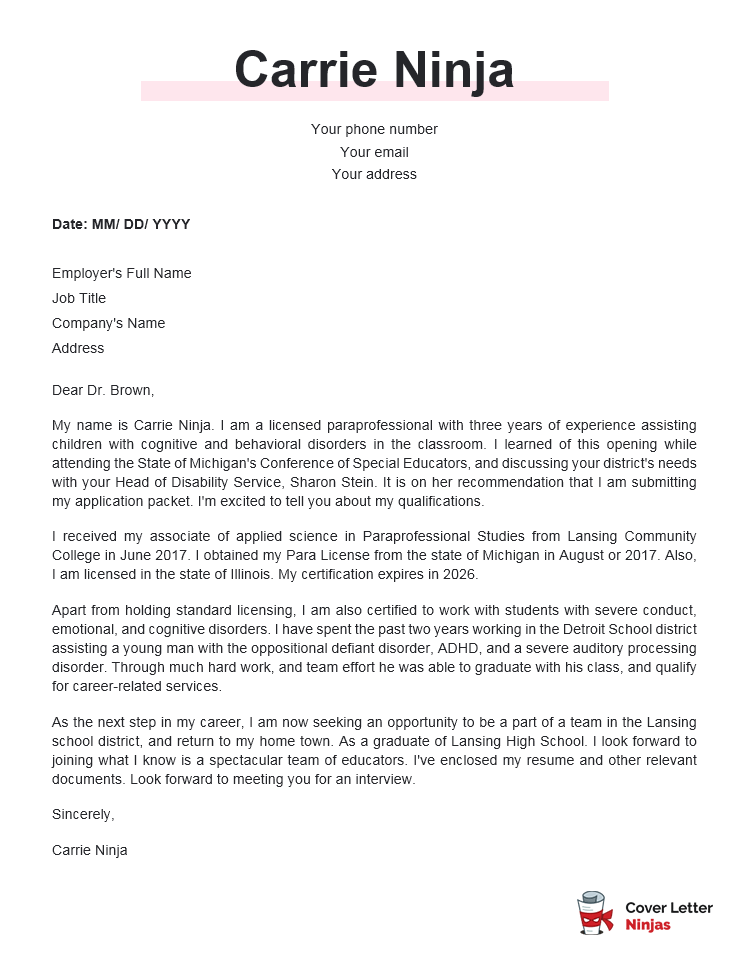 Download example (Word version)
Paraprofessional Cover Letter Example – Text Format
Dear Dr. Brown,
My name is Carrie Ninja. I am a licensed paraprofessional with three years of experience assisting children with cognitive and behavioral disorders in the classroom. I learned of this opening while attending the State of Michigan's Conference of Special Educators, and discussing your district's needs with your Head of Disability Service, Sharon Stein. It is on her recommendation that I am submitting my application packet. I'm excited to tell you about my qualifications.
I received my associate of applied science in Paraprofessional Studies from Lansing Community College in June 2017. I obtained my Para License from the state of Michigan in August or 2017. Also, I am licensed in the state of Illinois. My certification expires in 2026.
Apart from holding standard licensing, I am also certified to work with students with severe conduct, emotional, and cognitive disorders. I have spent the past two years working in the Detroit School district assisting a young man with the oppositional defiant disorder, ADHD, and a severe auditory processing disorder. Through much hard work, and team effort he was able to graduate with his class, and qualify for career-related services.
As the next step in my career, I am now seeking an opportunity to be a part of a team in the Lansing school district, and return to my home town. As a graduate of Lansing High School. I look forward to joining what I know is a spectacular team of educators. I've enclosed my resume and other relevant documents. Look forward to meeting you for an interview.
Sincerely,
Carrie Ninja
Final Tip: Familiarity is Key
Qualifications are the most important factor, but connections are quite important as well. If you have received a referral or can point out some other connection to the hiring committee, you may increase your chances of moving ahead as an applicant!
P.S. And if you are still struggling with your letter, be sure to check other cover letter examples we've created!