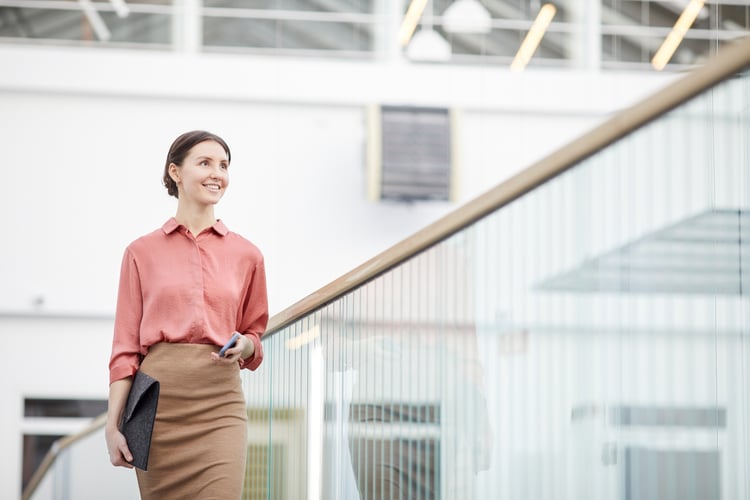 Do you have dreams of becoming a politician, lobbyist, policymaker, campaign manager, or a valued member of a politician's team? If so, you could benefit from spending a session or two as a congressional intern. These highly-coveted positions are pursued by pre-law, political science, journalism, and other students who have an interest in the political process.
Congressional internships are generally available during the spring and fall semesters. Most last three to four months. You can check for new calls on the US Senate web page or with the House of Representatives. Some internship aggregation websites also track new openings.
As you might imagine, competition for congression internships is very intense. Overall, you need to have a minimal GPA score of 3.0; demonstrate strong analytics and leadership skills, as well as a commitment to public-service-oriented activities.
All of these bits should be clearly visible across your application package, and even more so in your cover letter for the congressional internship. We are here to help you sort out the latter.
Congressional Internship Cover Letter Sample – Word Format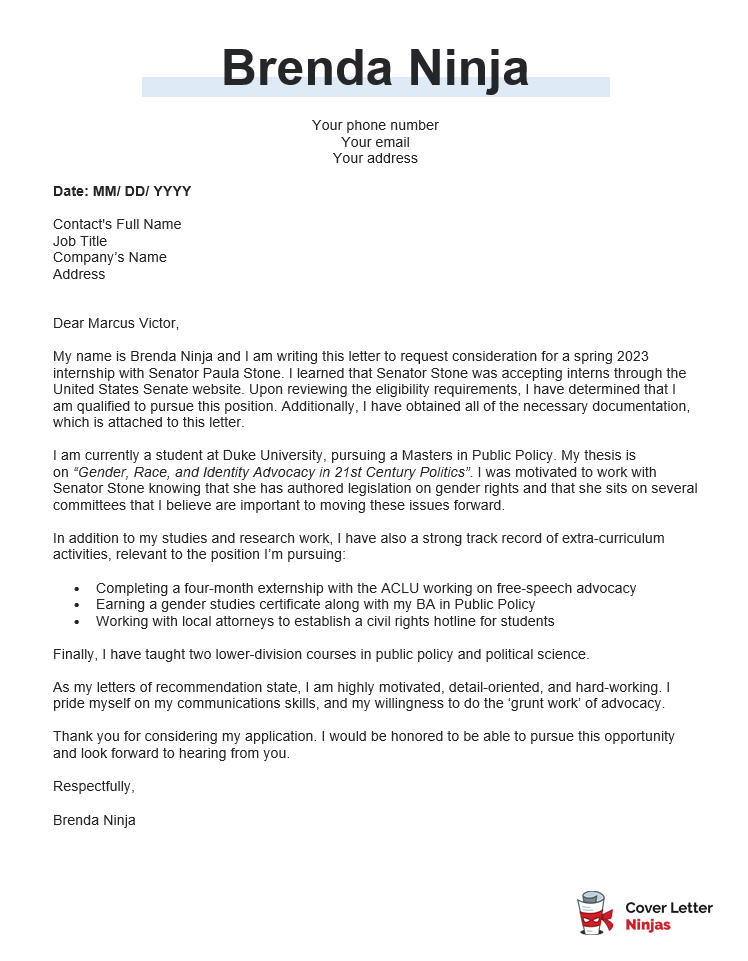 Cover Letter Example For Congressional Internship – Text Format
Dear Marcus Victor,
My name is Brenda Ninja and I am writing this letter to request consideration for a spring 2023 internship with Senator Paula Stone. I learned that Senator Stone was accepting interns through the United States Senate website. Upon reviewing the eligibility requirements, I have determined that I am qualified to pursue this position. Additionally, I have obtained all of the necessary documentation, which is attached to this letter.
I am currently a student at Duke University, pursuing a Masters in Public Policy. My thesis is on "Gender, Race, and Identity Advocacy in 21st Century Politics". I was motivated to work with Senator Stone knowing that she has authored legislation on gender rights and that she sits on several committees that I believe are important to moving these issues forward.
In addition to my studies and research work, I have also a strong track record of extra-curriculum activities, relevant to the position I'm pursuing:
Completing a four-month externship with the ACLU working on free-speech advocacy
Earning a gender studies certificate along with my BA in Public Policy
Working with local attorneys to establish a civil rights hotline for students
Finally, I have taught two lower-division courses in public policy and political science.
As my letters of recommendation state, I am highly motivated, detail-oriented, and hard-working. I pride myself on my communications skills, and my willingness to do the 'grunt work' of advocacy.
Thank you for considering my application. I would be honored to be able to pursue this opportunity and look forward to hearing from you.
Respectfully,
Brenda Ninja
For More Inspiration, Check Other Samples
How to Write a Cover Letter for Congressional Internship
Most congressional internships assume work with specific House representatives or senators. Before sitting down to write the letter, your goal is to research the person's background. In particular, take note of:
Bills, legislators, and propositions recently made
Key committees the person sits on
Main issues they stand for in their daily work
Remember: you should always have some values and ideals in common with the elected politician.
Once you have these details, open a new document and start composing your letter. Our tips will help you shape it up in the best way possible!
Showcase Your Capabilities
Use your cover letter to show how you are qualified for the challenges you will face as an intern. Include examples from your work experience, research, writing, and volunteer work. You are probably competing with several other students, and you need to stand out. Don't hesitate to include some unrelated experience if it helped you to develop positive traits. For example, all interns should have great time management skills and self-discipline.
Likewise, as Dyan Urias, a former House of Congress intern noted:
"Administrative tasks are a fundamental part of your job. A big part of your responsibilities may be answering the phone and mail on a daily basis, sorting department letters, and running errands between offices."
In your cover letter, show that you understand the importance of such chores and are ready to perform them with utmost professionalism.
Understand The Purpose of your Cover Letter
The cover letter you write isn't just a formality. It has to win over the internship coordinator. Few senators read through all the incoming applications. They are mostly presented with top contenders. So you must impress the "gatekeeper" first.
Your letter should also show your enthusiasm, experience, and qualifications. Whatever you do, don't rush through this. If you decide to apply for more than one internship, write a personalized letter for each one.
Keep Things Very Formal
Your internship cover letter should be formatted as a business letter. Use academic or professional language. Take the time to learn the names and preferred pronouns of every person you mention or address.
Use a font that is very business appropriate such as Times New Roman or Arial. If you decide to use a template for your cover letter, it should be professional without any embellishments. For printed letters, choose the highest quality stationery you can afford, or have the documents printed by a professional.
Final Tip: Be Consistent
Keep your resume and any other documentation you have handy while you write your resume. This will help you to maintain consistent keywords, and be sure you get any dates and names correct from one document to the next.