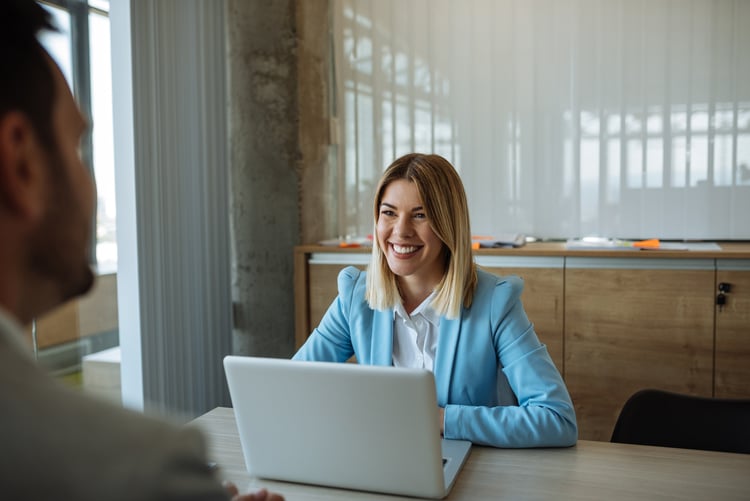 Investment banking is a lucrative sector to operate in. As a financial professional in this field, you get to focus on your customers' wealth management — financial portfolio allocations, retirement planning, investment advice, and sometimes even estate planning.
Not surprisingly, investment banking jobs also come with stellar pay. Per a Corporate Finance Institute Survey, associate investment bankers earn north of $100,000 annually in base salary and about the same number in bonuses. Senior roles in investment banking can easily expect a quarter-million-dollar or higher compensation.

But let's not get ahead of ourselves. First, you need to land that job. To do that, you'd have to file a compelling cover letter, demonstrating your soft and hard skills to the employer. Here is help for that.
Cover Letter Sample For Investment Banking in .docx Format
Here is a sample cover letter for an investment banker with a few years of experience.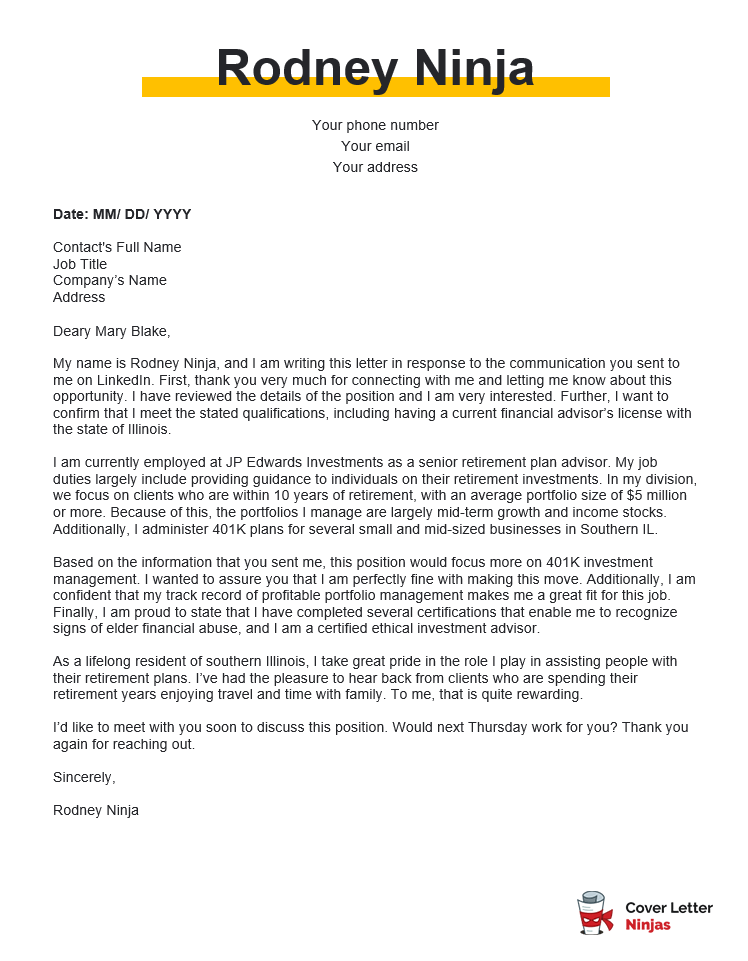 Download example (Word version)
Cover Letter Example For Investment Banking – Text Format
Deary Mary Blake,
My name is Rodney Ninja, and I am writing this letter in response to the communication you sent to me on LinkedIn. First, thank you very much for connecting with me and letting me know about this opportunity. I have reviewed the details of the position and I am very interested. Further, I want to confirm that I meet the stated qualifications, including having a current financial advisor's license with the state of Illinois.
I am currently employed at JP Edwards Investments as a senior retirement plan advisor. My job duties largely include providing guidance to individuals on their retirement investments. In my division, we focus on clients who are within 10 years of retirement, with an average portfolio size of $5 million or more. Because of this, the portfolios I manage are largely mid-term growth and income stocks. Additionally, I administer 401K plans for several small and mid-sized businesses in Southern IL.
Based on the information that you sent me, this position would focus more on 401K investment management. I wanted to assure you that I am perfectly fine with making this move. Additionally, I am confident that my track record of profitable portfolio management makes me a great fit for this job. Finally, I am proud to state that I have completed several certifications that enable me to recognize signs of elder financial abuse, and I am a certified ethical investment advisor.
As a lifelong resident of southern Illinois, I take great pride in the role I play in assisting people with their retirement plans. I've had the pleasure to hear back from clients who are spending their retirement years enjoying travel and time with family. To me, that is quite rewarding.
I'd like to meet with you soon to discuss this position. Would next Thursday work for you? Thank you again for reaching out.
Sincerely,
Rodney Ninja
More Relevant Banking Cover Letters!
Investment Banking Cover Letter Writing Tips
Now for some excellent tips to improve your chances of landing the ideal job as an investment banker.
Mention Any Prior Connections
In many instances, the jobs you apply for in investment banking come through your networking efforts. Perhaps you connected with someone on LinkedIn, attended a conference together, or were introduced by a mutual acquaintance. If that is the case, mention that in your cover letter. You will refresh the memory of the reader, and it could bring your application some additional positive notice.
ADVICE FROM OUR EXPERT
---
The key element to address in your investment banking cover letter is customer service skills. Sharing an example where you tailored a customer's or client's experience is a great way to demonstrate your understanding of how important customized customer service is to this role.

Debi Douma-Herren
Senior Certified HR Professional & Career Coach
Confirm Your Licensing or Other Qualifications
Investment banking is a highly regulated field. In many cases, bankers are expected to be licensed. They must also follow up their qualifications with regulatory training and certifications. Be sure to include this information in your cover letter. This will confirm that you meet the baseline requirements for employment.
Show Some Numbers
Quantify your experience and accomplishments with meaningful numbers. For example, how many investment accounts do you manage? What is the average size of the investment portfolio of your clients?
Remember that hiring managers are often looking for very specific types of experience. For example, if they're looking for someone who is used to managing multi-million dollar portfolios, you'll get to the interview process a lot faster if you have that in your cover letter.
Make it Personal as Well
Of course, this isn't all about dollars and profits. Most investment banking firms are interested in bringing in team members who will fit well into their corporate culture. You should also understand their target client, and have a sincere desire to help them. Show a bit of your personality and your cover letter, and detail why you are passionate about investment banking.
Make Ethics Count
Recent controversies in the banking industry have led to a new focus on ethics. Have you undergone any recent ethics training? If so, this would be a good place to mention that. After all, much of your job is concerned with being honest, forthcoming, discrete, and trustworthy. Thus, demonstrating strong levels of integrity goes a long way.
Final Tip: Go For a Subdued Professional Look
Make your cover letter and application packet stand out in a good way. The format of your cover letter, the font you choose, and other elements should be attractive and understated. Fortunately, you don't have to spend time worrying about designing your cover letter. Instead, choose a professional cover letter template that works for you.