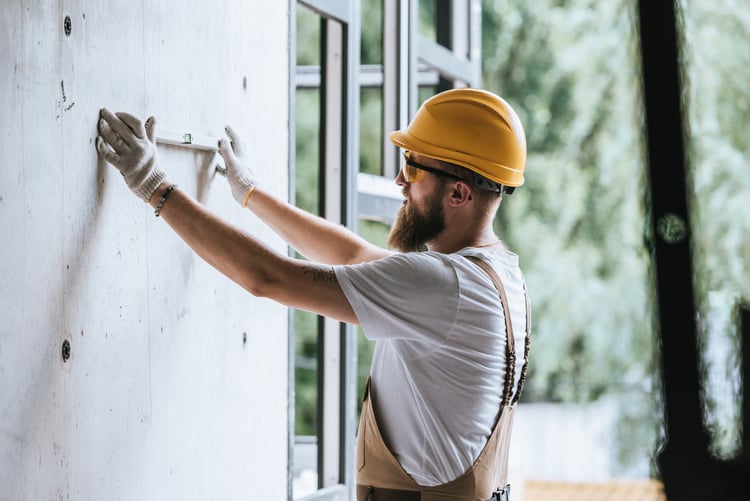 Since the dawn of time, people have been undertaking massive and impressive construction projects. Today, our tools of the trade may have evolved, but the demand for people with strong hands, manual dexterity, and a keen eye for details hasn't abated.
In 2022, the construction industry is forecasted to grow by 8.8% thanks to a revived interest in both public infrastructure construction projects and private real estate development. This means more construction jobs will become available too.
So if you are looking out for a better position, time to dust off your resume and polish your construction cover letter. Use our tips and sample construction cover letter to make a strong case for hiring you!
Construction Cover Letter Sample for Word
The below sample is for a construction worker with experience in concrete work and carpentry.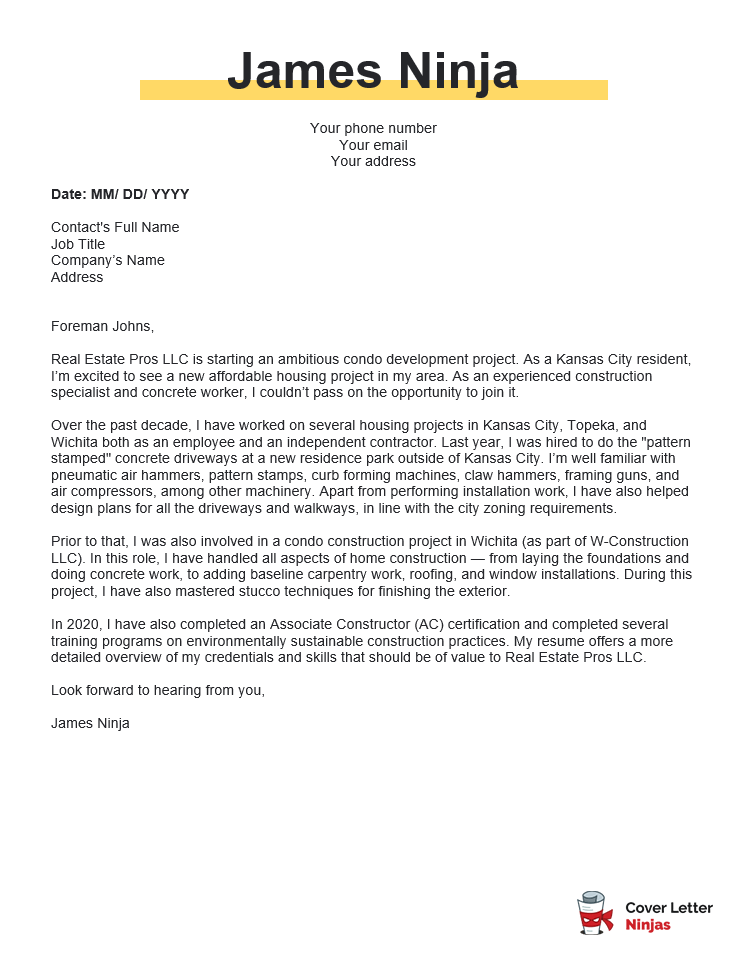 Construction Cover Letter Example – Text Format
Foreman Johns,
Real Estate Pros LLC is starting an ambitious condo development project. As a Kansas City resident, I'm excited to see a new affordable housing project in my area. As an experienced construction specialist and concrete worker, I couldn't pass on the opportunity to join it.
Over the past decade, I have worked on several housing projects in Kansas City, Topeka, and Wichita both as an employee and an independent contractor. Last year, I was hired to do the "pattern stamped" concrete driveways at a new residence park outside of Kansas City. I'm well familiar with pneumatic air hammers, pattern stamps, curb forming machines, claw hammers, framing guns, and air compressors, among other machinery. Apart from performing installation work, I have also helped design plans for all the driveways and walkways, in line with the city zoning requirements.
Prior to that, I was also involved in a condo construction project in Wichita (as part of W-Construction LLC). In this role, I have handled all aspects of home construction — from laying the foundations and doing concrete work, to adding baseline carpentry work, roofing, and window installations. During this project, I have also mastered stucco techniques for finishing the exterior.
In 2020, I have also completed an Associate Constructor (AC) certification and completed several training programs on environmentally sustainable construction practices. My resume offers a more detailed overview of my credentials and skills that should be of value to Real Estate Pros LLC.

Look forward to hearing from you,
James Ninja
How to Write a Construction Worker Cover Letter
Given the variety of roles available in the construction industry, you should use your cover letter to communicate your core competencies. Even if the job ad title says "general construction worker", most employers are still looking for people with some "specialty" skills. So be sure to elaborate on your main areas of expertise first. Then explain your degree of familiarity with different construction projects. You can apply our extra cover writing tips to add a "glossy finish" to your cover letter.
Provide an Overview of Your Skill Set
Most employers will see your cover letter first. Then check your resume. Therefore, your letter should offer a "preview" of your most relevant skills and qualifications. Don't recite everything you've put on your resume.
As a rule of thumb, chose to highlight some of your most relevant skills from the following categories:
Type of construction work you specialize in
Familiarity with equipment, machinery tools
Knowledge of specific techniques
Budgeting, supervision, planning experience
Extra training and professional certifications
You should always put these into context, rather than just as a bullet-point list. This helps paint a better picture for the reader.
Mention Your Certifications
Construction work isn't just about working with your hands. You also need to be able to interpret construction plans, comply with safety requirements, and navigate your way around conflicting zoning requirements vs developer objectives. Show that you have a keen mind and "know the ropes" by bringing up some of your certifications and extra training you did.
Popular construction work certifications include:
Occupational First Aid
WHMIS training
Construction Safety Officer certification
LEED Green Associate certification
Certified Professional Constructor (CPC) certification
Certified Construction Manager (CCM) certification
These can win you some extra points of appreciation with a potential employer!
Do Some Research
A bit of flattery always goes a long way. Quickly look up the employer and review their earlier construction projects. Then briefly reference them in your cover letter. Doing so, first of all, shows your interest in their company. Secondly, you can reference how your past experiences are relevant to their line of work. And therefore, they can also be of tremendous value to them in the upcoming project.
For example:
"Roads LLC recently did a major renovation of 99 Highway. When passing along, I've noticed that your team has been using the latest model of Caterpillar road rollers — a machine I've recently learned to operate myself."
Final Tip: Always Comply with Application Instructions
If the job ad explicitly asks you to provide some information — e.g. your business licenses, certifications, or a number of years in the industry — be sure to do so. After all, you don't want to be filtered out from a great job just because you've missed a quick request!