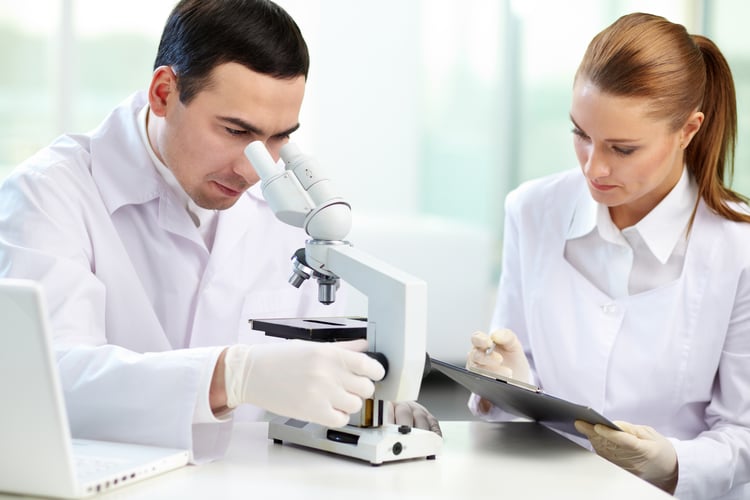 Now more than ever, we realize how important medical research and clinical trials are. After all, the ability to conduct these studies is what has given us the COVID-19 vaccine, and the booster shot as well. While researchers deserve plenty of credit for the work they do, none of this would be possible with the leadership and organizational skills of a clinical research coordinator.
Clinical research coordinators are the folks who oversee and drive the execution of clinical trials and organize daily activities. In many cases, they also carry out experiments and take care of the administrative side of medical research.
Now that you have developed the skills you need to be a clinical research coordinator, it's time to find a great job. We are here to help with that. Here, we have provided a cover letter for the clinical research coordinator. That is followed up by some great writing tips.
Clinical Research Coordinator Cover Letter Sample in .docx Format
The following cover letter really exemplifies someone who can communicate both their technical and scientific abilities and their soft skills.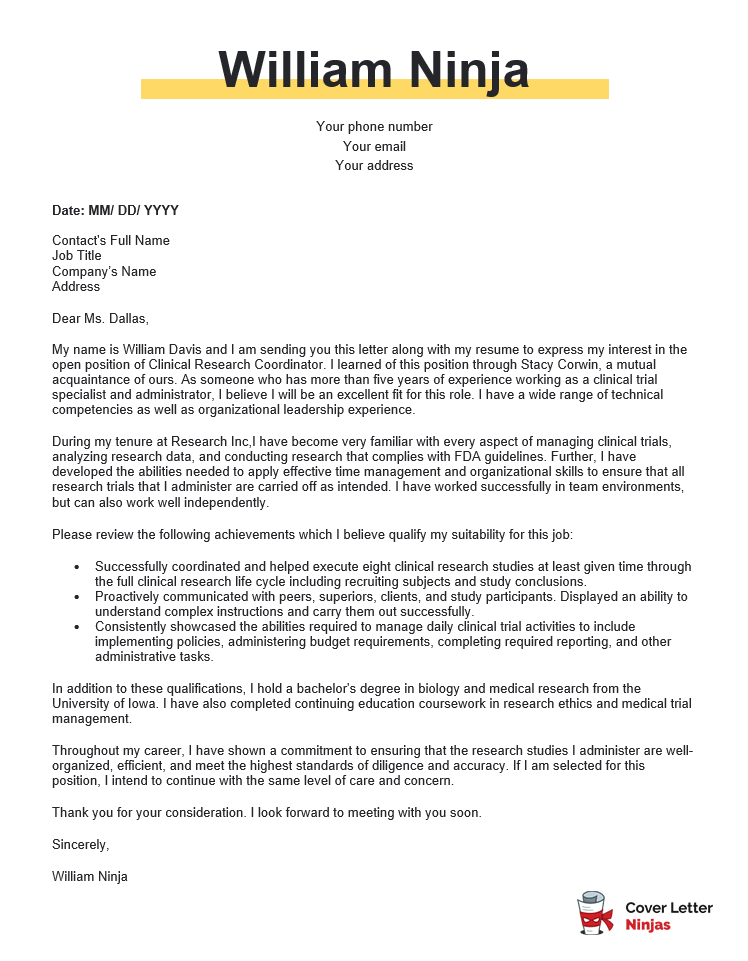 Download example (Word version)
Cover Letter Example for Clinical Research Coordinator – Text Format
Dear Ms. Dallas,
My name is William Ninja and I am sending you this letter along with my resume to express my interest in the open position of Clinical Research Coordinator. I learned of this position through Stacy Corwin, a mutual acquaintance of ours. As someone who has more than five years of experience working as a clinical trial specialist and administrator, I believe I will be an excellent fit for this role. I have a wide range of technical competencies as well as organizational leadership experience.
During my tenure at Research Inc,I have become very familiar with every aspect of managing clinical trials, analyzing research data, and conducting research that complies with FDA guidelines. Further, I have developed the abilities needed to apply effective time management and organizational skills to ensure that all research trials that I administer are carried off as intended. I have worked successfully in team environments, but can also work well independently.
Please review the following achievements which I believe qualify my suitability for this job:
Successfully coordinated and helped execute eight clinical research studies at least given time through the full clinical research life cycle including recruiting subjects and study conclusions.
Proactively communicated with peers, superiors, clients, and study participants. Displayed an ability to understand complex instructions and carry them out successfully.
Consistently showcased the abilities required to manage daily clinical trial activities to include implementing policies, administering budget requirements, completing required reporting, and other administrative tasks.
In addition to these qualifications, I hold a bachelor's degree in biology and medical research from the University of Iowa. I have also completed continuing education coursework in research ethics and medical trial management.
Throughout my career, I have shown a commitment to ensuring that the research studies I administer are well-organized, efficient, and meet the highest standards of diligence and accuracy. If I am selected for this position, I intend to continue with the same level of care and concern.
Thank you for your consideration. I look forward to meeting with you soon.
Sincerely,
William Ninja
More Relevant Cover Letter Examples to Check
How To Write a Cover Letter For a Clinical Research Coordinator Position
Are you ready to make sure your cover letter stands out from the crowd too? Below we offer extra writing guidance.
Start With an Outline
No, you aren't writing an academic paper. Still, it can help to employ some writing techniques to help you plan your writing and keep it well-structured. One way to do this is to start with a cover letter outline. This will help you ensure that you are addressing every aspect of the position and that your cover letter flows the way you intend it to.
ADVICE FROM OUR EXPERT
---
An often overlooked aspect of a clinical research coordinator position is the allocation of budgeted resources. Addressing those needs of the position by describing your past experiences with project budgets will definitely get the reader's attention.

Debi Douma-Herren
Senior Certified HR Professional & Career Coach
Include the Most Relevant Skills
Take a close look at the job listing. Use it to identify between 3 and 5 key skills that you will emphasize in your cover letter. These might include data collection, data analysis, subject recruiting, reporting, budgeting, and administering daily research activities.
Other clinical research coordinator skills worth highlighting in your cover letter:
Data coding
Supply management
Stakeholder management
Statistics
Questionnaire creation
Attention to details
Analytical skills
Emphasize your Ability to Communicate
As a clinical research coordinator, you must be able to communicate with people who have varying understandings of the research process. You will have to be able to help research participants, researchers, clients, coworkers, and other stakeholders understand what is required of them to ensure that research is completed successfully and in a timely manner. Use your cover letter to illustrate that you are capable of managing different parties, resolving bottlenecks, and keeping the progress steady. Exemplify the above with a short snippet.
"In my last role, I was in charge of recruiting, reviewing, and onboarding over 30 trial participants and ensuring high levels of engagement during the study."
Use a Template
Don't waste precious time trying to format and design your cover letter. Instead, choose a professionally designed cover letter template that will allow you to focus on the content of your letter.
Final Tip: Draft Multiple Letters
Yes, it is tempting to write one amazing cover letter that you send with every application package. Unfortunately, you need something more personalized to stand out. While it is okay to work from a master copy, be sure to write a custom letter for each position. These should address the specific needs of the hiring manager.