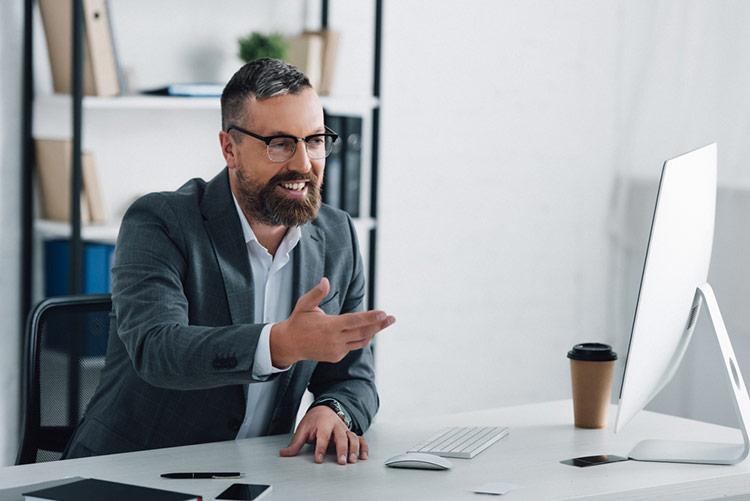 The act of coordinating and managing care for patients or clients is complex even in the best of situations. A case manager is responsible for organizing the care of people needing social services, health-related services, or both. It's a rewarding job, as you can help to ensure people get the best outcomes possible when faced with major challenges.
Of course, to land a job as a case manager, you must first earn an interview first. To do this, you have to convince a hiring manager that you have the aptitude, skills, and experience to manage even the toughest cases. You'll also have to prove that you possess a variety of hard and soft skills. Finally, you must show a passion for this work as it is stressful, and burnout rates in social services are quite high.
The following tips and a case manager cover letter sample will help you craft a solid job application packet.
Use The Right Tone
Your cover letter is going to be the first impression the hiring manager has of you. It's cliche but true, how you write your cover letter will impact how your personality and professionalism are viewed.
Once you write your cover letter, try reading it out loud. Does it communicate what you wanted to? As a case manager, you need to be capable and professional, but also very connected and compassionate. In many cases, you aren't just charged with solving practical problems for your client. You must also show empathy and communicate with them in a way but shows you are relatable.
Focus on The Most Important Qualifications
The specific qualifications you need will depend on the demands of the job you are seeking, and the specific requirements of the private or federal agency you are applying to. Rather than attempting to address every single qualification, use your cover letter to focus on what is most important for this particular job.
Review the job listing carefully, and identify a few of the key qualifications, personal attributes, and experiences that stand out is being most important. Mention those in your cover letter, and specify how you match those qualifications.
ADVICE FROM OUR EXPERT
---
Case managers do not often think about quantifying their achievements because much of their work centers around helping others. However, you can make a great impression with the hiring manager and stand out by quantifying results in your cover letter.

Debi Douma-Herren
Senior Certified HR Professional & Career Coach
Use Meaningful Action Words
Ideally, when the hiring manager gets to the end of your cover letter, they should feel that you're capable of handling difficult cases and truly getting things done. By using powerful action words, you can leave the impression that you are proactive and decisive.
Thus, try to sprinkle in action verbs such as led, managed, guided, assess, supported, counseled, obtained, documented, trained, and succeeded.
Show Your Passion Rather Than Telling It
Hiring managers are going to expect all applicants to mention that they are passionate about social services and community welfare. Every other applicant will mention that they love helping others. None of these statements will help you stand out.
Instead, provide a real-life example that supports your claim. For example, you could describe the moment you decide to work in this field. You might also describe a case that has left a lasting impression that impacts how you do the work you do today.
Case Manager Cover Letter Sample in .docx Format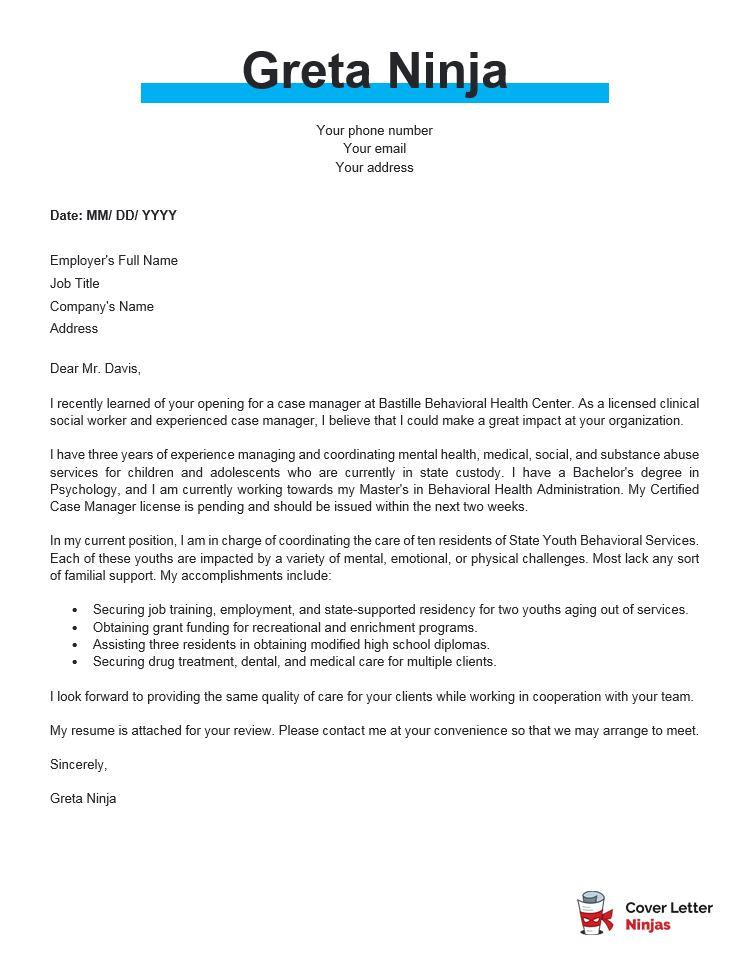 Download example (Word version)
Case Manager Cover Letter Example – Text Format
Dear Mr. Davis,
I recently learned of your opening for a case manager at Bastille Behavioral Health Center. As a licensed clinical social worker and experienced case manager, I believe that I could make a great impact at your organization.
I have three years of experience managing and coordinating mental health, medical, social, and substance abuse services for children and adolescents who are currently in state custody. I have a Bachelor's degree in Psychology, and I am currently working towards my Master's in Behavioral Health Administration. My Certified Case Manager license is pending and should be issued within the next two weeks.
In my current position, I am in charge of coordinating the care of ten residents of State Youth Behavioral Services. Each of these youths are impacted by a variety of mental, emotional, or physical challenges. Most lack any sort of familial support. My accomplishments include:
Securing job training, employment, and state-supported residency for two youths aging out of services.
Obtaining grant funding for recreational and enrichment programs.
Assisting three residents in obtaining modified high school diplomas.
Securing drug treatment, dental, and medical care for multiple clients.
I look forward to providing the same quality of care for your clients while working in cooperation with your team.
My resume is attached for your review. Please contact me at your convenience so that we may arrange to meet.
Sincerely,
Greta Ninja
Final Tip: Highlight Additional Credentials
For many positions, case managers are required to hold specific certificates or licenses. If you are inexperienced, and in the process of obtaining a necessary certificate or license, mention that along with the precise date by which you will have this. If you already have any certifications, add this to your cover letter as well.
Need Extra Guidenace? Check These Cover Letters Too!