A social service assistant works hard to connect community members in need to various forms of support. They act as assistants to ever-busy social workers, rehabilitation specialists, and other professionals working in human services fields.
This is a rewarding but difficult job. You desire to find a position that will help you achieve your career goals. To help you with that, we're providing a sample cover letter for social service assistants. Keep reading below for some great writing tips and other advice to help you along.
Cover Letter Example For a Social Service Assistant in Word Format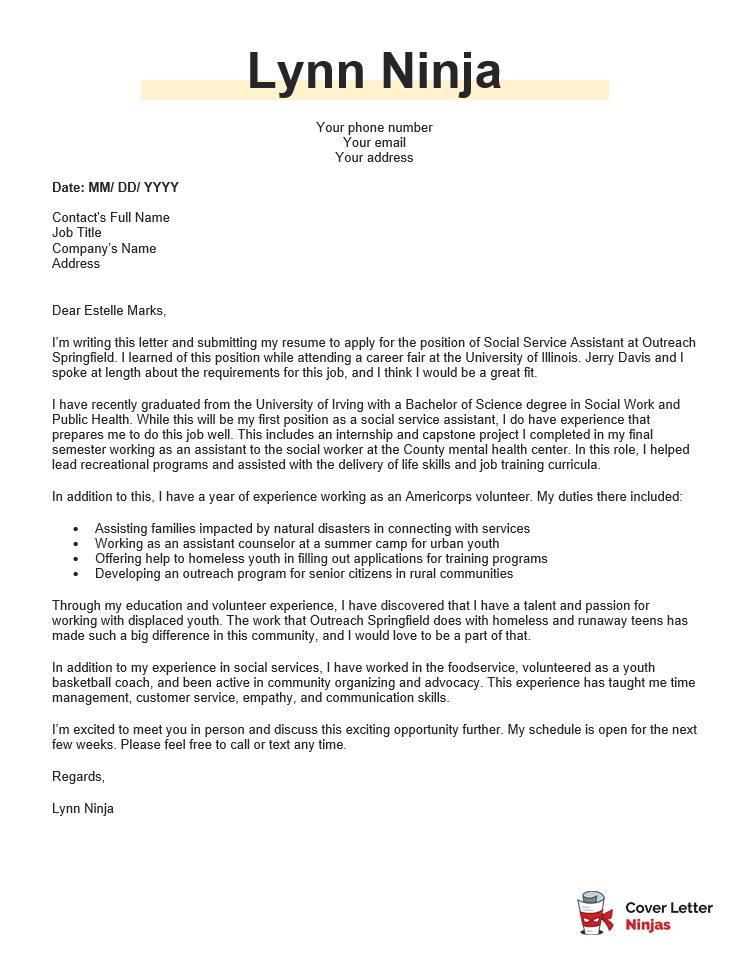 Cover Letter For Social Service Assistant – Text Format
Dear Estelle Marks,
I'm writing this letter and submitting my resume to apply for the position of Social Service Assistant at Outreach Springfield. I learned of this position while attending a career fair at the University of Illinois. Jerry Davis and I spoke at length about the requirements for this job, and I think I would be a great fit.
I have recently graduated from the University of Irving with a Bachelor of Science degree in Social Work and Public Health. While this will be my first position as a social service assistant, I do have experience that prepares me to do this job well. This includes an internship and capstone project I completed in my final semester working as an assistant to the social worker at the County mental health center. In this role, I helped lead recreational programs and assisted with the delivery of life skills and job training curricula.
In addition to this, I have a year of experience working as an Americorps volunteer. My duties there included:
Assisting families impacted by natural disasters in connecting with services
Working as an assistant counselor at a summer camp for urban youth
Offering help to homeless youth in filling out applications for training programs
Developing an outreach program for senior citizens in rural communities
Through my education and volunteer experience, I have discovered that I have a talent and passion for working with displaced youth. The work that Outreach Springfield does with homeless and runaway teens has made such a big difference in this community, and I would love to be a part of that.
In addition to my experience in social services, I have worked in the foodservice, volunteered as a youth basketball coach, and been active in community organizing and advocacy. This experience has taught me time management, customer service, empathy, and communication skills.
I'm excited to meet you in person and discuss this exciting opportunity further. My schedule is open for the next few weeks. Please feel free to call or text any time.
Regards,
Lynn Ninja
How to Write a Cover Letter for Social Service Assistant
A social service assistant is an entry-level position. Therefore, most employers don't expect you to present an impressive professional background. But you must showcase some marketable skills (even if those are from a school or other jobs), as well as your penchant for learning more about the industry. These tips will help you turn your limited experience into one mighty-fine cover letter.
Do Some Research
Before you apply for any job, you should be able to answer at least one of these questions:
What is a challenge this employer is facing?
What is a major milestone or news development the organization has achieved?
How do your values align with the potential employer?
What is a personal or professional connection you have with the organization?
If your cover letter shows that you are familiar with the social service agency, its missions, and goals, you will get the attention of the hiring manager. This will help ensure your application package is memorable.
Show a Variety of Skills
A social service assistant will use a range of skills. Your work might include interviewing clients, doing advocacy work, clerical and administrative duties, and going out in the field for outreach. Also, you'll need to be able to communicate effectively with many different people, and often work to achieve great outcomes for people who are struggling. Your cover letter should demonstrate that you are ready to jump in, and do what is necessary to be successful.
Good skills to include in your cover letter (and resume!):
Coordination
Document management
Digital literacy
Time management
Problem-solving
Emotional intelligence
Empathy
Strong listening skills
Community outreach
Group activities management
Social perceptiveness
Service orientation
Connect Your Experience With The Required Qualifications
When you discuss your work experience in your cover letter, try to connect it with the requirements in the job listing. You can do this by directly relating the skills and experience involved. Another technique is to use keywords from the job ad.
For example, if the job post lists "experience in a customer service role" among the desired qualifications you should absolutely mention this kind of experience in your cover letter. This will attract the attention of the hiring authority. Additionally, it will help your cover letter pass any checking done by applicant tracking software.
Final Tip: Expand Your Search
Social service assistants work for a variety of organizations. So, if you don't find openings with your local DHS office, keep looking. Try non-profit organizations, hospitals, private agencies, and schools. Also, be sure to attend job fairs and networking events.