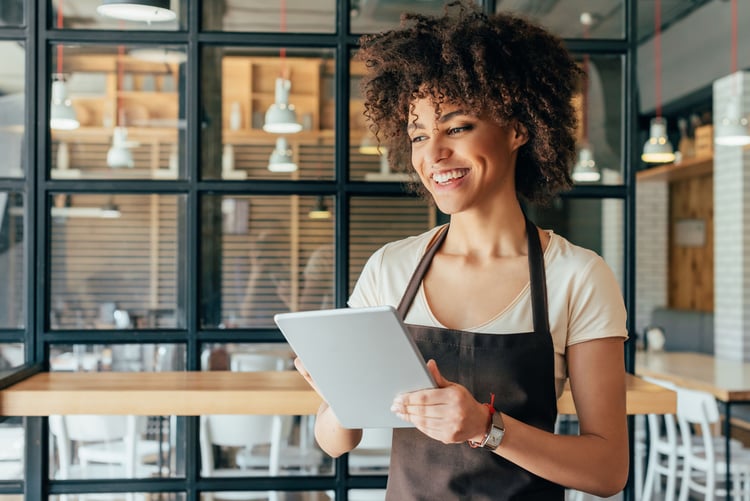 The great resignation has hit the service industry hard. The restaurant niche has been especially impacted. That's left many newly re-open establishments desperate to hire staff, especially servers.
That could mean a great opportunity for you. Many restaurants aren't just hiring, they are offering sign-on bonuses and higher wages. For instance, Chipotle chain boosted its average wages in May this year and Jimmy John's Gourmet Sandwiches has launched signing bonuses for recruits.
Of course, even though there are many opportunities available now, it's still important to present yourself in the best light. To do that, you'll need a great resume and cover letter. Hopefully, your resume is already in tip-top shape. Now, let's work on that cover letter. See below for an example letter, and helpful tips.
Cover Letter Sample for a Server Job in .docx Format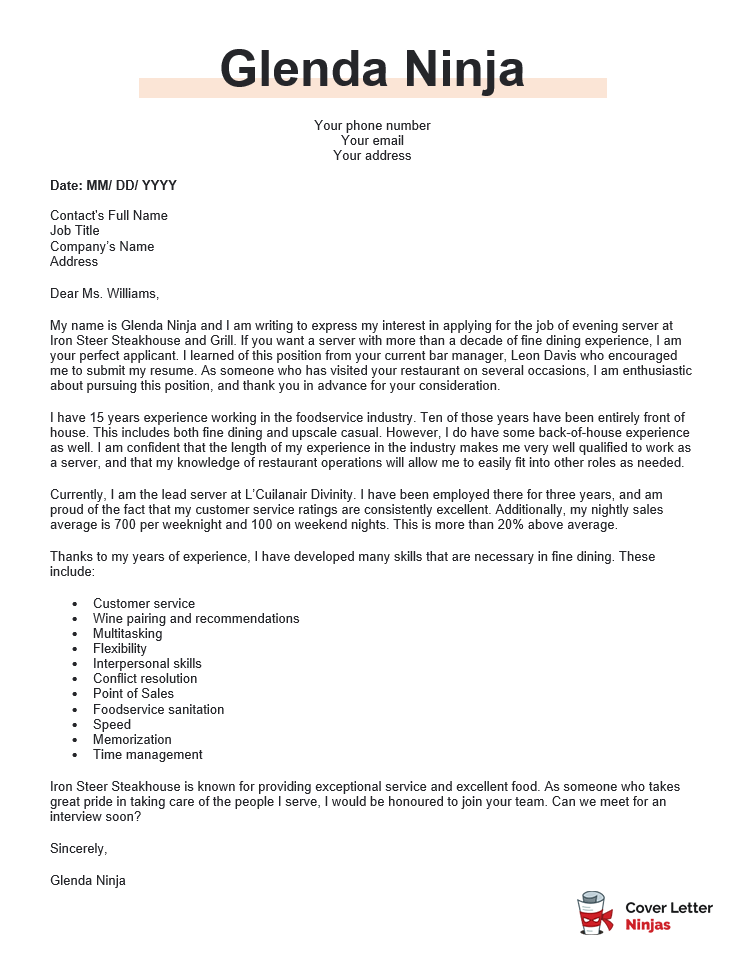 Download example (Word version)
Cover Letter Example for Server Position – Text Format
Dear Ms. Williams,
My name is Glenda Ninja and I am writing to express my interest in applying for the job of evening server at Iron Steer Steakhouse and Grill. If you want a server with more than a decade of fine dining experience, I am your perfect applicant. I learned of this position from your current bar manager, Leon Davis who encouraged me to submit my resume. As someone who has visited your restaurant on several occasions, I am enthusiastic about pursuing this position, and thank you in advance for your consideration.
I have 15 years experience working in the foodservice industry. Ten of those years have been entirely front of house. This includes both fine dining and upscale casual. However, I do have some back-of-house experience as well. I am confident that the length of my experience in the industry makes me very well qualified to work as a server, and that my knowledge of restaurant operations will allow me to easily fit into other roles as needed.
Currently, I am the lead server at L'Cuilanair Divinity. I have been employed there for three years, and am proud of the fact that my customer service ratings are consistently excellent. Additionally, my nightly sales average is 700 per weeknight and 100 on weekend nights. This is more than 20% above average.
Thanks to my years of experience, I have developed many skills that are necessary in fine dining. These include:
Customer service
Wine pairing and recommendations
Multitasking
Flexibility
Interpersonal skills
Conflict resolution
Point of Sales
Foodservice sanitation
Speed
Memorization
Time management
Iron Steer Steakhouse is known for providing exceptional service and excellent food. As someone who takes great pride in taking care of the people I serve, I would be honored to join your team. Can we meet for an interview soon?
Sincerely,
Glenda Ninja
Server Cover Letter Writing Tips
Some people work in the dining industry part-time. Others come as a server and then grow to restaurant managers in several years or even open their own establishment. Given such an array of options, it's important to explain which category you belong to and what are your expectations around the job. The follow-up tips will show you how to address your background and talk about your competitive strengths as a candidate.
Use a Strong Introduction
Did you know that the first few sentences of your cover letter are the most important? They will determine whether the hiring manager continues to review your application or discard it. This is why it is so important to open with something that grabs attention. For example, you could open with your significant experience, willingness to work late hours, or interest in entering the foodservice industry.
ADVICE FROM OUR EXPERT
---
A great cover letter for a server position should include your ability to handle difficult customers pressure. Servers are often faced with challenging situations and sharing an example of when you turned a potentially bad experience into a great one for a customer shows you can go the extra mile.

Debi Douma-Herren
Senior Certified HR Professional & Career Coach
Mention Your Most Relevant Skills
Restaurant managers are exceptionally busy, and they aren't going to read your cover letter word for word. Instead, they will skim it for relevant information about your skills and experience. Use the job listing to find the most important requirements, then list your skills that match those. Consider using a bulleted list like the one in the sample above.
Show you Understand the Target Audience
Are you applying for a job at a fine dining restaurant, themed eatery for kids, BBQ joint, or raucous sports bar? Do your research ahead of time so you have a good understanding of who your average customer is going to be.
Then, show how you have the skills and experience to serve those customers to the best of your ability. For example, in the cover letter above the server mentions several relevant details about their ability to satisfy a fine dining customer. Likewise, if you are applying for a job at a family restaurant, you might mention your ability to develop a rapport with kids.
Quantify your Experience
Anyone can say they are a great server, or that they sell a significant amount of food. However, without any sort of evidence, this is all subjective. That's why you must drive your points home with real numbers. Don't simply say you have great customer service ratings. Quantify that with some examples or evidence. Use numbers or percentages.
Final Tip: Show Your Versatility
The hiring crisis means that workers must be able to take on a variety of duties. As a server, you might be needed to help at the bar, even in the kitchen. If you have a wide range of experience, be certain that you add this information to your cover letter.