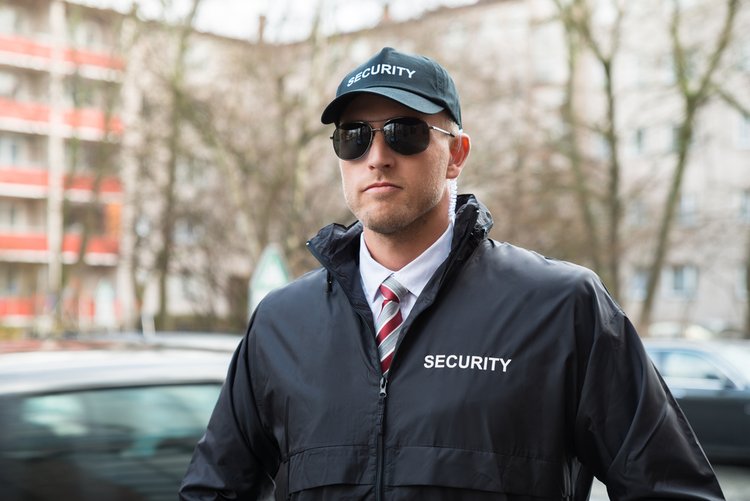 Security guards are present in stores, office buildings, events, construction sites, and any other location where there is a need to maintain security or prevent loss. Professional security guards control access to buildings, provide direction and information, watch surveillance videos, engage in loss prevention, mitigate conflicts, and more. They are important employees to ensure that both people and property are kept safe.
Security or watch person work is a rewarding job with flexible hours, better than average pay, and often includes benefits. You will find that there are many trainee positions available in this field, making it a good choice for those interested in starting a new career.
To help you with that, we've got some great tips for writing a cover letter and some other advice. Don't forget to take a close look at our security guard cover letter sample. Let's jump in!
Disclose Your Security License Type and Status
If you are a licensed security guard that will definitely help you in your job search. So be sure to include that information in your cover letter. In particular, let the employer know:
The type of license you hold
When you received it
Through which authority
For instance, some places may only hire licensed armed officers or former police officers. By mentioning your certification early on, you'll win some extra points from the HR.
Also, provide information about your specialization (if you have any). For example, state if you are qualified to work in banks, at airports, or for armored car companies. Depending on the guidelines in your area, you may need a specialized license to work in these fields.
In some states (e.g. California), this license is often called a guard card. It allows you to execute the basic duties of a security guard. If you have this qualification, employers will know that you understand the laws and regulations that apply to you and are appropriately certified to do the job.
ADVICE FROM OUR EXPERT
---
Job opportunities within the security field are often straight forward and to the point. Consider mirroring the language used in the job description within your cover letter, avoiding "over the top" or extravagant descriptions of your background. A simple, yet impactful, cover letter that clearly articulates your experience, core competencies, and interest in the position will give you an edge on the competition.

Claire Webber
Career Consultant, CPCC, CPRW
Place Your Military or Law Enforcement Experience in The Spotlight
Early into your job search, you will notice that many job listings for security officers request for military veterans or those with law enforcement experience to apply. As it's easy to guess, this kind of experience makes you a more attractive job candidate.
If you decide to apply for a position as a security guard as part of a government organization, you have even more reason to mention your military experience. Many federal jobs programs prioritize applicants who are veterans over others.
Demonstrate Your Communication Skills
You may find that the security guard work is more about being a friendly, effective communicator than an enforcer of rules and regulations. After all, you are a 'face' of the organization you work for, and that means making visitors feel safe and welcome. Most importantly, you should be able to accurately communicate details of any incident or event to your superiors, co-workers, even law enforcement.
Add an example of your using your communication skills to deescalate a situation, or make an event safer. You could also mention a time you were able to effectively give information to your supervisors or law enforcement officers.
Cover Letter Sample for a Security Guard in .docx Format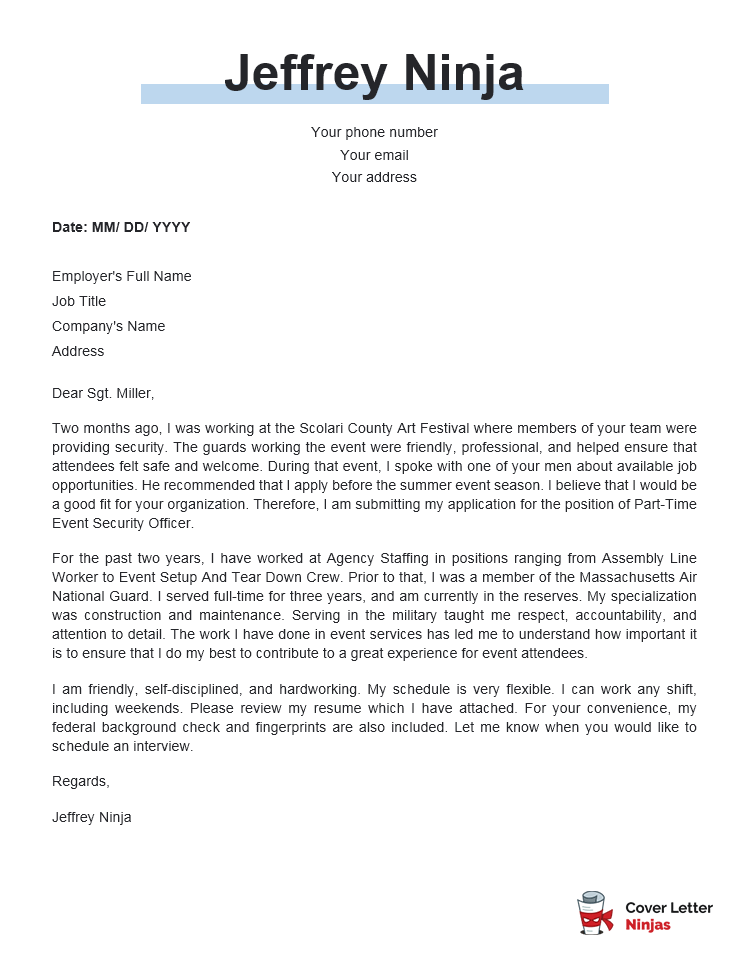 Download example (Word version)
Security Guard Cover Letter Example – Text Format
Dear Sgt. Miller,
Two months ago, I was working at the Scolari County Art Festival where members of your team were providing security. The guards working the event were friendly, professional, and helped ensure that attendees felt safe and welcome. During that event, I spoke with one of your men about available job opportunities. He recommended that I apply before the summer event season. I believe that I would be a good fit for your organization. Therefore, I am submitting my application for the position of Part-Time Event Security Officer.
For the past two years, I have worked at Agency Staffing in positions ranging from Assembly Line Worker to Event Setup And Tear Down Crew. Prior to that, I was a member of the Massachusetts Air National Guard. I served full-time for three years, and am currently in the reserves. My specialization was construction and maintenance. Serving in the military taught me respect, accountability, and attention to detail. The work I have done in event services has led me to understand how important it is to ensure that I do my best to contribute to a great experience for event attendees.
I am friendly, self-disciplined, and hardworking. My schedule is very flexible. I can work any shift, including weekends. Please review my resume which I have attached. For your convenience, my federal background check and fingerprints are also included. Let me know when you would like to schedule an interview.
Regards,
Jeffrey Ninja
Final Tip: Do Your Own Leg Work
Most security gigs require a background check, physical, and fingerprinting. In many cases, you can get these on your own. Mention that you've taken the initiative to take care of these things, and your application. This can help move your application to the top of the pile.