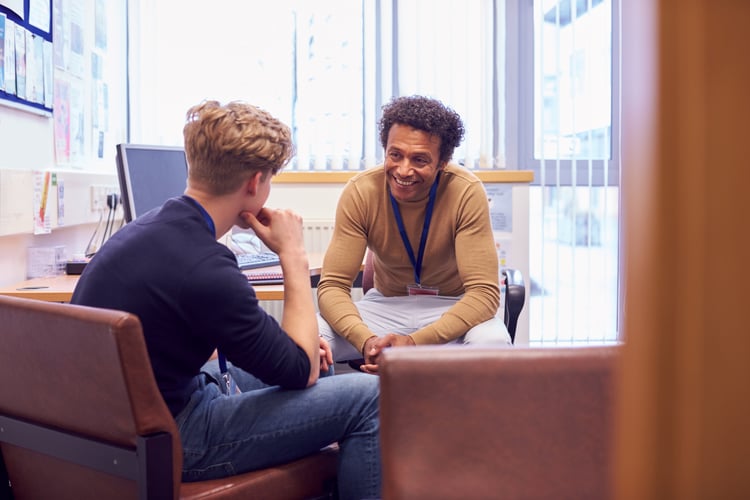 Working in academia is both prestigious and rewarding. You get to impact the youngest generation of talent, shape their perception of work, and guide them towards equally rewarding career paths.
Academic advisors directly communicate with students, provide personal and professional counseling, as well as personalized recommendations on degree attainment. The exact set of duties, however, varies depending on the institution you are employed in and the type of student population it has. Therefore, a solid cover letter for an academic advisor has to showcase your adaptability and knowledge of the educational establishment you are applying to.
In this post, we provide a sample cover letter for academic advisor positions, paired with several actionable writing tips.
Cover Letter Sample for Academic Advisor in .docx Format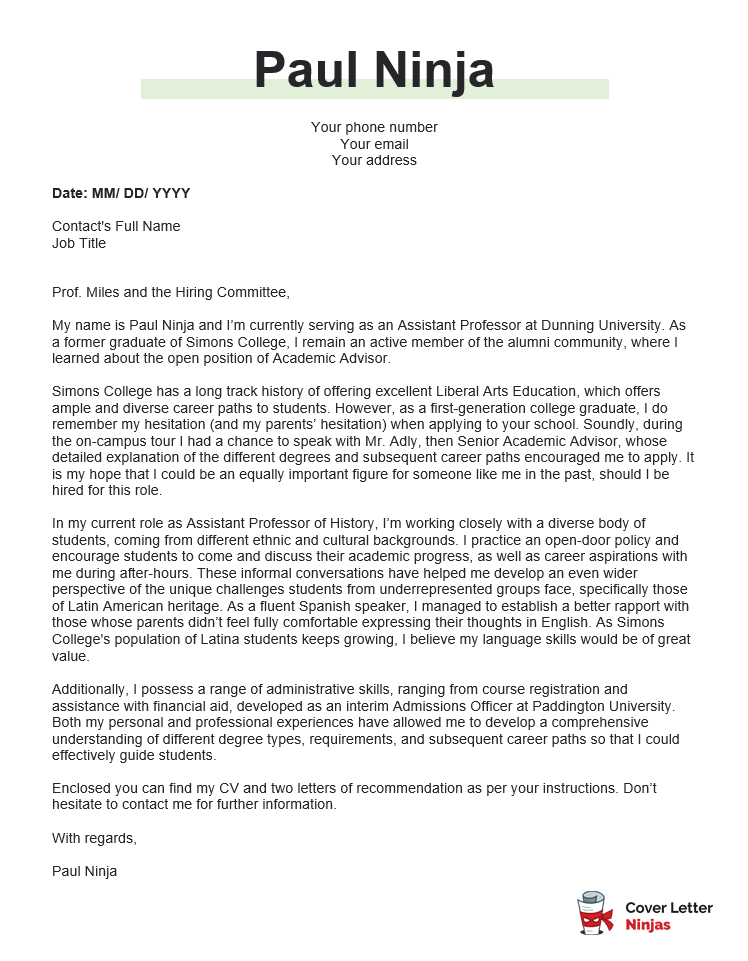 Download example (Word version)
Cover Letter Example for Academic Advisor – Text Format
Prof. Miles and the Hiring Committee,
My name is Paul Ninja and I'm currently serving as an Assistant Professor at Dunning University. As a former graduate of Simons College, I remain an active member of the alumni community, where I learned about the open position of Academic Advisor.
Simons College has a long track history of offering excellent Liberal Arts Education, which offers ample and diverse career paths to students. However, as a first-generation college graduate, I do remember my hesitation (and my parents' hesitation) when applying to your school. Soundly, during the on-campus tour I had a chance to speak with Mr. Adly, then Senior Academic Advisor, whose detailed explanation of the different degrees and subsequent career paths encouraged me to apply. It is my hope that I could be an equally important figure for someone like me in the past, should I be hired for this role.
In my current role as Assistant Professor of History, I'm working closely with a diverse body of students, coming from different ethnic and cultural backgrounds. I practice an open-door policy and encourage students to come and discuss their academic progress, as well as career aspirations with me during after-hours. These informal conversations have helped me develop an even wider perspective of the unique challenges students from underrepresented groups face, specifically those of Latin American heritage. As a fluent Spanish speaker, I managed to establish a better rapport with those whose parents didn't feel fully comfortable expressing their thoughts in English. As Simons College's population of Latina students keeps growing, I believe my language skills would be of great value.
Additionally, I possess a range of administrative skills, ranging from course registration and assistance with financial aid, developed as an interim Admissions Officer at Paddington University. Both my personal and professional experiences have allowed me to develop a comprehensive understanding of different degree types, requirements, and subsequent career paths so that I could effectively guide students.
Enclosed you can find my CV and two letters of recommendation as per your instructions. Don't hesitate to contact me for further information.
With regards,
Paul Ninja
More Academic Cover Letter Examples to Check Out!
How to Write a Cover Letter for an Academic Advisor Position
Academic advisors need to possess strong interpersonal skills — ranging from active listening to logical reasoning — complemented by organizational skills. After all, this role assumes not just friendly chit-chat with the students, but acute advisory and proactive guidance. Showcasing all of these can be hard in a cover letter. So you'll have to prioritize the information effectively. These follow-up tips should show you how to do so.
Explain Why You are Interested in This Role
More times than not, an academic advisor is a role people switch to from adjacent positions. Therefore, it's important to accentuate why you'd want to work as an advisor and which skills you can transfer from other positions.
In the above sample, we articulate interest through a personal story. That's a perfect illustration of one's motivation — but something that might not apply in your case. As an alternative, you can always speak about your interest in counseling, an interest in talent development, and prior participation in various student-related activities. However, don't just say that you are "passionate about impacting the students' lives" — exemplify how you've been doing that. 
Address the Needs of an Institution
Every educational establishment appeals to a certain category of students more than to others. Likewise, every school has its "signature" programs it's known for and seeks to further promote. Try to research these details in advance and reference them in your cover letter. This shows that you have done your research and are eager to learn about the various degrees the institution offers.
Mention a Competitive Skill
Every applicant will likely state something along the lines of "meeting all the requirements, listed in the job description". Many resumes will also appear alike. Use your cover letter to stand out by mentioning a unique skill other candidates may not have.
In this sample, we bring up knowledge of Spanish and show how this can be an advantage to the employer. You can try the same strategy by highlighting a skill you have outside of the standard role description. For example, you can say that you have great graphic design skills which you can use to create more educational brochures. Or emphasize your coding (or process automation) skills, which make you more efficient in your job.
Final Tip: Always Follow the Instructions
The job application process for academic positions is somewhat more formal. Instead of a resume, you may be asked to submit a CV. Likewise, it's not uncommon for establishments to request recommendation letters, personal character letters, or even diploma transcripts. Before you hit "send", double-check that you've included all the requested job application materials.