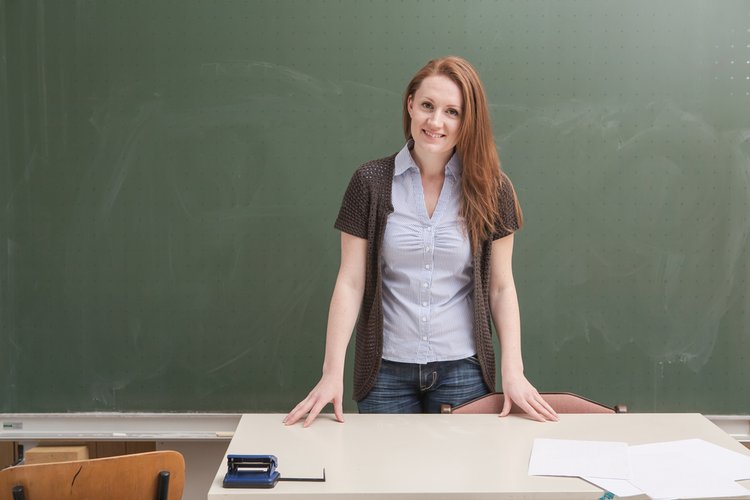 If you've ever wanted to work in higher education, consider getting your start as an adjunct instructor. This is the perfect opportunity for you to gain teaching experience, form relationships with tenured instructors in your field, even continue your research.
So, what's the best approach for getting your foot in the door? You have to have a fabulous application package and great credentials. Part of that is your cover letter. We've written this to help you with that. Keep reading for some great tips, and a cover letter example for an adjunct instructor.
Start With a Great CV
Yes, this is a piece about writing a great cover letter, but your work really begins with your CV. This lengthy, detailed document will cover all of your academic and teaching work history. Plus, it should include research projects, fellowships, TA work, published journal papers, and more. 
Get that done right, and you can mine its contents for your cover letter. The trick is to hand-select a few of the most relevant skills and accomplishments from your CV. Next, use them to create a powerful cover letter.
ADVICE FROM OUR EXPERT
---
Adjunct instructor application materials are often presented to a hiring committee. Knowing this, a cover letter must appeal to a variety of audience members. They are looking for you to summarize all your application materials within the cover letter. It is helpful to point out your experience in teaching or co-teaching within academia.

Debi Douma-Herren
Senior Certified HR Professional & Career Coach
Don't Discount Your Experience
When a school is open to hiring for an adjunct position, they know they aren't going to field Ph.D. level instructors with decades of teaching experience. Don't be intimidated, and don't fret that you don't have the right background. Chances are, you gathered all sorts of relevant experience in grad school. This includes:
Guest lecturing
Leading research projects
Working as a teacher's assistant
Teaching continuing education courses
Showcase Your Flexibility
You may find that you increase your marketability as an adjunct instructor if you show hiring managers that you are capable of working across multiple academic departments or grade levels. For example, you're more likely to get an interview if your cover letter proves that you are capable and willing to teach 100 and 200 level courses in addition to upper-division ones.
Another thing to consider is your work schedule. Are you willing to teach classes at night or on the weekends? Make this clear on your cover letter, as full-time instructors tend to take the daytime courses for themselves.
Match Your Skills to The Needs and Expectations of The School
Every school works to appeal to their desired student audience. One way they do this is by hiring instructors that they believe will connect with students. Some schools do this by hiring instructors who are experienced researchers and have been published in academic journals. Others attempt to draw in students by reminding them that their instructors have real-world experience, and are industry leaders. In some instances, colleges and universities seek out instructors who are dedicated to a specific ideology or value system.
For example, imagine that you are applying for a position as a part-time instructor at a university that specializes in serving working adults pursuing business degrees. Your letter might mention that you have experience teaching non-traditional students and that you have worked as an analyst in the financial sector for more than five years.
Talk About Your Future Plans
What are your plans? Are you interested in moving up through the ranks to become full-time, then a tenured instructor? Maybe you even see yourself heading a department? If you see working as an adjunct as simply a way to gain relevant experience and earn money that's fine too. The important thing is to discuss your future plans in a way that shows you are capable of meeting the school's needs right now. Try something like this:
"I'm very excited about the opportunity to work as an adjunct instructor at the University of California College of Life Sciences. My goal is to eventually become a full-time professor of biology. This job will allow me to gain meaningful experience as work towards my Ph.D. Of course, I'll also have the privilege of teaching and mentoring lower-division students as they discover the life sciences."
Adjunct Instructor Cover Letter Sample in .docx Format
Here is a brief example of a cover letter written by someone who is pursuing a part-time position at a commuter college.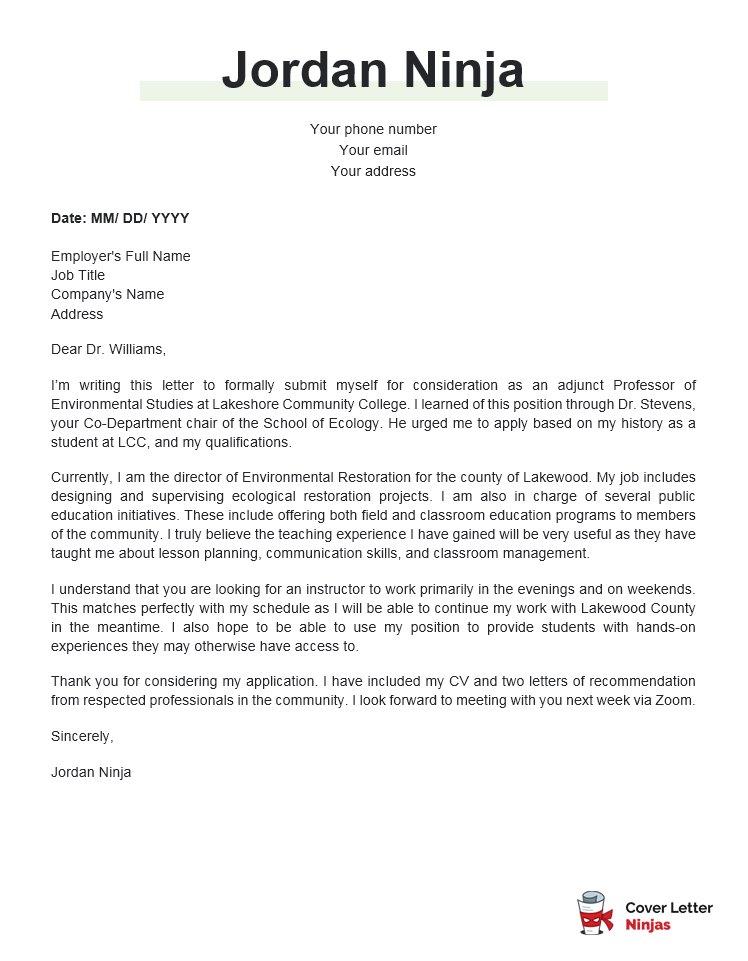 Cover Letter Example For Adjunct Instructor – Text Format
Dear Dr. Williams,
I'm writing this letter to formally submit myself for consideration as an adjunct Professor of Environmental Studies at Lakeshore Community College. I learned of this position through Dr. Stevens, your Co-Department chair of the School of Ecology. He urged me to apply based on my history as a student at LCC, and my qualifications.
Currently, I am the director of Environmental Restoration for the county of Lakewood. My job includes designing and supervising ecological restoration projects. I am also in charge of several public education initiatives. These include offering both field and classroom education programs to members of the community. I truly believe the teaching experience I have gained will be very useful as they have taught me about lesson planning, communication skills, and classroom management.
I understand that you are looking for an instructor to work primarily in the evenings and on weekends. This matches perfectly with my schedule as I will be able to continue my work with Lakewood County in the meantime. I also hope to be able to use my position to provide students with hands-on experiences they may otherwise have access to.
Thank you for considering my application. I have included my CV and two letters of recommendation from respected professionals in the community. I look forward to meeting with you next week via Zoom.
Sincerely,
Jordan Ninja
Final Tip: Don't Forget to Make a Connection
Is there some way that you can show a connection between yourself and the university? For example, are you an alumnus? Maybe you've worked with a professor at the school in the past. Don't be shy about dropping a name, or pointing out a connection that exists between yourself and the school. This is a great tactic to draw attention to your application package and ensure that you have a better chance of making it to the next stage of the hiring process.
Need More Help? Check Other Relevant Cover Letters!