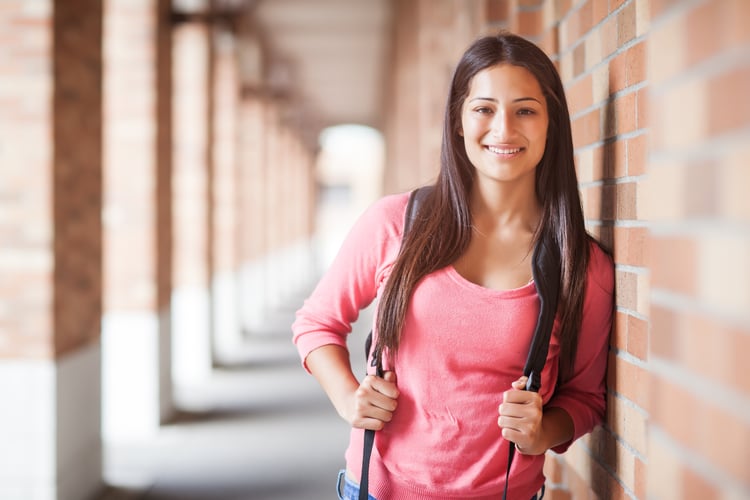 When you apply to graduate school, your application materials should be accompanied by a well-written cover letter. If you are submitting your application online, your cover letter for graduate school will be in a form of an email.
At any rate, the purpose of your cover letter is three-fold:
Provide a summary of your application details
Introduce you to the selection committee
Make you stand out from other applicants
Perhaps you've already applied for a job before and wrote a general short cover letter. But a grad school cover letter is slightly different in shape and content. 
Thus, it's important to get all the details right. To help you with that, this post features a cover letter example for graduate school. On top, we have a few tips on how to make your letter stand out from the crowd!
Cover Letter Sample For Graduate School – .docx Format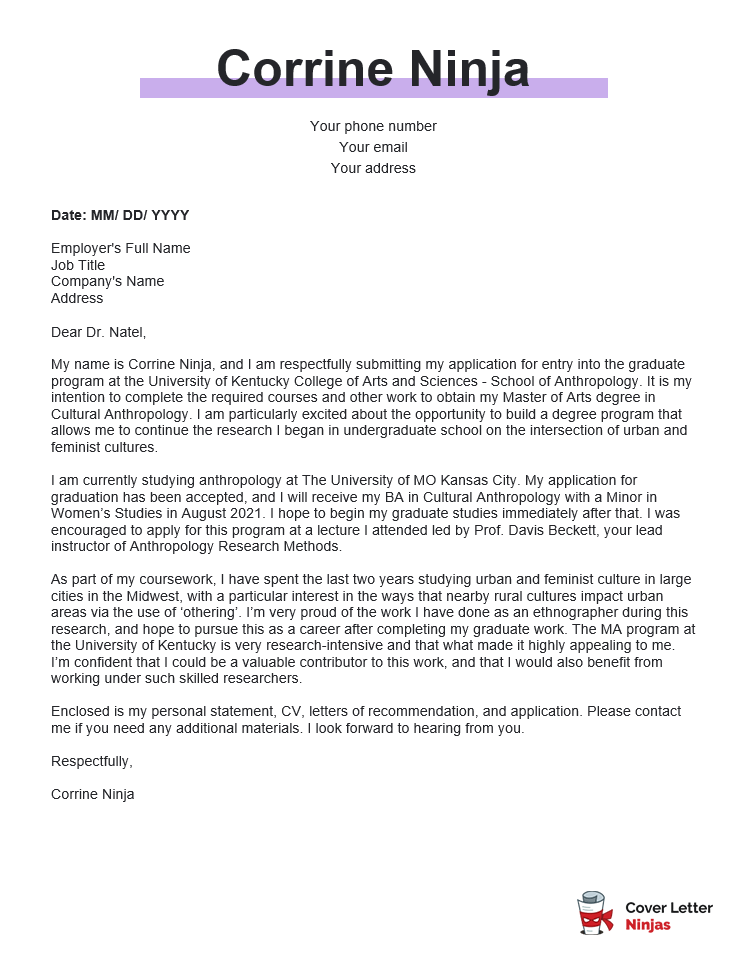 Download example (Word version)
Cover Letter Example For Graduate School – Text Format
Dear Dr. Natel,
My name is Corrine Ninja, and I am respectfully submitting my application for entry into the graduate program at the University of Kentucky College of Arts and Sciences – School of Anthropology. It is my intention to complete the required courses and other work to obtain my Master of Arts degree in Cultural Anthropology. I am particularly excited about the opportunity to build a degree program that allows me to continue the research I began in undergraduate school on the intersection of urban and feminist cultures.
I am currently studying anthropology at The University of MO Kansas City. My application for graduation has been accepted, and I will receive my BA in Cultural Anthropology with a Minor in Women's Studies in August 2021. I hope to begin my graduate studies immediately after that. I was encouraged to apply for this program at a lecture I attended led by Prof. Davis Beckett, your lead instructor of Anthropology Research Methods.
As part of my coursework, I have spent the last two years studying urban and feminist culture in large cities in the Midwest, with a particular interest in the ways that nearby rural cultures impact urban areas via the use of 'othering'. I'm very proud of the work I have done as an ethnographer during this research, and hope to pursue this as a career after completing my graduate work. The MA program at the University of Kentucky is very research-intensive and that what made it highly appealing to me. I'm confident that I could be a valuable contributor to this work, and that I would also benefit from working under such skilled researchers.
Enclosed is my personal statement, CV, letters of recommendation, and application. Please contact me if you need any additional materials. I look forward to hearing from you.
Respectfully,
Corrine Ninja
Graduate School Cover Letter Writing Tips
Here are some extra tips for writing your cover letter, determining what information to include, and making your overall application stand out.
Be Brief But Complete
Similar to a scholarship cover letter, you should balance brevity with providing all the information the selection committee needs. As a general rule, your application should include two to three paragraphs. However, don't leave things out just to meet that criterion. Your goal is to exclude things that don't really add useful information and to avoid being overly wordy.
Open With an Introduction and Purpose
Your cover letter should get to the point quickly. Introduce yourself, and state the reason for the letter. Provide sufficient details. The first person reading your letter may simply be looking for information on how to route your letter to the right person.
Here's a sample opening to try:
My name is Eleanor Hayes, and I am graduating in August with a bachelor's degree in international business from the University of South Carolina. I am writing this letter to submit my application for the MBA program at the University of Ninjas. If accepted, I intend to begin my studies in January of 2022.
Detail Your Current Academic Standing
Many students begin the application process while they are still undergraduate students. This may impact when your application is considered and the number of seats available to you. So be forthcoming about whether you are a current student. Or chose to go into the field for a couple of years and now returning to academia.
Share Why You Are Interested in The Program
Spaces in graduate programs are very limited. Across programs, Princeton admitted only 1,332 graduate students out of 12,553 applicants last year. That's about 10.6%.

Additionally, schools invest a lot of money into graduate students by way of assistantship programs and research grants. So, it makes sense that they have a vested interest in only accepting students who are going to be very dedicated to the programs that they offer. Share in detail what makes a particular program so appealing to you.
ADVICE FROM OUR EXPERT
---
Even if a cover letter is voluntary for a graduate school application, it is still critical. A cover letter provides an overall snapshot of your academic career and goals and can show that you are a standout candidate by highlighting extracurricular activities, research, and job experiences that may pique their interest.

Debi Douma-Herren
Senior Certified HR Professional & Career Coach
Discuss Relevant Research And Experience
There's more to graduate school admissions than having a great transcript. To compete with other applicants, you should have good research work, real-life experience, volunteer work, or internships under your belt. Out of these, choose two examples of your most relevant experience and bring them up in your cover letter.
Indicate a Connection
If you have an alumni connection or received any sort of referral to apply, give that person's name in your application. It's important to credit them for pointing you in the right direction, and listing that connection may also help your application.
Final Tip: Make it Targeted
Although the application process is exhausting, avoid the temptation to send a similar letter to each selection committee. Take the time to write a targeted letter that specifically addresses each graduate program individually.