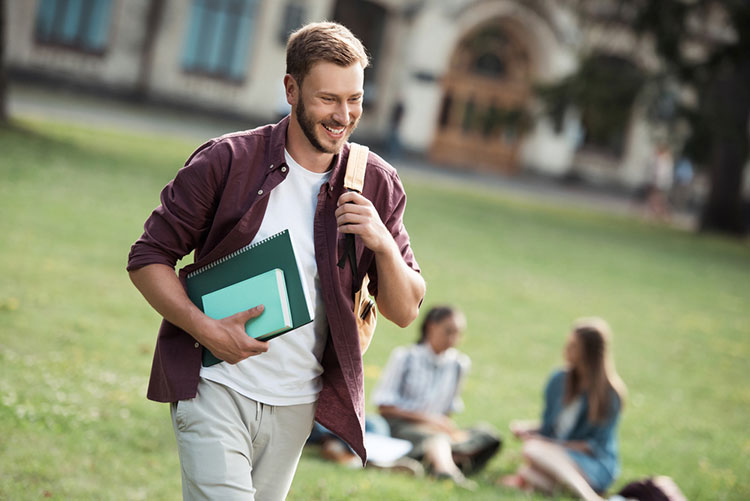 There's a lot of great advice on writing cover letters to pursue different careers or get into the university of your dreams. Unfortunately, scholarship cover letters tend to be overlooked in all of this. That's a shame, because a motivational scholarship cover letter can really make a difference as you apply for competitive scholarship funds.
If you're applying for tuition aid in hopes of receiving some much needed funding, keep reading. We've lined up several actional writing tips, and a scholarship cover letter sample that you can use as a writing aid.
Relate Your Chosen Course of Study to The Scholarship
Many scholarships are offered by groups or other organizations with a cause or goal in mind e.g. increase the number of women in STEM or aid people of certain backgrounds. One of the best things you can do in your scholarship cover letter is to share how your chosen studies align with those goals.
For example, if you are studying nursing, and are applying for a scholarship at a community organization, you can discuss how you might return to your community as a volunteer to provide healthcare to underserved people.
ADVICE FROM OUR EXPERT
---
An easy way to stand out on scholarship applications is to mention the name of someone directly tied to the organization of the scholarship. "Based on my conversation with "NAME", I learned this organization is…" is guaranteed to keep the reader engaged!

Mary Ford
Executive Career Coach
Format Your Letter So it is Easy to Read
There could be hundreds of applicants for a single scholarship. A single person will most likely have to read all of them and then determine whether or not an applicant should be given further consideration. If your application letter looks like a wall of text, it won't make it any further.
Thus, format your letter for readability. Start by choosing a font that is friendly on the eyes. Use plenty of white space. Break your letter down into small paragraphs. Finally, keep things brief. Your letter should be compelling, not lengthy.
Include All of The Required Information
Read through all of the information that you have about the scholarship and the application process. The organizers may ask you to include specific information. You may even need to provide a response to a certain prompt in your motivational letter. Double check before submitting to ensure that you are including every bit of required information.
Check Spelling and Grammar Carefully
Any time you are applying for any sort of academic aid, you should pay very close attention to detail. Even small errors in spelling and grammar will really stand out. This can result in your being removed from consideration. To avoid this, take a multi-staged approach. Here is an example.
Start by turning on the spelling and grammar checker that comes with your word processor.
When you finish writing, use another, premium tool. Try Grammarly or WhiteSmoke.
Next, read your finished letter out loud. Fix any mistakes.
Finally, have a trusted friend, family member, or teacher review your letter.
Use Powerful Examples
Remember that the purpose of your scholarship letter is to motivate your reader. You want to show them that you are the person who is the best fit for their scholarship. A scholarship fund might be intended for a student who is a good leader, interested in a specific academic field, exemplifies service to others, or who adheres to a specific belief system. The requirements for scholarships vary widely.
How do you prove you are a good fit? The best way is to show it by using one or two great examples. Imagine that you are applying for a scholarship given by an animal rights organization. You might share the story of how you spent two summers interning at a wildlife rehabilitation center. This provides concrete evidence of your loyalty to that cause.
Stuck for ideas? Check out other cover letter examples our team has created for more experienced professionals. You can pick up a few more styling tips on how to effortlessly weave in some personal stories into a cover letter.
Sample Cover Letter for Scholarship in .docx Format
To demonstrate some of the points made above, here is a sample scholarship letter. Feel free to use it as a guide.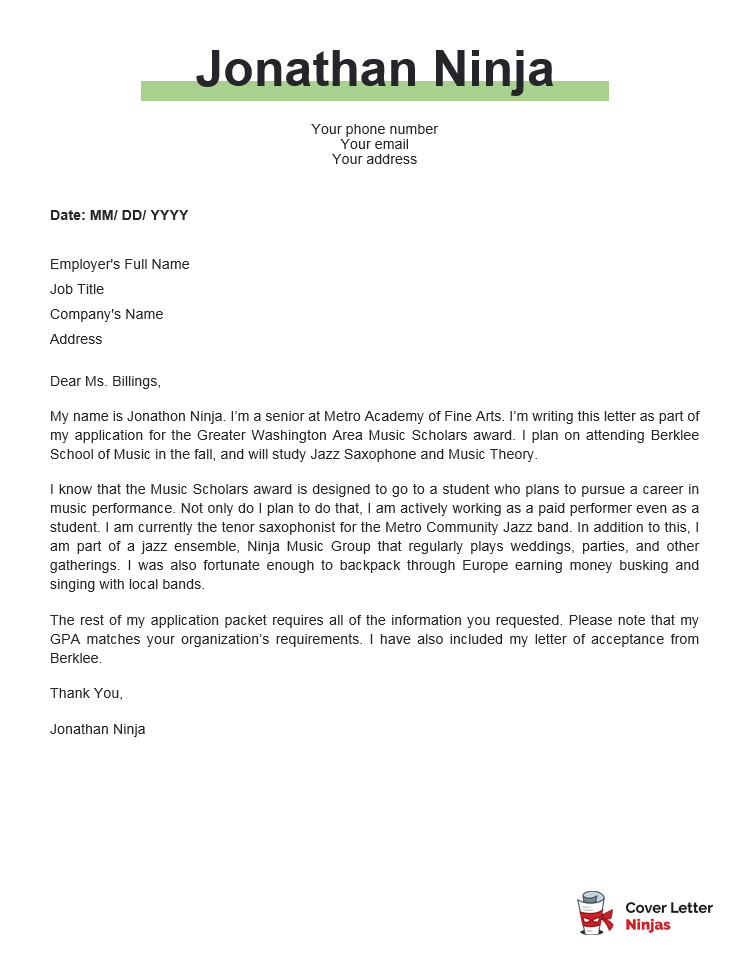 Download example (Word version)
Scholarship Cover Letter Example – Text Format
Dear Ms. Billings,
My name is Jonathon Ninja. I'm a senior at Metro Academy of Fine Arts. I'm writing this letter as part of my application for the Greater Washington Area Music Scholars award. I plan on attending Berklee School of Music in the fall, and will study Jazz Saxophone and Music Theory.
I know that the Music Scholars award is designed to go to a student who plans to pursue a career in music performance. Not only do I plan to do that, I am actively working as a paid performer even as a student. I am currently the tenor saxophonist for the Metro Community Jazz band. In addition to this, I am part of a jazz ensemble, Ninja Music Group that regularly plays weddings, parties, and other gatherings. I was also fortunate enough to backpack through Europe earning money busking and singing with local bands.
The rest of my application packet requires all of the information you requested. Please note that my GPA matches your organization's requirements. I have also included my letter of acceptance from Berklee.
Thank You,
Jonathan Ninja
Final Thoughts
Take care to write a cover letter that truly shows you are deserving of the scholarship you are pursuing. Follow the tips above, and you are likely to impress any scholarship committee and encourage them to give you a further chance of making your case in-person.