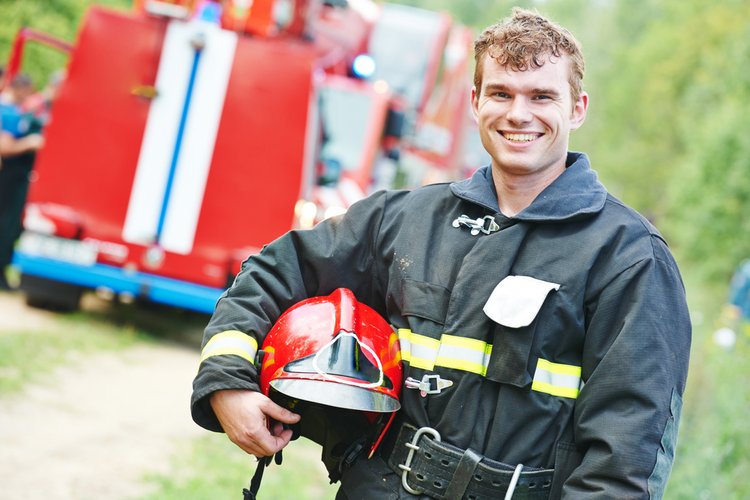 Firefighters are responsible for responding to a variety of emergencies. These include fires of course. However, that's not all. They also respond to car accidents, falls and other injuries, animal rescues, and many distress calls. In addition to this, they test equipment, provide fire safety education, and help businesses comply with fire code.
This is clearly a rewarding career. For many, it's a dream job. But, you can't dream your way into this career. You'll have to have the right training, and a cover letter to introduce yourself to your new fire brigade. Keep reading these tips and check out our firefighter cover letter sample to get closer to your goal.
Address The Job Requirements Early in Your Letter
Depending on the regulations in your area, you'll need to meet certain requirements to become a firefighter. Some of these can vary depending on the specific job that you're pursuing. Here are some of the most common:
A degree or certificate in fire science.
Previous work as an EMT or paramedic.
Valid drivers or chauffeurs' licenses.
Completion of a fire academy.
Having worked a specified number of hours as a volunteer fighter.
In some cases, military veterans may receive hiring preference at federal organizations. Further, military experience with a MOS related to firefighting or rescue work is accepted in lieu of other education and experience.
The hiring authority can't move forward with your application unless you are qualified. So use the first couple of paragraphs to show that you are. For example:
"I recently graduated from the Macon County fire academy. I am also in the process of completing a certificate of achievement in Fire Science. In addition to this, I began working as a volunteer at the West Side Fire Dept. (Engine 23) two years ago. During that time I have well exceeded the required 500 hours of volunteer service."
ADVICE FROM OUR EXPERT
---
While firefighters are often thought of as only fighting fires, they often respond to other emergencies when needed. When drafting a cover letter as a firefighter, include examples when you responded to unique emergencies and how you maintain composure in stressful situations.

Debi Douma-Herren
Senior Certified HR Professional & Career Coach
Show The Breadth and Depth of Your Experience
As mentioned above, firefighters take on a variety of duties. Show what you can do by thoroughly covering your experience as a firefighter. Think terms of:
Leadership roles that you've held in your current department.
Your work with local government officials and understanding of local codes.
Specific firefighting duties such as: Investigating fires, car accident reconstruction, search, and rescue, or engineer.
Years of experience in each position.
For example, you can include something like this:
"I am currently a battalion chief with the Maritime Division of the LA fire department. In this role, I am in charge of training and supervising a team of firefighters and engineers who specialize in keeping waterways and oceans safe. I lead search and rescue operations, work to extinguish fires on watercraft, and provide fire safety inspections as part of the watercraft licensing process."
Don't Forget About The Administrative Details
There's no avoiding paperwork as a firefighter, especially if your department is short on administrative assistants (which if often the case). You'll have reports to write, regulations to follow, and you'll have to communicate effectively with many other agencies. Show your skills and professionalism by giving a brief nod to your other work experience. Here's a quick example:
"I have proven experience in interacting positively and productively with other government agencies as well as the media. I particularly enjoy engaging with local schools to create fire safety efforts. In addition to this, I prioritize completing all relevant reports in a timely manner, and am proficient in Microsoft Word."
Cover Letter Sample for a Firefighter – .docx Format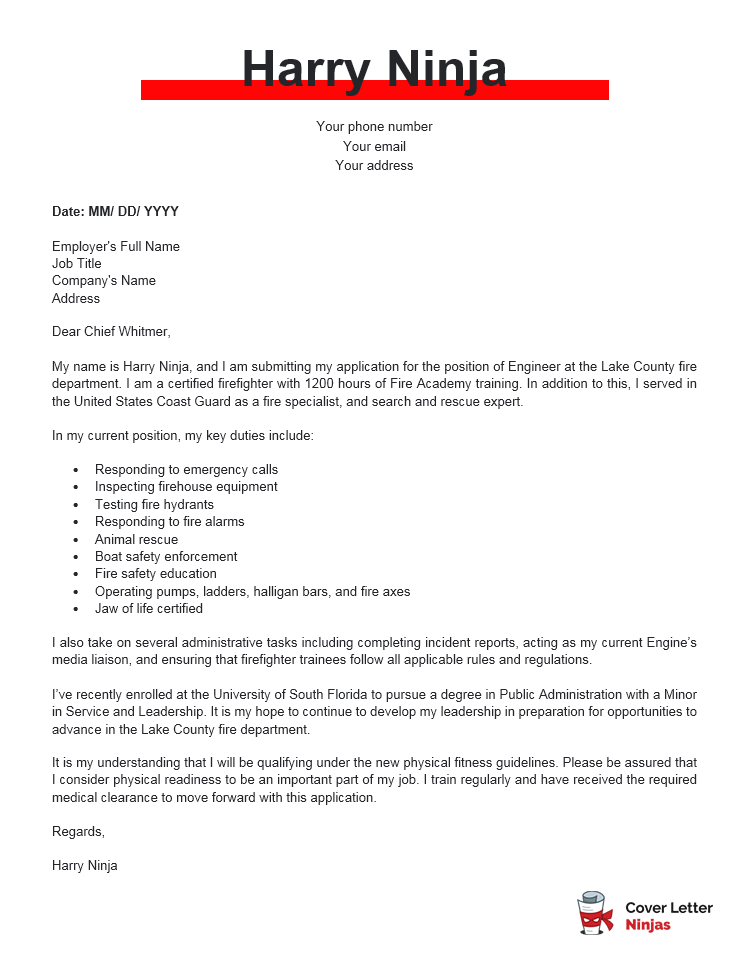 Download example (Word version)
Firefighter Cover Letter Example – Text Format
Dear Chief Whitmer,
My name is Harry Ninja, and I am submitting my application for the position of Engineer at the Lake County fire department. I am a certified firefighter with 1200 hours of Fire Academy training. In addition to this, I served in the United States Coast Guard as a fire specialist, and search and rescue expert.
In my current position, my key duties include:
Responding to emergency calls
Inspecting firehouse equipment
Testing fire hydrants
Responding to fire alarms
Animal rescue
Boat safety enforcement
Fire safety education
Operating pumps, ladders, halligan bars, and fire axes
Jaw of life certified
I also take on several administrative tasks including completing incident reports, acting as my current Engine's media liaison, and ensuring that firefighter trainees follow all applicable rules and regulations.
I've recently enrolled at the University of South Florida to pursue a degree in Public Administration with a Minor in Service and Leadership. It is my hope to continue to develop my leadership in preparation for opportunities to advance in the Lake County fire department.
It is my understanding that I will be qualifying under the new physical fitness guidelines. Please be assured that I consider physical readiness to be an important part of my job. I train regularly and have received the required medical clearance to move forward with this application.
Regards,
Harry Ninja
Final Tip: Fitness Counts!
Firefighting is one of the few jobs in which you will mention your physical abilities, similarly like police officers and security guards do. This is a strenuous job that requires strength and endurance. Briefly assure the reader that you are more than qualified in this regard.