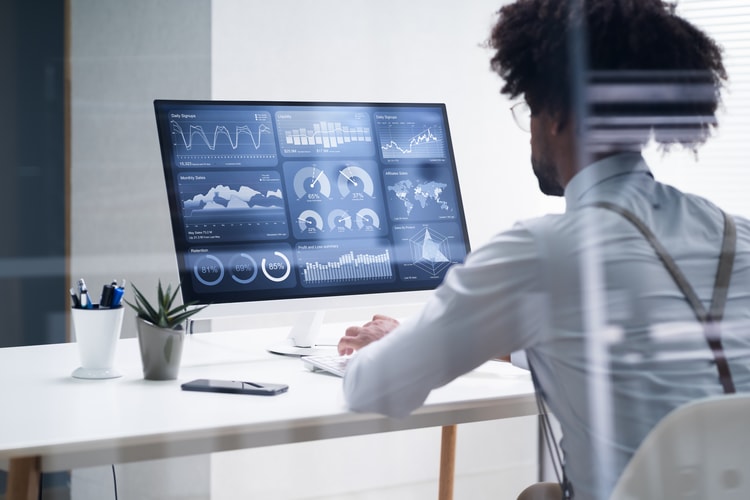 A data scientist collects and analyzes large batches of data to help schools, businesses, and research organizations procure viable insights from massive Big Data. Since investment in analytics, machine learning, and AI projects has accelerated over the past several years, data scientists are in high demand.
According to a DevSkiller, the demand for people with data science skills has increased by 295% in one year. The U.S. News & World Report's annual job ranking also placed "data science" and "statistician" among the most coveted jobs.
That's hardly surprising because data scientists do get paid extremely well. Apart from a base salary, many also receive attractive benefits, sign-up bonuses, stock options, and other cool perks.
If you are a data scientist, there are great career opportunities for you. However, you will still need to make an effort with your job application. It should look professional — and include both a resume and a cover letter.
To help you accomplish this, we have provided a sample cover letter for data scientists and some bonus writing tips.
Cover Letter Sample For Data Scientist – Word Format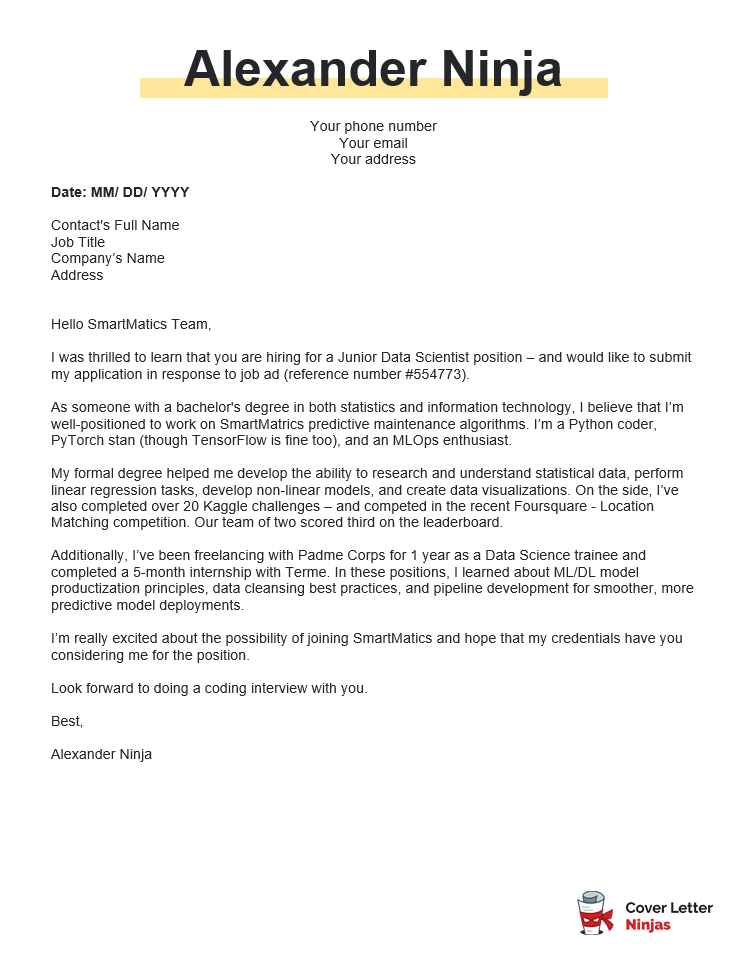 Cover Letter Example For Data Scientist – Text Format
Hello SmartMatics Team,
I was thrilled to learn that you are hiring for a Junior Data Scientist position – and would like to submit my application in response to job ad (reference number #554773).
As someone with a bachelor's degree in both statistics and information technology, I believe that I'm well-positioned to work on SmartMatrics predictive maintenance algorithms. I'm a Python coder, PyTorch stan (though TensorFlow is fine too), and an MLOps enthusiast.
My formal degree helped me develop the ability to research and understand statistical data, perform linear regression tasks, develop non-linear models, and create data visualizations. On the side, I've also completed over 20 Kaggle challenges – and competed in the recent Foursquare – Location Matching competition. Our team of two scored third on the leaderboard.
Additionally, I've been freelancing with Padme Corps for 1 year as a Data Science trainee and completed a 5-month internship with Terme. In these positions, I learned about ML/DL model productization principles, data cleansing best practices, and pipeline development for smoother, more predictive model deployments.
I'm really excited about the possibility of joining SmartMatics and hope that my credentials have you considering me for the position.
Look forward to doing a coding interview with you.
Best,
Alexander Ninja
How to Write a Data Science Cover Letter
A good data science later goes straight to the point: emphasize your technical skills, education, and past work experience. Since data science is a larger and evolving field, it's also good to specify which programming languages, data science methods, and tech tools you're familiar with. Next, pack all the above information in a short, snappy cover letter and follow several more best practices.
Write a Custom Letter For Each Job
Tailor each cover letter specifically to the company. That's non-negotiable. You can leave the body part, explaining your skill set and past work experiences, largely the same, but be sure to customize:
Greeting: Try to use the contact person's name or at least the company name.
Cover letter opening line: Always state which position you are applying to and how you've learned about the job. Add a job reference number if there's one.
Project examples: Data scientists are now employed by everyone from retailers to insurers. To win some extra points, try to highlight a recent project that is the most relevant to a potential employer.
Take your time, and write each cover letter personally. It may take longer but it will ensure that you are much more able to procure an interview.
Check The Job Posting For Instructions
Most people score a job online these days — and few companies accept in-person applications. That's "easier" for employers because they can pre-filter people online via multi-step forms (which many companies do). So follow all the outlined steps to a dot. Some companies may ask you to upload your resume or cover letter as a PDF file. Others ask to paste a cover letter in a designated box, rather than sending it as an attachment. Your goal is to NOT mess things up – and comply with all steps even if some seem redundant.
Include Some "Bragging Rights"
At the end of the day, your employer wants to understand how you can help them. They might not be tech people themselves and, hence, not as impressed by the elegant algorithm you came up with or your model training super-sonic speed. Highlight some more general achievements.

In the sample above, the author talks about the number of Kaggle challenges and competitions completed. As a more experienced data scientist, mention some business results you've achieved. For example, developed a predictive algorithm for clothes size recommendation, which led to a reduction in size-related product returns.
Final Tip: Try a Cover Letter Template
Sometimes formatting a cover letter can be the most difficult task to handle. So try using a cover letter template. A template essentially takes care of the formatting work for you and allows you to get right to writing. This is great for when you need to write multiple cover letters as it allows you to easily create new ones. This combined with following other cover letter examples makes writing cover letters much easier!