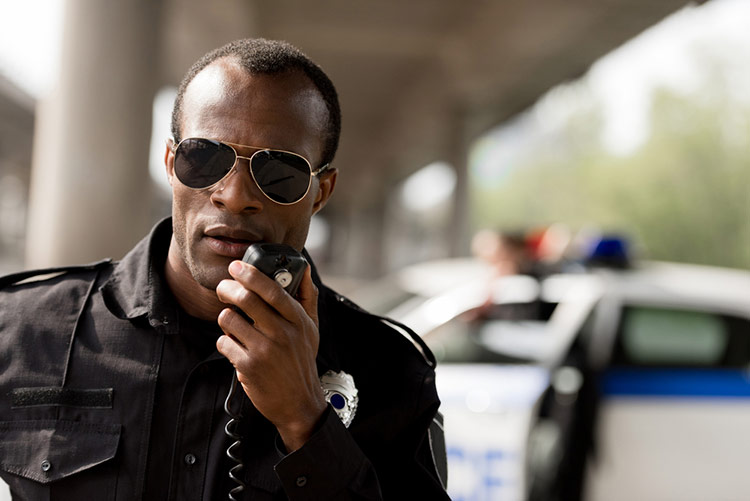 Every community needs duty-ready police officers to protect and serve. In return for your willingness to step forward, you can enjoy a rewarding career with good pay, benefits, and significant respect.
Of course, if you've been actively applying for a job in law enforcement, you know how competitive the process is. You cannot just meet the minimum qualifications, you must truly stand out to get the job. How do you do that?
Make a solid first impression with your cover letter! Below is a quick list of tips to help you do just that, followed by a police officer cover letter sample.
Your Letter Must Cover The Four Key Points
Every police department has slightly different qualifications. Then, different positions within law enforcement have different requirements as well. Use your cover letter to make it clear that you meet the stated requirements. To do that focus on these four areas:
Work Experience: List your employment in law enforcement. In addition to that, mention any other experiences that are relevant to the position. This includes military service, government contracting, and security work.
Reputation and Background: A clean background is key. If you've been fingerprinted and background checked, you should say so in your cover letter. Also, add information that speaks well to your character.
Educational Requirements: Be very clear that you have completed any of the listed educational requirements. This is usually a combination of college education and police academy training. List the number of hours you have completed as academy training can last anywhere from several weeks to more than a year.
Community Service Commitment: Community policing is becoming the standard in many places. Those in charge of hiring want officers who care about the people they are serving. If you've done things to give back to your community, mention this in your letter. If you are a resident of the community mention that, or state that you are willing to move into the area.
ADVICE FROM OUR EXPERT
---
Make sure you include examples of how you have positively impacted a community. This can be through volunteering, political activism, or any example that shows you have gone out of your way to make a difference.

Mary Ford
Executive Career Coach
Be Flexible
Full-time openings in law enforcement may be few and far between. You could be waitlisted, even if you are completely qualified. If this happens, be patient. There may be things you can do to increase your chances of being hired sooner than later:
Apply for a job in corrections at the local jail or as a public safety officer.
Inquire about part-time positions.
Volunteer as an auxiliary or reserve officer.
Apply to work as a dispatcher.
By doing these things, you may find that your application earns a higher priority.
Visibility and familiarity are key here, especially in smaller communities. Get involved in local events where the local police are active. It's a good way to show community support and to do a bit of networking.
Write a Killer Intro Paragraph and Professional Summary
The first paragraph of your cover letter and the opening of your resume are exceptionally important. Use both to win people over. Your professional summary should focus on your career and professionalism. If you don't have the experience, use it to share your desire to work to keep the community safe.
Take a similar approach with your cover letter. Open with an introduction of yourself and your experience. Then, customize the rest of the opening paragraph according to the job listing and needs of the community. Browse cover letter examples from other industries to see how that's done.
Cover Letter Sample For Police Officer in .docx Format
Here is a cover letter sample that includes some of the tips mentioned above.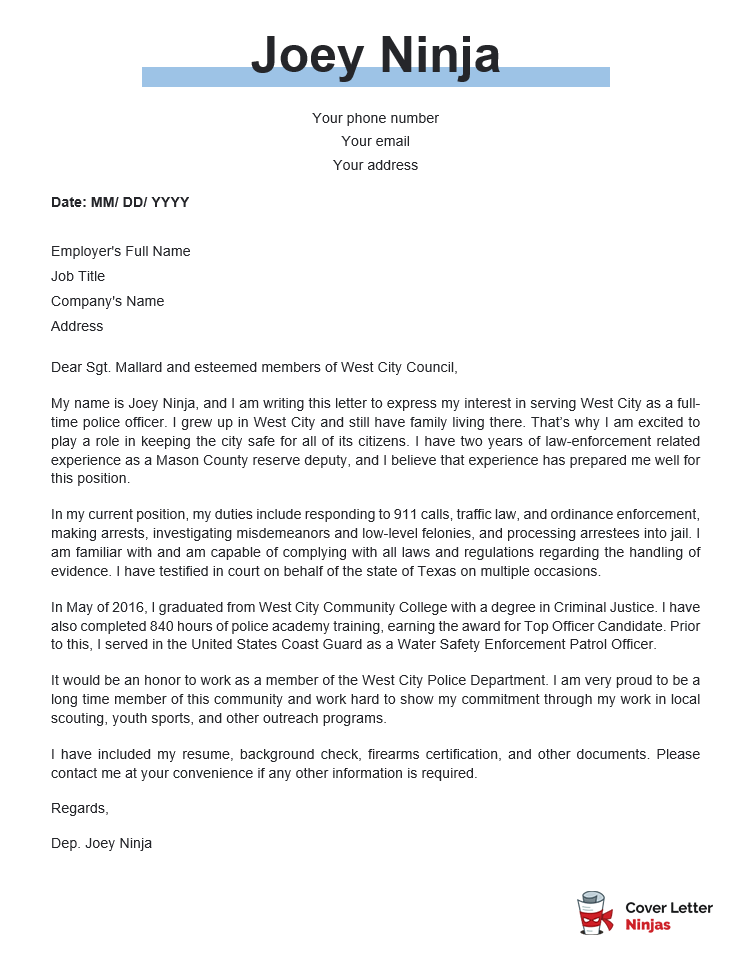 Download example (Word version)
Police Officer Cover Letter Example – Text Format
Dear Sgt. Mallard and esteemed members of West City Council,
My name is Joey Ninja, and I am writing this letter to express my interest in serving West City as a full-time police officer. I grew up in West City and still have family living there. That's why I am excited to play a role in keeping the city safe for all of its citizens. I have two years of law-enforcement related experience as a Mason County reserve deputy, and I believe that experience has prepared me well for this position.
In my current position, my duties include responding to 911 calls, traffic law, and ordinance enforcement, making arrests, investigating misdemeanors and low-level felonies, and processing arrestees into jail. I am familiar with and am capable of complying with all laws and regulations regarding the handling of evidence. I have testified in court on behalf of the state of Texas on multiple occasions.
In May of 2016, I graduated from West City Community College with a degree in Criminal Justice. I have also completed 840 hours of police academy training, earning the award for Top Officer Candidate. Prior to this, I served in the United States Coast Guard as a Water Safety Enforcement Patrol Officer.
It would be an honor to work as a member of the West City Police Department. I am very proud to be a long time member of this community and work hard to show my commitment through my work in local scouting, youth sports, and other outreach programs.
I have included my resume, background check, firearms certification, and other documents. Please contact me at your convenience if any other information is required.
Regards,
Dep. Joey Ninja
Final Tip: Get Recommendations
If you can, obtain at least one letter of recommendation. This can be from a respected member of the community, another police officer, or an academy instructor. Such an endorsement can help your application earn a second look and set you apart from other officers!