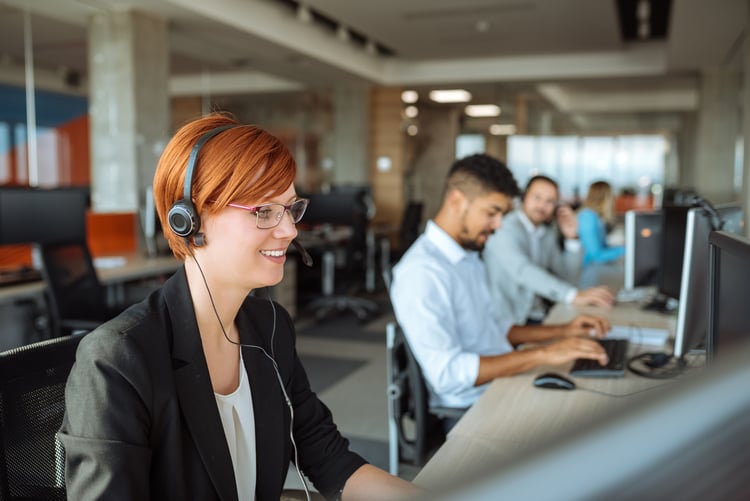 Being a dispatcher means being a good communicator. You have to excel in effectively communicating with a multitude of people, relaying important pieces of information, and remaining calm throughout many kinds of interactions over the phone.
Whether you work in a small office building for a particular company, or as a dispatcher for local emergency services, a calm demeanor, and strong interpersonal skills will be your strong suit.
To help you convey your skillset to a potential employer, we've prepped a sample cover letter for dispatcher job applications followed by some awesome writing tips.
Dispatcher Cover Letter Sample – Word Format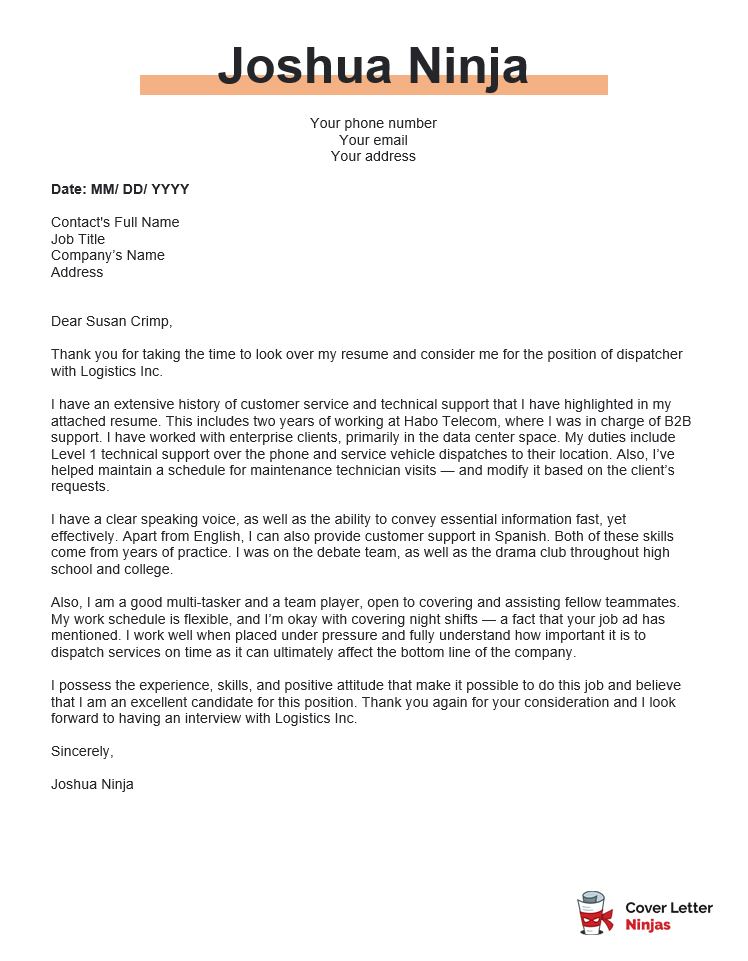 Cover Letter Example For a Dispatcher – Text Format
Dear Susan Crimp,
Thank you for taking the time to look over my resume and consider me for the position of dispatcher with Logistics Inc.
I have an extensive history of customer service and technical support that I have highlighted in my attached resume. This includes two years of working at Habo Telecom, where I was in charge of B2B support. I have worked with enterprise clients, primarily in the data center space. My duties include Level 1 technical support over the phone and service vehicle dispatches to their location. Also, I've helped maintain a schedule for maintenance technician visits — and modify it based on the client's requests.
I have a clear speaking voice, as well as the ability to convey essential information fast, yet effectively. Apart from English, I can also provide customer support in Spanish. Both of these skills come from years of practice. I was on the debate team, as well as the drama club throughout high school and college.
Also, I am a good multi-tasker and a team player, open to covering and assisting fellow teammates. My work schedule is flexible, and I'm okay with covering night shifts — a fact that your job ad has mentioned. I work well when placed under pressure and fully understand how important it is to dispatch services on time as it can ultimately affect the bottom line of the company.
I possess the experience, skills, and positive attitude that make it possible to do this job and believe that I am an excellent candidate for this position. Thank you again for your consideration and I look forward to having an interview with Logistics Inc.
Sincerely,
Joshua Ninja
Other Relevant Cover Letter Examples
How to Write a Cover Letter For Dispatcher
Dispatchers require meticulous attention to detail, strong organizational skills, and digital literacy skills. Many companies now use dispatcher management software to automate regular scheduling and optimize routes in real-time. Your cover letter should clearly mention that not only do you have the right skills for the job, but also technical ones.
To help you present both in a coherent way, use the below tips.
Curate Some of Your Core Skills
Your resume should provide a clear snapshot of your most marketable skills. Your cover letter, in turn, should briefly reiterate some of them. Choose 2-3 solid skills to spotlight and contextualize. Explain how you've developed them and what makes you confident in your abilities. The sample below, for example, mentioned that the applicant is a former debate participant, meaning he has good articulation and an ability to present coherent arguments.
If you have exceptional memory and learned all the flags in the world (plus can now memorize a ton of other information), mention this bit. So long as it is relevant to the job that you are applying for, bragging about yourself is an integral part of the cover letter and should not be left out.
Tailor Your Cover Letter To The Company
When you write only one cover letter and send it to 10 different companies, most of them will notice that this is generic writing. Then promptly toss it into the rejected pile. So take the time and type out a personalized letter for each business you plan to apply. You will increase your writing skills through practice by writing more and more letters, and you will also increase your likelihood of being called in for an interview.
Final Tip: Use Evidence to Back You Up
Remember that while the cover letter is made for you to brag about yourself you should make sure to do so within reason. After all, you can't apply to any job and make claims that you either can't prove or back up. Give them numbers, dates, specific names, or titles to your accomplishments.
Don't claim things that you can't prove, even if you think they are true. Telling a prospective employer that you have experience with electric fleet management (when you actually don't) will quickly become apparent during the job interview.
If you lack some skills, compensate for it by saying that you are always eager to learn new stuff – and would be thrilled to complete extra training.