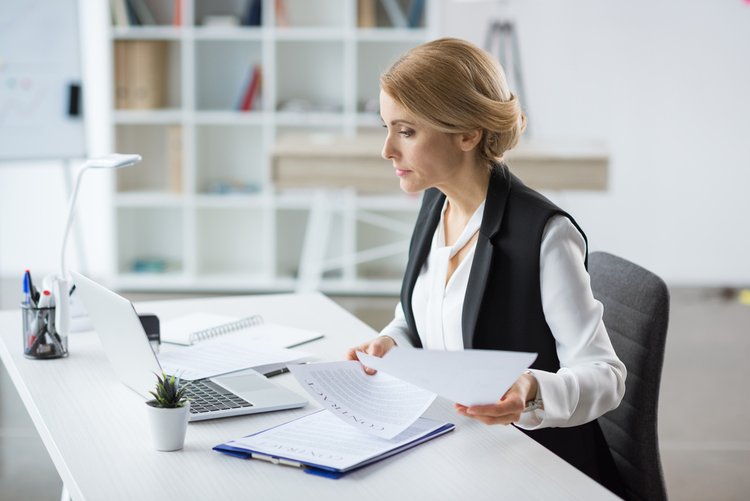 A legal secretary is more than an administrative assistant who happens to work in a law office. On the contrary, they are professionals who have specific training and experience that allows them to offer proactive support to the attorneys. This is a rewarding career with the potential for excellent pay and benefits.
If you're interested in moving forward, we are here to assist. Take a closer look at our cover letter tips and our legal secretary cover letter sample.
Pick Three Qualifications And Save The Rest
A great legal secretary has a wide variety of skills that they use every day. You should mention all of yours on your resume. Just keep in mind that your cover letter is more of an introduction, and should be a bit of a 'teaser' for that resume. So, instead of focusing on every skill, pick the three most important ones.
Take a look at the requirements in the job listing. That should help you determine which are most relevant. You can then incorporate those into a bulleted list, or an example like this:
"As the head legal secretary for a defense attorney, I'm required to pay close attention to detail as I research each client's legal history. This, combined with my extensive knowledge of the Madison county court's legal records system allows me to assist my employer in getting the best results for every defendant."
Demonstrate Your Ability to Support Clients
Every law office or legal department serves a slightly different customer base. Your employer may work with criminal defendants, injured persons, immigrants, or large businesses. The possibilities are only limited by the different areas of legal services that exist. As a legal secretary, you'll have direct contact with many of these clients. Your letter is the perfect place to show that you empathize with them, and understand their needs. Here's a brief example:
"I've worked as a legal secretary in the field of immigration law for more than two years. During this time, I've been privileged to meet amazing people who need help following the path to citizenship. It's a passion of mine to help them through this process."
Add Your Credentials
Do you have relevant certifications or other credentials? Mention these to give yourself a potential advantage over other applicants. For example, many legal offices prefer to hire legal secretaries who are also notaries. The National Association of Legal Secretaries also offers several authoritative certifications.
ADVICE FROM OUR EXPERT
---
When you are writing a cover letter as a legal secretary, cut to the chase. After introducing yourself and skills, use bullet points to highlight the key attributes you would bring to the job or firm. Hiring attorneys often scan documents quickly and bullet point lists catch the eye.

Debi Douma-Herren
Senior Certified HR Professional & Career Coach
Use The Right Action Words
Action words, or power words, make your cover letter more impactful. For a legal secretary, these might include researching, drafting, calendaring, organizing, managing, administering, and advocating. Use these words to help potential employers see you as someone effective and action-oriented.
Widen Your Job Search
The word secretary isn't used as much as it once was. As you search for jobs, use other relevant terms. For example 'legal assistant' or 'law office administrator'. This way, you ensure that you don't miss any opportunities.
Don't Discount Transferable Skills
If you don't have significant experience as a legal secretary, emphasize other applicable skills. For example, most secretaries are required to understand word processing and spreadsheet software, answer phones, type emails, and have highly developed customer service skills. Fortunately, you can develop all of these capabilities in nearly any job. So check out other cover letter examples for some inspiration.
Cover Letter Sample for a Legal Secretary – .docx Format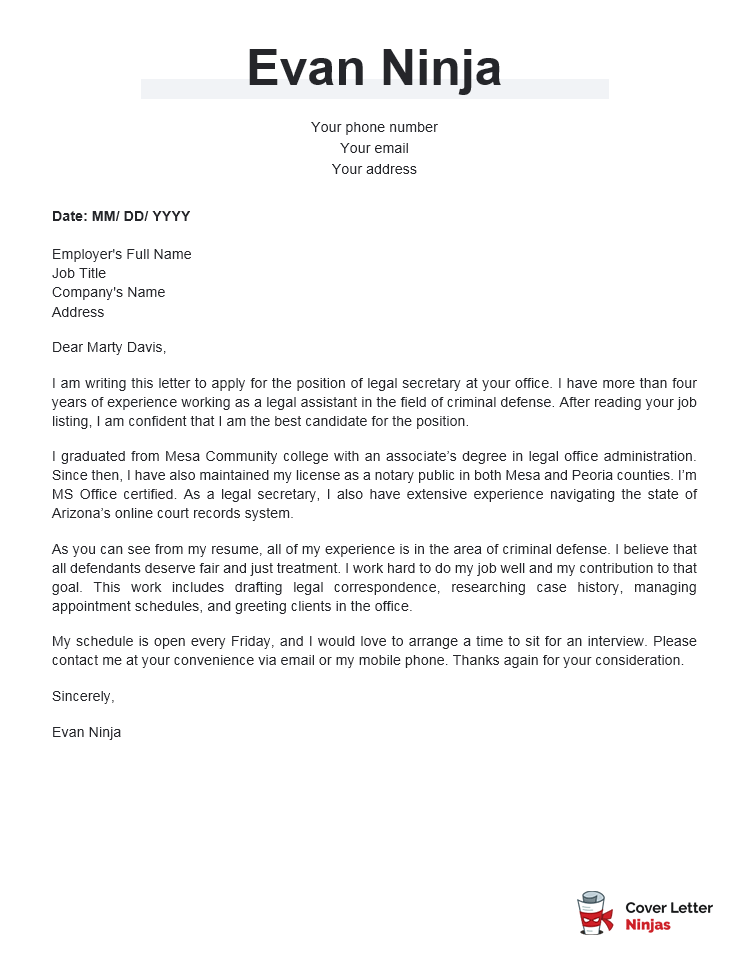 Download example (Word version)
Legal Secretary Cover Letter Example – Text Format
Dear Marty Davis,
I am writing this letter to apply for the position of legal secretary at your office. I have more than four years of experience working as a legal assistant in the field of criminal defense. After reading your job listing, I am confident that I am the best candidate for the position.
I graduated from Mesa Community college with an associate's degree in legal office administration. Since then, I have also maintained my license as a notary public in both Mesa and Peoria counties. I'm MS Office certified. As a legal secretary, I also have extensive experience navigating the state of Arizona's online court records system.
As you can see from my resume, all of my experience is in the area of criminal defense. I believe that all defendants deserve fair and just treatment. I work hard to do my job well and my contribution to that goal. This work includes drafting legal correspondence, researching case history, managing appointment schedules, and greeting clients in the office.
My schedule is open every Friday, and I would love to arrange a time to sit for an interview. Please contact me at your convenience via email or my mobile phone. Thanks again for your consideration.
Sincerely,
Evan Ninja
Final Tip: Go Bare Bones For Email
If you're sending your cover letter as an attachment or via snail mail, go ahead and compose a full-length letter. On the other hand, if you're using an email itself as your cover letter keep it brief. No busy attorney is going to read a five-paragraph email. In that case, cover the basics, express your interest in the job, and leave the rest to your resume.