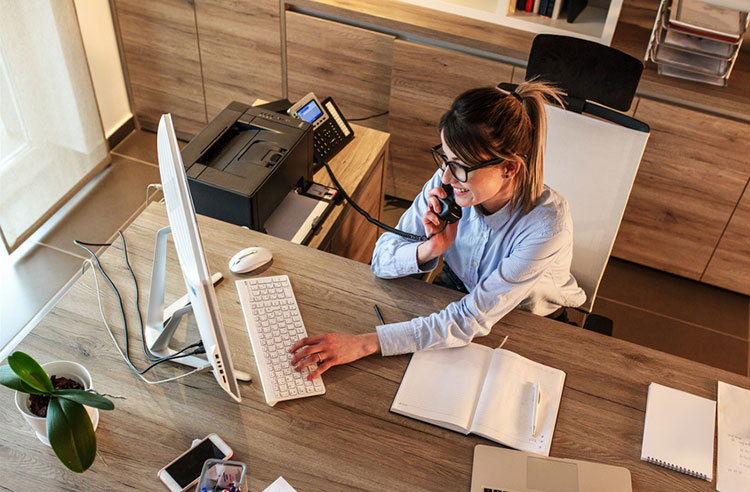 If you work as an administrative assistant, you know that it's a busy and rewarding field. Administrative assistants are responsible for executing a variety of duties. In fact, if there's an office place ninja, it's the administrative assistant. You'll also find that these positions tend to be stable, well-paid, and usually include an attractive benefits package.
Presumably, you've written a resume that truly highlights your experience and qualifications. You've matched your work experience and skills with the requirements from the job listing. You are prepared to nail the interview.
There's just one more thing to consider: you need to write a personalized cover letter.
This is imperative to ensure that you get off on the right foot, and pique the interest of the hiring manager for an in-office or virtual assistance position. Remember that your resume may look very similar to that of every other applicant. It's your cover letter that will truly let your abilities shine. 
So here are your tips for writing the ideal cover letter, and a sample cover letter for an administrative assistant.
Open With an Impactful Greeting
First impressions are important, and your cover letter is no different. Remember that administrative assistants are often the face of the company. Your cover letter should as well so that you are both friendly and professional.
Open with a personalized greeting. Also, you are better off being gender-neutral if you are unsure. Use a full name instead. If you do use a salutation, stick with Mr. or Ms.
Your Intro is Your Value Proposition
Lead off with something compelling. Your first paragraph should show that you understand what the company does, and how your role fits into the organization. Later, you can highlight why you are interested in the position, and how you are qualified.
For example, if you want to be an AA for a web design firm, you might say:
'Acme Web Services helps entrepreneurs create a powerful web presence. I'd love to help your team focus on that mission. By working hard as your administrative assistant, I hope to free your team up to spend more time helping your clients.'
Once you've enticed them with your intro paragraph, you can share more 'meaty' information.
P.S. If you need more ideas for strong cover letter openers, browse our:
Summarize Your Qualifications
You'll want to mention your skills and qualifications in the body of your letter (the middle one or two paragraphs). Just remember to save the real detail for your resume. Otherwise, you risk your cover letter becoming too long-winded and repetitive. Instead, identify some specific instances where your talents have had a notably positive impact on your organization. Then, mention any must-have skills or qualifications that you possess.
ADVICE FROM OUR EXPERT
---
Consider what aspects of your target role are paramount to the success of that position. Evaluate how your experience, strengths, and talents align with these requirements. Leverage these elements in your Cover Letter, providing specific examples of situations where these strengths truly shined.

Claire Webber
Career Consultant, CPCC, CPRW
Remember That Culture Counts
Admin assistant positions require you to actively engage with your coworkers and company's clients. When people see you, they see the organization you represent. You won't be happy, and neither will your new employer if you aren't a good match for the company culture.
Learn about the work environment, branding, and overall culture. Then use your cover letter to demonstrate that you will fit right in – see how we do that in our cover letter example for administrative assistants.
Write a Powerful Closing Statement With a Call to Action
The last paragraph of your cover letter should be used to express your interest, indicate that you are available for an interview, and to invite the hiring manager to learn more about you. Close on a positive and friendly note.
Administrative Assistant Sample Cover Letter For Word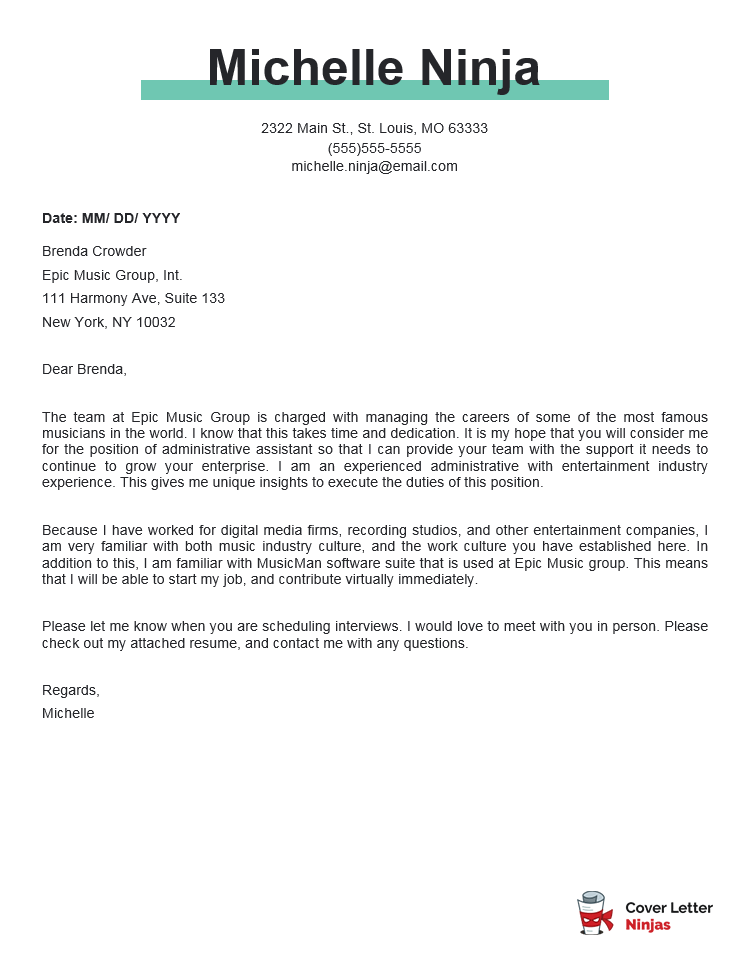 Download example (Word version)
Cover Letter Example For an Administrative Assistant – Text Format
Michelle Ninja
2322 Main St.
St. Louis, MO 63333
(555)555-5555
michelle.ninja@email.com
Brenda Crowder
Epic Music Group, Int.
111 Harmony Ave, Suite 133
New York, NY 10032
Dear Brenda,
The team at Epic Music Group is charged with managing the careers of some of the most famous musicians in the world. I know that this takes time and dedication. It is my hope that you will consider me for the position of administrative assistant so that I can provide your team with the support it needs to continue to grow your enterprise. I am an experienced administrative with entertainment industry experience. This gives me unique insights to execute the duties of this position.
Because I have worked for digital media firms, recording studios, and other entertainment companies, I am very familiar with both music industry culture, and the work culture you have established here. In addition to this, I am familiar with MusicMan software suite that is used at Epic Music group. This means that I will be able to start my job, and contribute virtually immediately.
Please let me know when you are scheduling interviews. I would love to meet with you in person. Please check out my attached resume, and contact me with any questions.
Regards,
Michelle
Last Bit: Always Make Your Cover Letter Personal
You've taken the time to create a resume that has been customized for each job opportunity you pursue. Now, it's time to do the same thing with your cover letter. Take a close look at the job listing, and research the company. You'll want to include relevant keywords, address the hiring manager by name, even mention specific details that you know will resonate.
By taking the time to personalize your submission, you will increase your chances of being called back for an interview!