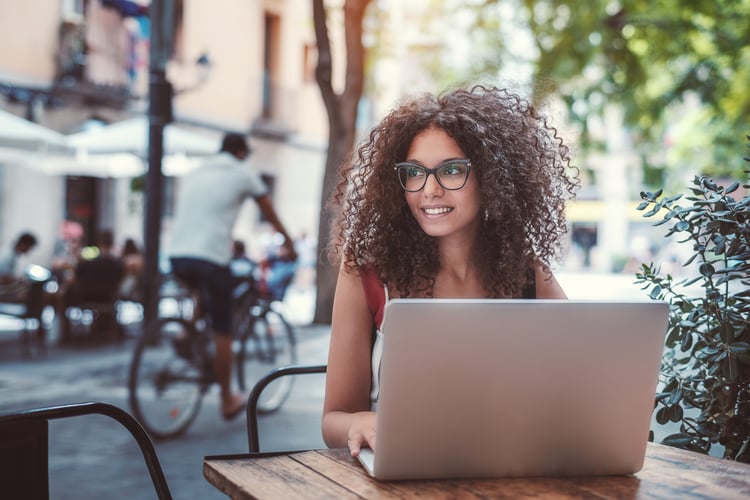 Are you one of the many people who are interested in making money at home? There are many legitimate ways to do this. One of these is working as a virtual assistant. In this job, you will provide administrative help, data entry, research, even customer support over the internet to some busy business owner or entrepreneur. You may work as a dedicated assistant from one person, help clients of a business, or provide services to a variety of your own customers.
Virtual assistance is a rewarding job, and the pay is often above average once you establish yourself as a Pro. But the entry barrier to the industry is also very low since most jobs are remote. This means plenty of other people are eyeing the same positions.

Thus your application packet must stand out. Especially, if you are pitching on a crowded platform such as Upwork. One way to do that is to introduce yourself with a compelling cover letter. Help you with that, here is an example cover letter for virtual assistant. Afterward, we also share several actionable tips for making your letter more memorable and compelling. 
Cover Letter Sample for a Virtual Assistant – .docx Format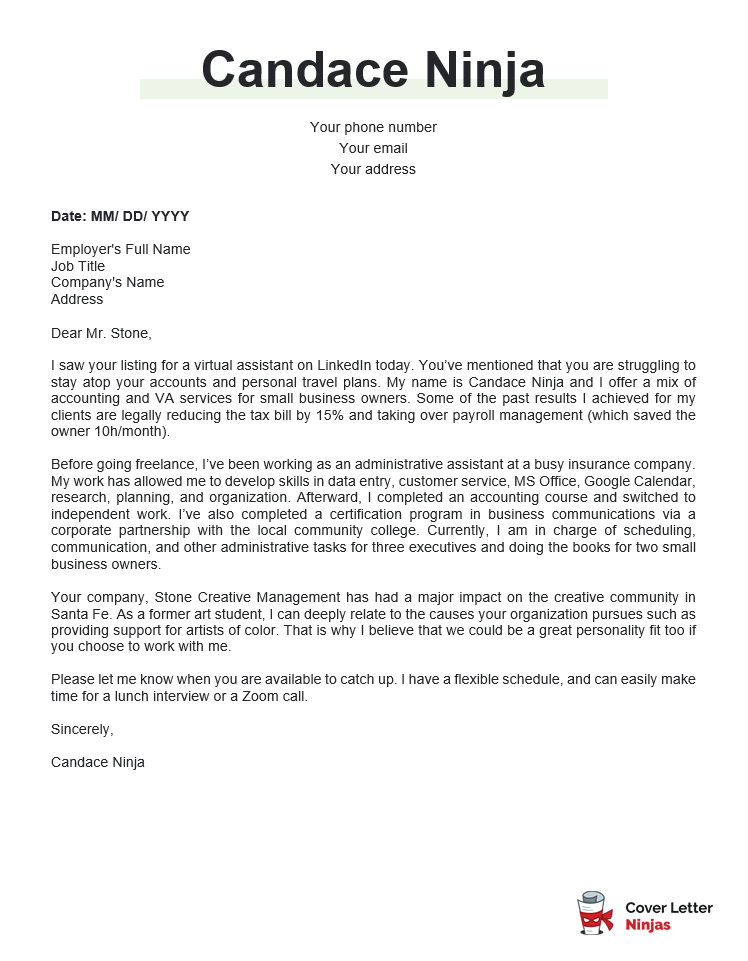 Download example (Word version)
Virtual Assistant Cover Letter Example – Text Format
Dear Mr. Stone,
I saw your listing for a virtual assistant on LinkedIn today. You've mentioned that you are struggling to stay atop your accounts and personal travel plans. My name is Candace Ninja and I offer a mix of accounting and VA services for small business owners. Some of the past results I achieved for my clients are legally reducing the tax bill by 15% and taking over payroll management (which saved the owner 10h/month).
Before going freelance, I've been working as an administrative assistant at a busy insurance company. My work has allowed me to develop skills in data entry, customer service, MS Office, Google Calendar, research, planning, and organization. Afterward, I completed an accounting course and switched to independent work. I've also completed a certification program in business communications via a corporate partnership with the local community college. Currently, I am in charge of scheduling, communication, and other administrative tasks for three executives and doing the books for two small business owners.
Your company, Stone Creative Management has had a major impact on the creative community in Santa Fe. As a former art student, I can deeply relate to the causes your organization pursues such as providing support for artists of color. That is why I believe that we could be a great personality fit too if you choose to work with me.


Please let me know when you are available to catch up. I have a flexible schedule, and can easily make time for a lunch interview or a Zoom call.
Sincerely,
Candace Ninja
Virtual Assistant Cover Letter Writing Tips
Alright, so you now have a general idea of how a compelling VA cover letter looks like. Now let's help you craft a similar one!
Share Your Enthusiasm in The Right Way
There are many reasons to become a virtual assistant. You don't have to commute. Every day is a casual dress day. You work from the comfort of your own home and can set your hours.
But none of these are things are worth bringing up in your cover letter. Instead, when you talk about your interest in the position, focus on what you will be doing, the work culture, and the values of the company. For example, replace this:
"I love the idea of saving money on fuel, and getting back an additional hour each day to spend with my family."
With this:
"It looks like this position will allow me to work with a variety of clients. That's something I look forward to, as it will give me the opportunity to learn the workings of different businesses."
Your cover letter should explain your motivation for the job, tied in with the value you'd provide for the employer.
Address The Requirements in The Job Listing
Take a look at the specific skills and experience mentioned in the job listing. Think of those as keywords that the hiring manager will be inadvertently looking for when reading your cover letter.
Choose a few of these that best reflect your qualifications. Then use them in your cover letter. For example, the sample letter listed Microsoft Office, Google Calendar, and planning and organization. These are all things that might appear in a job listing.
ADVICE FROM OUR EXPERT
---
Different from an in-person role, a Virtual Assistant must have technical capabilities to ensure communication remains consistent, streamlined, and up to date within digital settings. Consider using your cover letter to show your commitment to maintaining communication with internal teams and external partners through within a virtual environment.

Claire Webber
Career Consultant, CPCC, CPRW
Share Your Training
If you've completed some relevant certifications or courses, mention that as well. The same goes for training you may be working on right now. This is especially useful if you may be a bit behind in terms of work experience. In your cover letter, focus on education that is directly relevant to the job. Save all the other bits for your resume.
Show You've Researched The Company
Avoid writing generic cover letters. Those never hit a mark, especially since other applicants will be submitting the same thing. Always tailor your cover letter to the company you are applying to based on what you have learned from researching it. You should know what they do, how the role of virtual assistants relates to that, and the overall work culture.
Final Tip: End With a Confident Call to Action
Don't sign off with a "hopeful please hire me" sentiment. Instead, make the assumption that the next step is inevitable. Request an interview or meeting directly. This shows that you are confident in your ability to fulfill the role and that you are interested in moving on to the next stage.