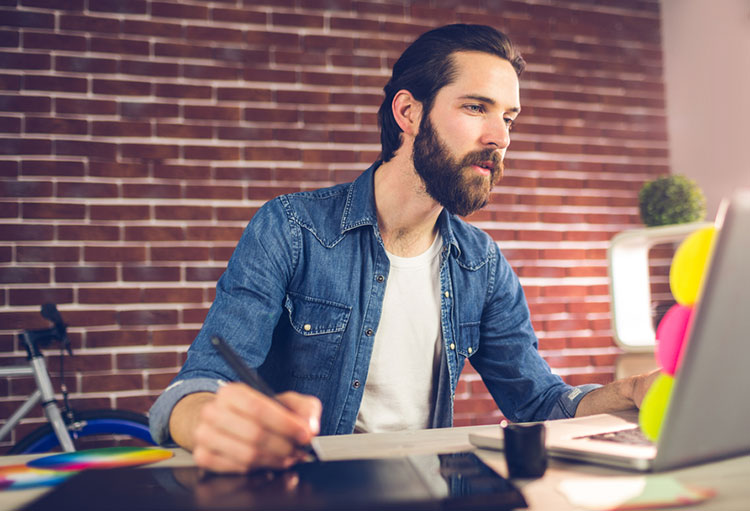 As a graphic designer, your ability to land a great job depends on how well you can showcase your skills and creativity. The question is: how do you parlay your unique abilities in a rigid medium such as a cover letter?
It's not as if you can include your latest artwork or typography in it. What you can do, though, is showcase your ability to communicate your skills, passions, and qualifications in a memorable and creative way. The following guide will provide you with the tips you need to do that. Then, we'll provide you with a great graphic design cover letter sample.
Start With a Personalized Salutation
This may seem like a small detail, but it is very important. Avoid generic salutations. Take the time to find the name of the person who will be making the hiring decision. You may have to do a bit of research, but it shouldn't be too difficult. Search the company website, look at LinkedIn, or reach into your network to find someone familiar with the company.
At the very least, address the letter to the appropriate position. For example, 'Marketing Department Manager' is better than 'Sir or Madam'. If you do address your letter to a specific person, use Ms. or Mister. Even better, ditch the outdated prefix altogether.
Use The Perfect Formula For Your Cover Letter
Think of your letter in terms of three paragraphs. Each of these performs a unique function.
The first paragraph should contain a hook. This is a story or attention-getting fact to open your letter and grab the reader's attention. For example, you could open with a mention that you designed an award-winning website.
The second paragraph should detail why you want the job. Share what it is about the job listing and the company that motivated you to pursue this opportunity. If applicable, mention your salary requirements or willingness to relocate.
The third paragraph should get into the details of your qualifications. Match your qualifications to the job listing. Emphasize the hard and soft skills the potential employer is seeking. You can use bullet points that contain the relevant keywords to describe your skills and experience.
ADVICE FROM OUR EXPERT
---
Cover letters geared towards the creative space afford much more creative liberty than other industries. Leverage the format and content in your cover letter as a tool to demonstrate your background, accomplishments, and areas of specialization in a way that speaks to who you are as a creative professional.

Claire Webber
Career Consultant, CPCC, CPRW
Share a Recent Success
Have you recently completed an amazing design project? This is the perfect time to bring up your success. If you can share your talents while telling a story, your letter will be much more relatable to the reader. Even better, your reader will be more likely to remember your talents and qualifications.
End Your Letter With a Clear Call to Action
The final paragraph is your conclusion. This is where you request that the reader take the desired action. Offer to meet for an interview. Remind the reader that your resume is attached. Include a link to your portfolio. Don't be passive. Tell the reader what you would like them to do next.
Use a Postscript
Your letter shouldn't end with your farewell. Instead, take the time to add a useful postscript. This should be a final note reminding your audience that you are interested in the position, and that renews their interest in your application. For example:
'P.S.: I would love to meet with you to discuss the pending release of your new and improved app. I have some great design suggestions!
Cover Letter Example for a Graphic Designer in .docx Format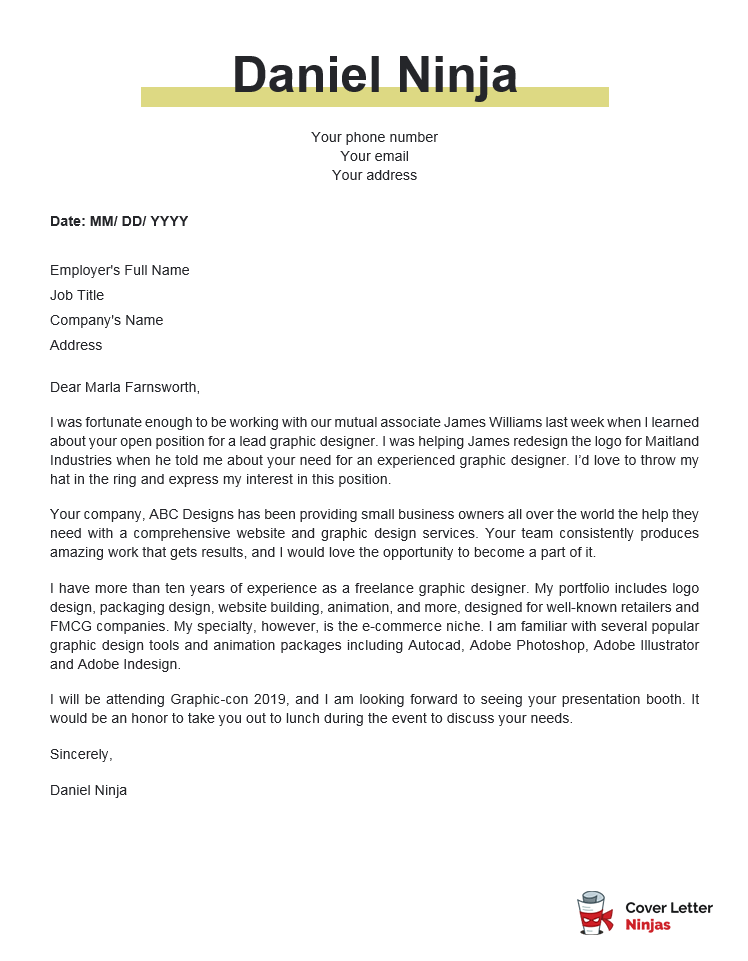 Download example (Word version)
Graphic Design Cover Letter Sample – Text Format
Dear Marla Farnsworth,
I was fortunate enough to be working with our mutual associate James Williams last week when I learned about your open position for a lead graphic designer. I was helping James redesign the logo for Maitland Industries when he told me about your need for an experienced graphic designer. I'd love to throw my hat in the ring and express my interest in this position.
Your company, ABC Designs has been providing small business owners all over the world the help they need with a comprehensive website and graphic design services. Your team consistently produces amazing work that gets results, and I would love the opportunity to become a part of it.
I have more than ten years of experience as a freelance graphic designer. My portfolio includes logo design, packaging design, website building, animation, and more, designed for well-known retailers and FMCG companies. My specialty, however, is the e-commerce niche. I am familiar with several popular graphic design tools and animation packages including Autocad, Adobe Photoshop, Adobe Illustrator and Adobe Indesign.
I will be attending Graphic-con 2019, and I am looking forward to seeing your presentation booth. It would be an honor to take you out to lunch during the event to discuss your needs.
Sincerely,
Daniel Ninja
P.S. James mentioned you were struggling to find a designer with a wireframing experience. I can assure you that have completed several projects that required this competency.
Final Tip: Add a Personal Connection
This sample cover letter showed how you can weave in a mention of personal connection into a cover letter to make a more solid impression. If you don't know anyone in the firm, fret not either. You can study the company's website, blog or social media to find an interesting 'scoop' – recent announcement, corporate news, industry accolade, etc. – and refer to it in your letter.
Lastly, before you send your application package, do a quick double-check. Have you attached all of the required documents? More importantly, this is the time to ensure that you have followed any instructions that you have been given regarding how to submit your application package.