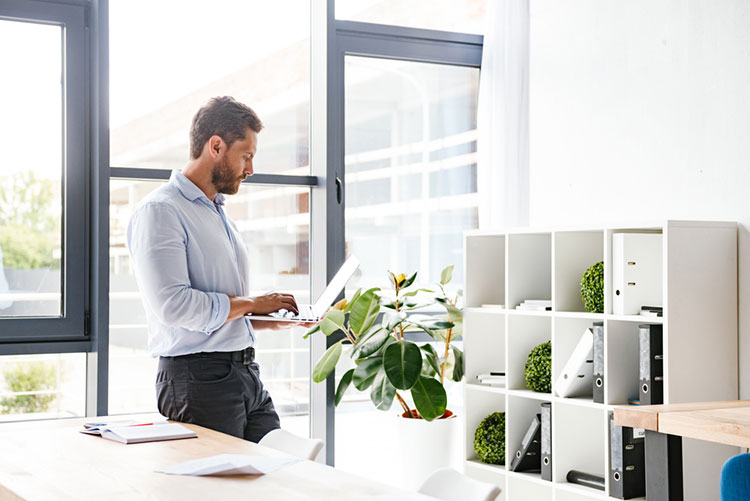 There are many jobs that you can obtain if you want to work in an office. Many of these require different skill sets, experiences, and educational credentials. In spite of these differences, they also have some things in common. You will need to display professionalism. You'll also need great communication skills.
Your cover letter is the first place to display both. Here are some quick tips to help you nail your cover letter, followed by a helpful business cover letter sample.
Include The Necessary Elements of a Business Letter
Most of us don't write formal, business communications anymore. Because of that, it's easy to make the mistake of treating business letters like emails. They are not, even if you send yours electronically.
Your letter should contain contact information, title, name, address, and other standard styling elements. If you send it as an email, you should include a strong subject line too. Now, think of the body of your letter it should have:
Professional greeting.
An introductory paragraph stating your purpose for writing.
A few paragraphs highlighting your qualifications and passions.
A closing paragraph asking to meet and clarify your interest.
A closing line and signature.
An indication that enclosures are included (e.g. your resume).
Since business is a pretty diverse field, we suggest you checking other cover letter examples (including those for specific executive/business roles) to get an even better sense of the overall letter flow and structure.
Here are our top suggestions:
Emphasize Your Qualifications According to The Job Listing
Use the job listing to determine which of your qualifications should make an appearance on your cover letter. Remember that you only have a few paragraphs to work with. You'll want to mention your most relevant skills and qualifications in your cover letter. This will encourage the hiring manager to look into your application package further.
One approach is to pick two or three skills that you believe will put you on the shortlist. Mention these on your cover letter. Then include them and any other relevant skills on your resume too.
Include The Right Keywords
Here's another great reason to pay close attention to the job listing. It's a great source for mining keywords. These are words and phrases that hiring managers look for to see if your resume or cover letter is worth pursuing. In fact, some companies will use resume scanning software, just to search the text of your cover letter and resume for keywords, before anyone looks at your application in person.
Just be sure that the keywords you choose are relevant to you. Some people will try the trick of stealthily inserting keywords in invisible font, but that's not a very 'ninja' thing to do. It's just sneaky.
Show an Awareness of The Company's Culture And Needs
One of the quickest ways to help ensure that you get called in for an interview is to show that you understand the company you want to work for. Do some research. First, get to know their work culture. There are plenty of online review sites where you can learn about what it's like to work at a specific company. Find answers to questions like these:
What are their customer demographics?
Is the work environment laid back and casual, or strict and formal?
What are the company values or mission statement?
ADVICE FROM OUR EXPERT
---
To really stand out in a business environment, mention recent news about the company and tie it back to your skillset AND the job description. For example, if there was a product launch announcement, call it out and show how you can contribute to the success of that product, and future innovations!

Mary Ford
Executive Career Coach
Next, try to learn about the company's needs. You'll need to dig beyond the job listing for this information. For example, is the company planning to expand? Have they begun offering any new product lines? Knowing this information can help you to write your cover letter in a way that shows that you are capable of meeting the company's ongoing requirements.
Sample Business Cover Letter in .docx Format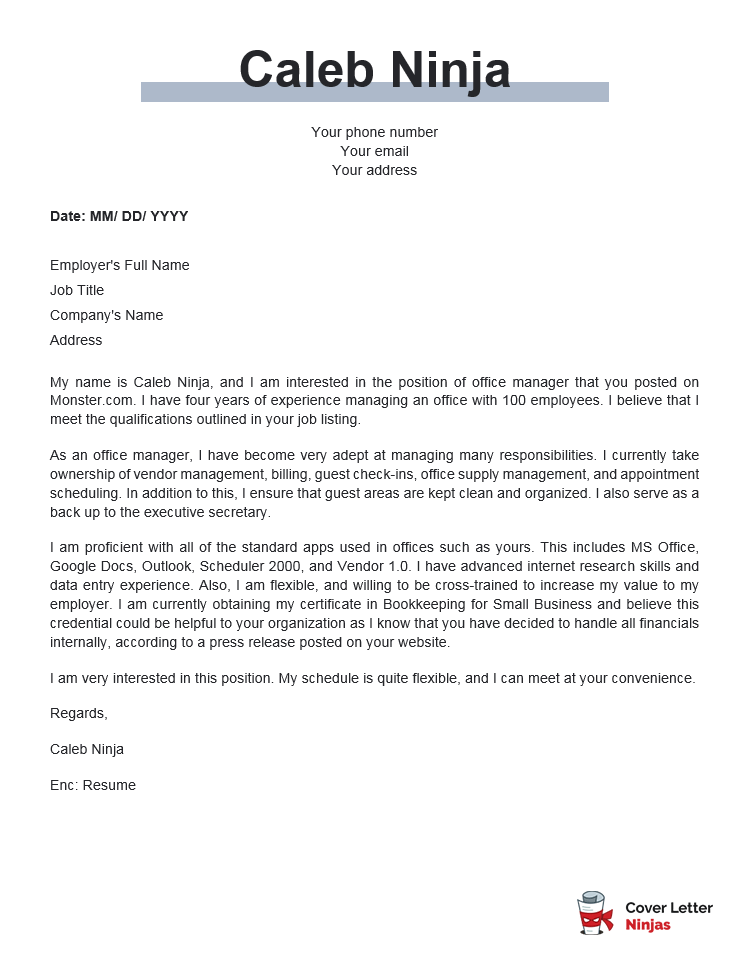 Download example (Word version)
Business Cover Letter Example – Text Format
Dear Mr. Huggins,
My name is Caleb Ninja, and I am interested in the position of office manager that you posted on Monster.com. I have four years of experience managing an office with 100 employees. I believe that I meet the qualifications outlined in your job listing.
As an office manager, I have become very adept at managing many responsibilities. I currently take ownership of vendor management, billing, guest check-ins, office supply management, and appointment scheduling. In addition to this, I ensure that guest areas are kept clean and organized. I also serve as a back up to the executive secretary.
I am proficient with all of the standard apps used in offices such as yours. This includes MS Office, Google Docs, Outlook, Scheduler 2000, and Vendor 1.0. I have advanced internet research skills and data entry experience. Also, I am flexible, and willing to be cross-trained to increase my value to my employer. I am currently obtaining my certificate in Bookkeeping for Small Business and believe this credential could be helpful to your organization as I know that you have decided to handle all financials internally, according to a press release posted on your website.
I am very interested in this position. My schedule is quite flexible, and I can meet at your convenience.
Regards,
Caleb Ninja
Enc: Resume
Final Thoughts
The key is to research each company thoroughly, then write a custom cover letter for each position. Avoid 'one size fits all' cover letters. Finally, edit and proofread carefully. Show that you pay excellent attention to quality and detail. Your polished letter will help you to stand out from your competition.