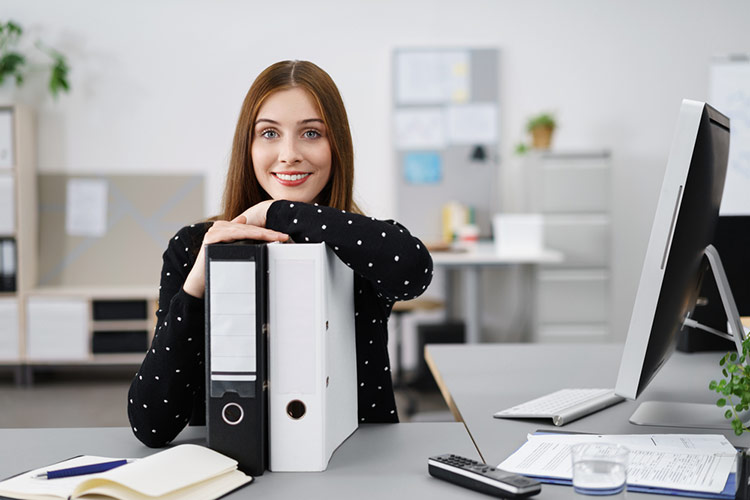 What if you could spend your days working side by side with someone who is truly an expert? This could be an admired CEO, entertainer, writer, or lawyer. In a nutshell, that's what personal assistants do — offer help and support to others, so that they can be more productive with their main job.
Not only do personal assistants spend time with people who lead exciting lives, but they also make excellent salaries. It's not unusual for the personal assistant to a public figure to make six figures. And if you are after a corporate tenure, you have solid career prospects and can later get promoted to an executive assistant or even an administrative officer.
Of course, to get started in this career field, you'll need to make a positive first impression. Your first point of contact with a potential employer is going to be your cover letter. That's why we're providing some important writing tips, along with a personal assistant cover letter sample.
Be Discreet
Have you worked as a personal assistant before? If yes, this can work to your advantage. However, discretion is key. Keep in mind that your potential employer will assume that you will treat them exactly like you treat your current one. That means you should avoid gushing, gossiping, or name-dropping. Unless you have explicit permission don't use your employer's name. Instead, we refer to them in more generic terms. For example, you can write that you were the personal assistant for an athlete who played for a local sports team.
ADVICE FROM OUR EXPERT
---
Personal Assistants are responsible for many aspects of an employer's personal and professional life. As such, confidentiality, trust, and integrity are key when managing another person's schedule. As you will likely be writing a cover letter with a specific employer in mind, take time to include a strong value proposition, rather than a generic document that holds little impact in the eyes of your prospective employer.

Claire Webber
Career Consultant, CPCC, CPRW
Demonstrate That You Are Proactive
A good personal assistant doesn't follow instructions. Instead, they are the folks who are always several steps ahead. They don't need to be asked to do things. A good personal assistant anticipates needs and predicts potential roadblocks. Then, they take action.
Write about a real-life example that demonstrates your ability to see a potential problem, and deal with it proactively. Something like this:
"I learned that my employer was scheduled to fly into a city that was directly in the path of a major weather event. To prevent any delays, I contacted the airline directly and arranged to have his ticket changed so that he would fly into a different airport.
Align Your Skills With The Needs of The VIP
Personal assistants execute a variety of duties. What you spend your days doing will depend largely on the needs of your employer. Some of the more common skills include:
Writing and sending correspondence.
Schedule management.
Note-taking.
Running errands.
Managing travel arrangements
Additionally, each employer is likely to have other tasks they want you to perform. You may be asked to arrange meals, act as a personal shopper, or conduct internet research. Hopefully, these extra duties are listed in the job posting.
Otherwise, you may need to do a bit of research. See if there is any publicly available information on the daily schedule of your potential employer or any projects they've been working on. then, use that information in your cover letter. Explain how your skills and experience give you the ability to meet their unique needs. Here's an example.
" I understand that health and fitness are exceptionally important to you. Because I've spent the past two years working as an assistant to a professional athlete, I believe I can assist you in meeting your fitness goals. My skills in this area include:
Sourcing meals that meet strict dietary requirements.
Maintaining a personal training and workout schedule.
Arranging for my employer to enjoy the services of personal trainers in various cities while traveling.
Organizing vitamins and other supplements, and ensuring that they are always well-stocked."
Cover Letter Sample for a Personal Assistant – .docx Format
Here is a brief cover letter example. This is for an experienced assistant, but could also be adapted to any experience-levels.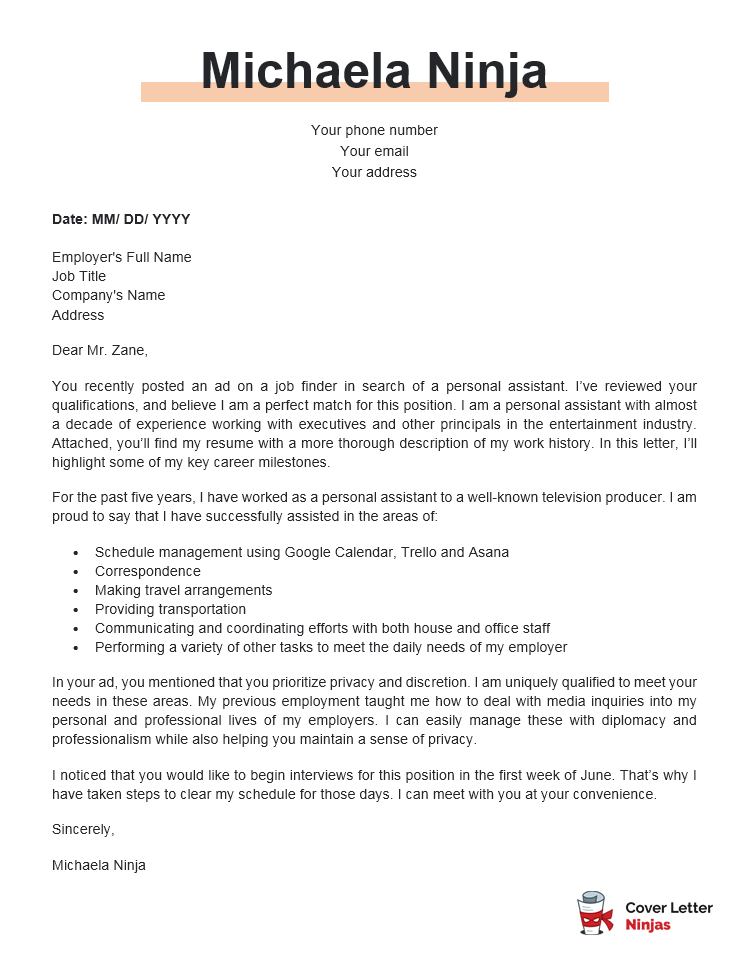 Download example (Word version)
Personal Assistant Cover Letter Example – Text Format
Dear Mr. Zane,
You recently posted an ad on a job finder in search of a personal assistant. I've reviewed your qualifications, and believe I am a perfect match for this position. I am a personal assistant with almost a decade of experience working with executives and other principals in the entertainment industry. Attached, you'll find my resume with a more thorough description of my work history. In this letter, I'll highlight some of my key career milestones.
For the past five years, I have worked as a personal assistant to a well-known television producer. I am proud to say that I have successfully assisted in the areas of:
Schedule management using Google Calendar, Trello and Asana
Correspondence
Making travel arrangements
Providing transportation
Communicating and coordinating efforts with both house and office staff
Performing a variety of other tasks to meet the daily needs of my employer
In your ad, you mentioned that you prioritize privacy and discretion. I am uniquely qualified to meet your needs in these areas. My previous employment taught me how to deal with media inquiries into my personal and professional lives of my employers. I can easily manage these with diplomacy and professionalism while also helping you maintain a sense of privacy.
I noticed that you would like to begin interviews for this position in the first week of June. That's why I have taken steps to clear my schedule for those days. I can meet with you at your convenience.
Sincerely,
Michaela Ninja
Final Tip: Mention Your Hard Skills
Now more than ever, a personal assistant needs to have specific hard skills, especially those related to technology and software. Your duties might include using a variety of apps, websites, and tools for setting appointments, coordinating efforts, and planning events. So be sure to address any software knowledge in your cover letter!