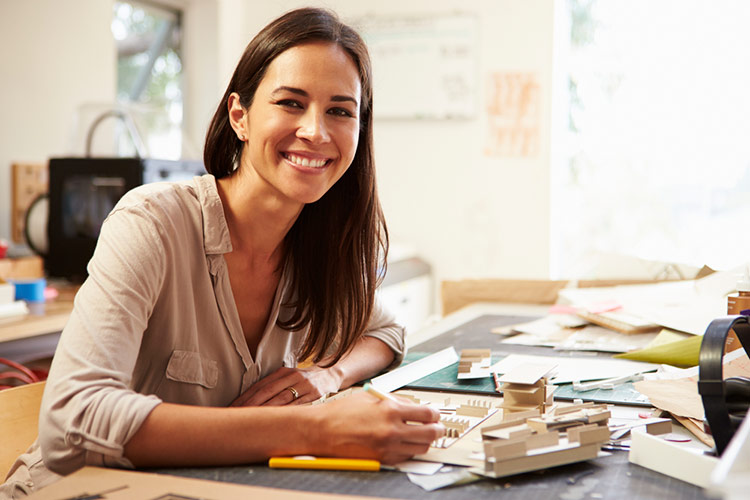 There aren't many jobs where the work you do could potentially outlive you. However, this is something that is quite a reality for architects. An architect is a creative profession with solid job growth prospects and decent remuneration.
Still, you'll need to be prepared for a competitive job search process, especially if you are applying to a "big name" firm. So you better make that cover letter of yours really count! In this post, we provide several quick career tips for architects, followed by an architect cover letter sample you can use to model your application. Let's jump into this!
Create a High-Quality Portfolio
When it comes to getting a job, your portfolio is one of the key items employers will consider. It is verifiable proof of the work you have done, and the skills you have developed. Thus, make sure that your portfolio is up-to-date and speaks of your talents:
Include a curated selection of your best work. Your portfolio does not need to be repetitive and showcase everything you did.
Present a mix of work, showcasing different skills and experience.
Add different mediums such as hand-drawn elements as well as computer-aided drawings.
Feature both theoretical and academic projects.
Finally, consider creating a custom version of your portfolio for each job you seek. This way you can handpick different items to show that are most relevant for that position.
Take on an Internship (or Two!)
Architecture is one field in which you can take several internships, and have entirely different experiences. If you are an entry-level architect and believe it will be difficult to land your first job, build up your experience through internships first. Not only will you be able to hone your skills in real-world situations, but you'll also make work connections, and possibly get a better idea of the specific architectural discipline you want to pursue.
Start Networking Early
It is never too early to begin building your professional network. After all, more connections = more sources of job referrals. As with any career, you can get started by creating a LinkedIn profile, then adding your friends, colleagues, your architecture program instructors, etc. But, don't stop there.
Attend conferences and events for architectural professionals, and also for people and related fields. For example, you may be able to find important connections in the construction industry. So, attending builders events may be worthwhile as well. Finally, join at least one professional association for architects.
Focus on The Value You Will Bring to The Office
Use your cover letter to describe any unique skills, attributes, or experience that you may have that will bring value to your employer. For example, if you have experience working in construction, you might mention that you can communicate concepts, two builders and other construction staff.
ADVICE FROM OUR EXPERT
---
While architects often focus on design as the center of their cover letters, firms are also interested in knowing about your soft skills. Don't forget to include your ability to present to clients as well as collaborating with other professionals.

Debi Douma-Herren
Senior Certified HR Professional & Career Coach
Highlight Your Most Important Skills
Your cover letter shouldn't repeat your resume. Instead, focus on only the most important skills that you believe will be most relevant to the employer. Consider sticking with 3 to 5 elements that really stand out. Save the remaining for your resume.
Cover Letter Sample for an Architect in .docx Format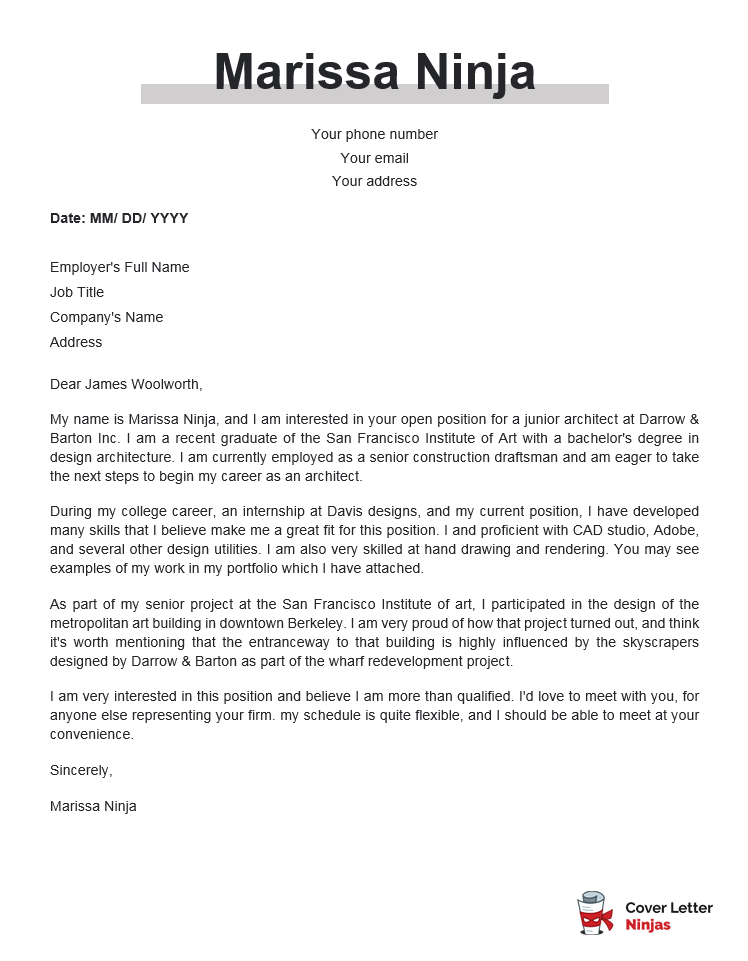 Download example (Word version)
Architect Cover Letter Example – Text Format
Dear James Woolworth,
My name is Marissa Ninja, and I am interested in your open position for a junior architect at Darrow & Barton Inc. I am a recent graduate of the San Francisco Institute of Art with a bachelor's degree in design architecture. I am currently employed as a senior construction draftsman and am eager to take the next steps to begin my career as an architect.
During my college career, an internship at Davis designs, and my current position, I have developed many skills that I believe make me a great fit for this position. I and proficient with CAD studio, Adobe, and several other design utilities. I am also very skilled at hand drawing and rendering. You may see examples of my work in my portfolio which I have attached.
As part of my senior project at the San Francisco Institute of art, I participated in the design of the metropolitan art building in downtown Berkeley. I am very proud of how that project turned out, and think it's worth mentioning that the entranceway to that building is highly influenced by the skyscrapers designed by Darrow & Barton as part of the wharf redevelopment project.
I am very interested in this position and believe I am more than qualified. I'd love to meet with you, for anyone else representing your firm. my schedule is quite flexible, and I should be able to meet at your convenience.
Sincerely,
Marissa Ninja
Final Tip: Express Your Enthusiasm For The Work The Architecture Firm Does
Your cover letter is a bit of a marketing document. Use it to sell yourself to the architectural firm. One way to do this is to research the company, then use the letter to express interest and enthusiasm for what they do. Considered mentioning a specific project that stands out to you.
And if you want to add some extra oomph to your cover letter, consider "dressing" it up in a professional cover letter template!