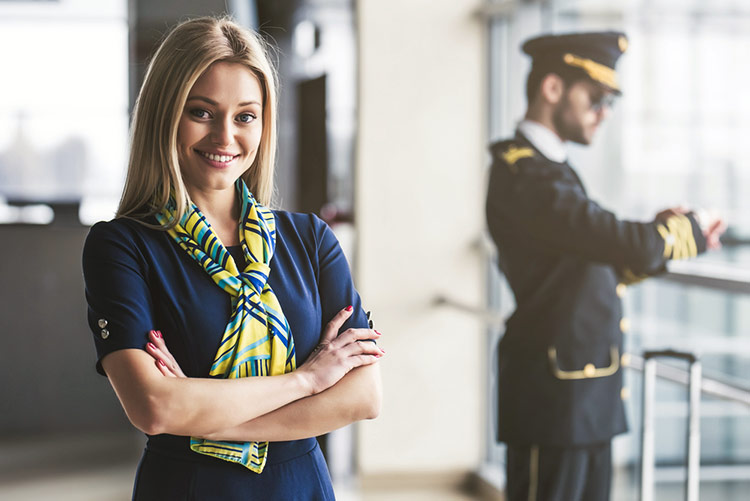 As a flight attendant, you have two responsibilities. One is to provide passengers with attentive, reassuring service. The other is to play an important role in the safety of those very same passengers.
This is challenging work. At the same time, the pay is good, and there are great perks of frequent travel. This makes the jobs for flight attendants quite competitive.
If you are eager for your career as a flight attendant to take off, keep reading. We've gathered the best possible tips to help you ace your job search, and have included an amazing flight attendant cover letter sample. Let's dive in!
ADVICE FROM OUR EXPERT
---
Flight attendants work together as a crew. Your ability to work well in a team is critical to stand out in this very competitive job. Describe specific examples when you worked together with others even when working in tight quarters or in stressful situations.

Debi Douma-Herren
Senior Certified HR Professional & Career Coach
Describe Your Your Flight and Cabin Crew Experience First
To succeed as a flight attendant, you'll need to work in cooperation with other flight attendants and other cabin crew staff. In addition to this, there are significant differences between:
the airlines you worked for
the types of flights you work,
even the size of the carriers you work for.
In your cover letter, you should be specific about all of this. You should also relate your specific experience truly particular job opening you're pursuing. Include information such as:
the average number of passengers
whether you flew mostly domestic or largely international
the overall culture of the airlines for which you have worked.
Having experience with a budget carrier that serves flights to Las Vegas or Orlando exclusively is much different from serving first-class passengers on international flights.
Research Carriers Before You Apply
First, the more you know about an airline, the better you can customize your cover letter and resume, and the better you can be prepared for the interview.
Also, by researching airlines you also know what to expect. For example, if you apply to work at Norwegian airlines, you would find out that their cabin staff is outsourced from a different company. That may not seem important. But keep in mind that could leave you unable to qualify for some of the perks that are often shared between airlines.
Illustrate Your Flexibility and Problem-Solving Skills
No two flights are the same. As a flight attendant, you will have to contend with:
delayed flights,
difficult customers
and unique complaints and requests.
All the while, you are expected to deliver great customer service, and help find solutions to whatever problems may come up.
Let your new employer know that you can handle all of that. Give an example of when you had to offer particularly diplomatic customer service or had to solve a pressing issue very quickly.
Brush Up on a Foreign Language or Two
The travel industry is one of many fields where being bilingual is absolutely a selling point. As someone who has so much direct customer contact, your ability to communicate with people in their own language is exceptionally valuable.
Fluency is preferred by all means. Still, just being conversational, or having the capability to understand and communicate some key phrases is pretty helpful as well.
Cover Letter Sample For a Flight Attendant in .docx Format
Here is a brief cover letter sample written from the perspective of a flight attendant with several years of experience with a larger airline.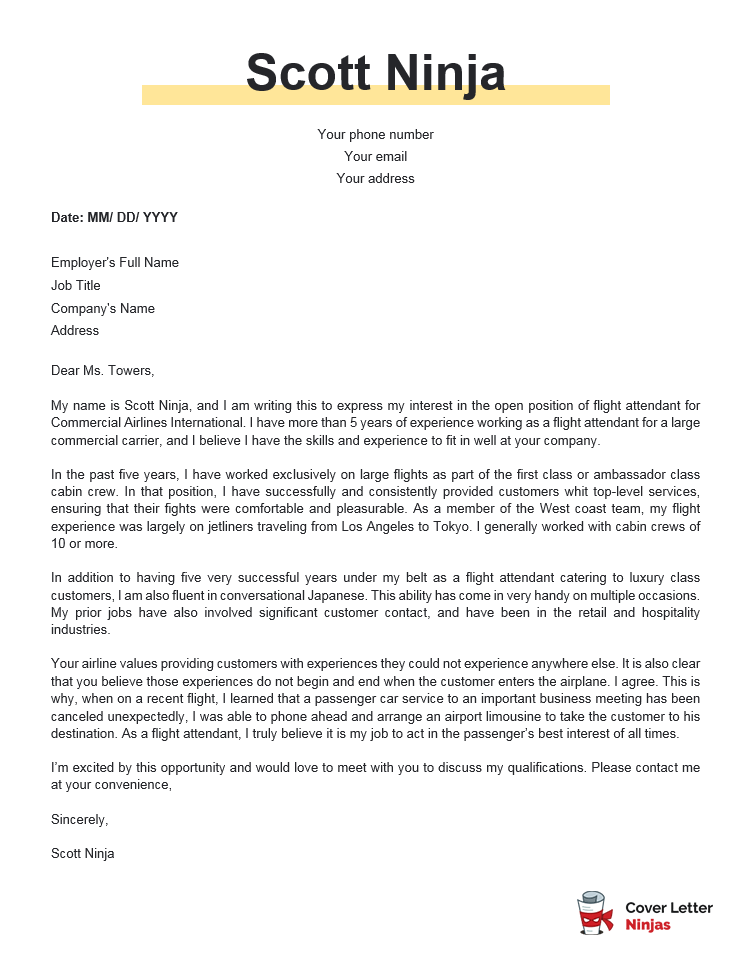 Download example (Word version)
Flight Attendant Cover Letter Example – Text Format
Dear Ms. Towers,
My name is Scott Ninja, and I am writing this to express my interest in the open position of flight attendant for Commercial Airlines International. I have more than 5 years of experience working as a flight attendant for a large commercial carrier, and I believe I have the skills and experience to fit in well at your company.
In the past five years, I have worked exclusively on large flights as part of the first class or ambassador class cabin crew. In that position, I have successfully and consistently provided customers whit top-level services, ensuring that their fights were comfortable and pleasurable. As a member of the West coast team, my flight experience was largely on jetliners traveling from Los Angeles to Tokyo. I generally worked with cabin crews of 10 or more.
In addition to having five very successful years under my belt as a flight attendant catering to luxury class customers, I am also fluent in conversational Japanese. This ability has come in very handy on multiple occasions. My prior jobs have also involved significant customer contact, and have been in the retail and hospitality industries.
Your airline values providing customers with experiences they could not experience anywhere else. It is also clear that you believe those experiences do not begin and end when the customer enters the airplane. I agree. This is why, when on a recent flight, I learned that a passenger's car service to an important business meeting has been canceled unexpectedly, I was able to phone ahead and arrange an airport limousine to take the customer to his destination. As a flight attendant, I truly believe it is my job to act in the passenger's best interest of all times.
I'm excited by this opportunity and would love to meet with you to discuss my qualifications. Please contact me at your convenience,
Sincerely,
Scott Ninja
Final Tip: Think of Something New to Say
Do you love people? Do you enjoy traveling? That's great! Unfortunately, so does every other person vying to be a flight attendant. Leave that information off of your cover letter. It's just fluff.
Instead, focus on your unique experiences and language skills. Or showcase your knowledge of the company. Both of these will instantly make your application more memorable.

And for some extra splash, consider using a professional cover letter template!