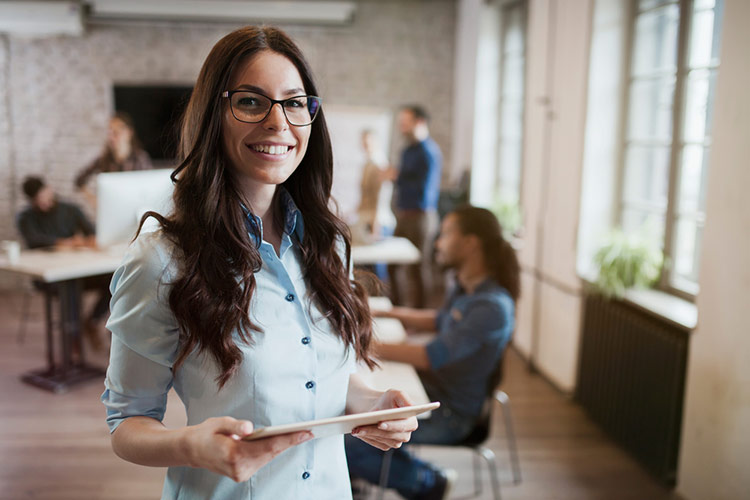 Do you want to break into the creative industry? Dream of working as a writer, editor, or journalist one day? That's amazing, but not many people land in those positions immediately. Instead, many choose to start their career path and earn some extra experience by working as an editorial assistant. In this job, you'll perform a combination of administrative tasks and some editorial chores such as fact-checking, copy-editing, and some writing.
Fortunately, if you land a job as an editorial assistant, that could put you on the fast track to better things. Of course, you've got to get your foot in the door first. We've got some tips for that followed by an editorial assistant cover letter sample.
Remember You Are Proving Your Editorial Skills
Every applicant is judged on their spelling, grammar, and other writing skills. But, let's be honest as an editorial assistant, you are going to be held to a higher standard. If you can't produce a concise, clear cover letter, how can you be trusted with editing duties?
Thus, everything must be spot-on! This includes your font selection, formatting, editing, and writing style. Know your audience, and get familiar with the communication style of the company you're applying to. Double and triple-check your work so you don't leave any doubt about your abilities.
P.S. You can wrap your letter in one of our free cover letter templates to give it another notch of professionalism.
ADVICE FROM OUR EXPERT
---
As an Editorial Assistant, you will likely operate as the Editor's leading support structure. Wherever possible, demonstrate your core competencies as well as your "soft skills," which will allow for better alignment between yourself, your background, and your prospective employer's needs.

Claire Webber
Career Consultant, CPCC, CPRW
Balance Your Interests With The Employer's
In this case, balance means 80/20:
80% of your cover letter should focus on what you can do for the employer.
You can use the other 20% to discuss your passion for this particular industry and your career goals.
To put it in perspective, remember that employers want to hire goal-oriented people. If you'd like to advance into writing or editing, let them know. On the other hand, you don't want to give the impression that this job is simply a stepping stone that you will abandon at the next opportunity. So don't overly focus on your future managerial aspirations.
Share Some of Your Work
If you are actively applying for jobs, you should have several good samples to tout. Yes, even editors and assistance can have portfolios. So set up one for yourself and highlight the work you have done — line-editing, writing, copyediting, etc. Somewhat off-hand experiences like poetry submissions or freelance content work on Upwork can count too1

Then, include a link to your portfolio in the contact information section of your letter. You can also link to specific works as they are relevant in the context of your cover letter. For example:
"I'm currently working as the sportswriter and editor for the University of Massachusetts times. In the past 12 months, I have worked as a writer, editor, or researcher on more than 25 sports-related articles. You can read each of these at the following link."
Write About Accomplishments, Not Duties
The most successful cover letters frame the applicant's experience in terms of accomplishments. That's in contrast to those that simply list the tasks performed regularly. For example, fact-checking is a task. Ensuring that all content meets the highest standards of accuracy before it is published is an accomplishment.
Cover Letter Sample for an Editorial Assistant – .docx Format
Take a closer look at this cover letter written by a recent graduate who is seeking their first job in publishing. Feel free to use this as a working example.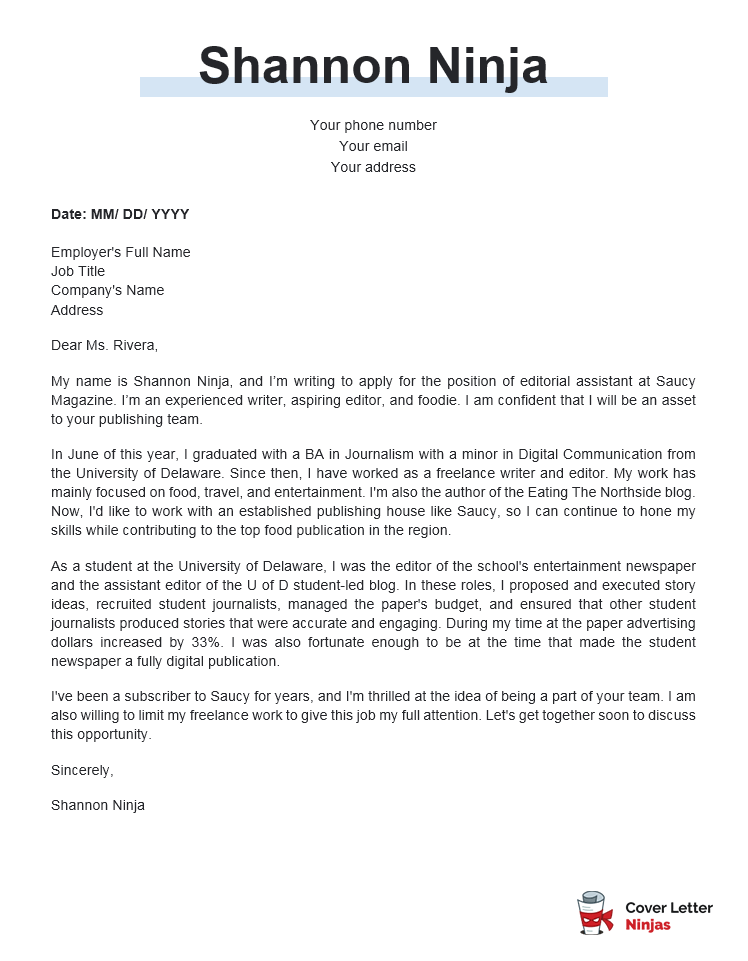 Download example (Word version)
Editorial Assistant Cover Letter Example – Text Format
Dear Ms. Rivera,
My name is Shannon Ninja, and I'm writing to apply for the position of editorial assistant at Saucy Magazine. I'm an experienced writer, aspiring editor, and foodie. I am confident that I will be an asset to your publishing team.
In June of this year, I graduated with a BA in Journalism with a minor in Digital Communication from the University of Delaware. Since then, I have worked as a freelance writer and editor. My work has mainly focused on food, travel, and entertainment. I'm also the author of the Eating The Northside blog. Now, I'd like to work with an established publishing house like Saucy, so I can continue to hone my skills while contributing to the top food publication in the region.
As a student at the University of Delaware, I was the editor of the school's entertainment newspaper and the assistant editor of the U of D student-led blog. In these roles, I proposed and executed story ideas, recruited student journalists, managed the paper's budget, and ensured that other student journalists produced stories that were accurate and engaging. During my time at the paper advertising dollars increased by 33%. I was also fortunate enough to be at the time that made the student newspaper a fully digital publication.
I've been a subscriber to Saucy for years, and I'm thrilled at the idea of being a part of your team. I am also willing to limit my freelance work to give this job my full attention. Let's get together soon to discuss this opportunity.
Sincerely,
Shannon Ninja
Final Tip: Alleviate Any Concerns
Is there anything in your work history, experience, education, or background that might be concerning to a hiring manager? If so, address that in your cover letter. Just a few sentences can explain a gap in employment, or provide needed context. For example, in the letter above, the writer mentioned they would be willing to prioritize their new job over any freelancing work.