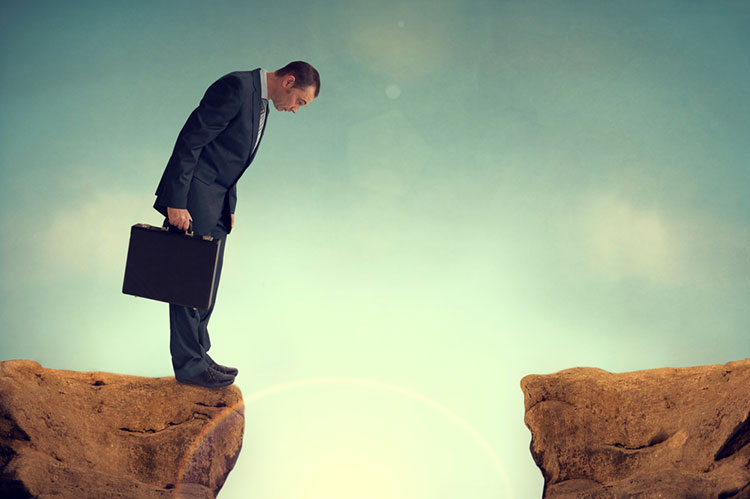 When you are applying for jobs, hiring managers will always notice gaps in employment. They'll understandably wonder what happened. Are you at high risk of quitting? Have you experienced performance issues or exhibited irresponsible behavior in the past?
It's very important that you don't ignore or gloss over an employment gap. The best way is to deal with it is honesty. And the best place to do this is in your cover letter. The tips below will explain how to address common scenarios where you may have a gap in your employment, both good and bad. Keep reading, there's also a sample cover letter explaining a gap in employment.
How Long is Too Long of an Employment Gap?
There's no "unacceptable" length for an employment gap per se as there are many valid reasons why you have been out of the workforce for a year — continuing education, raising a family, or dealing with an illness. Most HRs will view a 1-5 year gap in employment as a reasonable break. But longer gaps, think 5+ years, will likely warrant a more detailed explanation in your cover letter.
How Do You Explain a Gap in Employment in a Cover Letter?
A cover letter is meant to complement your resume — highlight your strengths, showcase your motivation, and address some of the shortcomings such as an employment gap. The best place to clarify the gap in employment is the body of your cover letter. Think second or third paragraph.
Here's a sample cover letter structure you may want to go for:
Introduction: Hook the reader with your motivation and key qualifications.
Second paragraph: Reiterate the main skill or experience you are bringing to the table.
Third: Briefly address your employment gap and state why you are eager to get back on track.
Conclusion. End on a high note. Mention the value you can bring to the company or speak about your passion for the job at hand.
Now let's look at greater depth on how you can turn the above outline into a persuasive cover letter explaining the gaps in employment!
Be Direct When a Gap in Employment is Objectively Positive
Some gaps in employment are positive things. Even so, you still need to address them. Otherwise, a potential employer might make assumptions. Instead, take advantage of the opportunity to share something positive. Address your gap directly if you are a homemaker returning to work, received a fellowship to pursue an academic interest, taken a hiatus to do volunteer work, or worked on an independent project. Not only will this clear up any misunderstandings, but it could also be a positive addition to your application packet.
ADVICE FROM OUR EXPERT
---
Be honest! It is becoming more common for people to take breaks in their career for a variety of reasons. Be honest about your break, what you learned, and why you are ready to re-enter the workforce. You will be surprised how many people will relate your career path.

Mary Ford
Executive Career Coach
Some Gaps Can Be Ignored
Before you spend time worrying about an employment gap, ask yourself if you need to address the issue at all. For example, if you have five or more years of steady employment history, there's no need to bring up a gap in employment before that. Likewise, you don't need to mention gaps in employment that occurred while you were a college student. You can also ignore any gap that is less than six months.
Finally, job hopping can be a problem, but it is not the same as having an employment gap. How you handle job-hopping really depends on the industry, and what you were doing at the time. For example, some fields like retail, hospitality, customer service, etc, tend to have a quick turnover, and employment periods tend to be shorter.
Add The Gap in The Closing Paragraph as a Power Move
If you can put a positive spin on a gap in employment, especially a recent one, add it to your closing paragraph. You can use the gap to tell prospective employers that you are now ready to move forward and do great things in your career.
For example, imagine that you are returning to work after studying for a year. You could close your cover letter by writing:
'I was fortunate enough to spend the past year studying Organizational Psychology at Boston University. I am now ready to take the skills I have acquired and apply them as your new manager of human resources. I would love to meet with you to discuss your needs.'
Never Give Too Much Information
Remember that you are not obligated to share all of the details about a negative gap in employment. Keep in mind that a previous employer is likely to be pretty tight-lipped about a negative relationship with you unless it is something they are legally obligated to disclose. While you shouldn't lie, you don't have to go into great detail.
For example, don't go into detail about an ongoing personality conflict with a previous employer that culminated in a heated argument, and resulted in damaging your reputation on the local business scene. Instead, simply mention a difference in opinion or conflicting working styles that led to your decision to rethink your career options.
Employment Gap Cover Letter Sample in .docx Format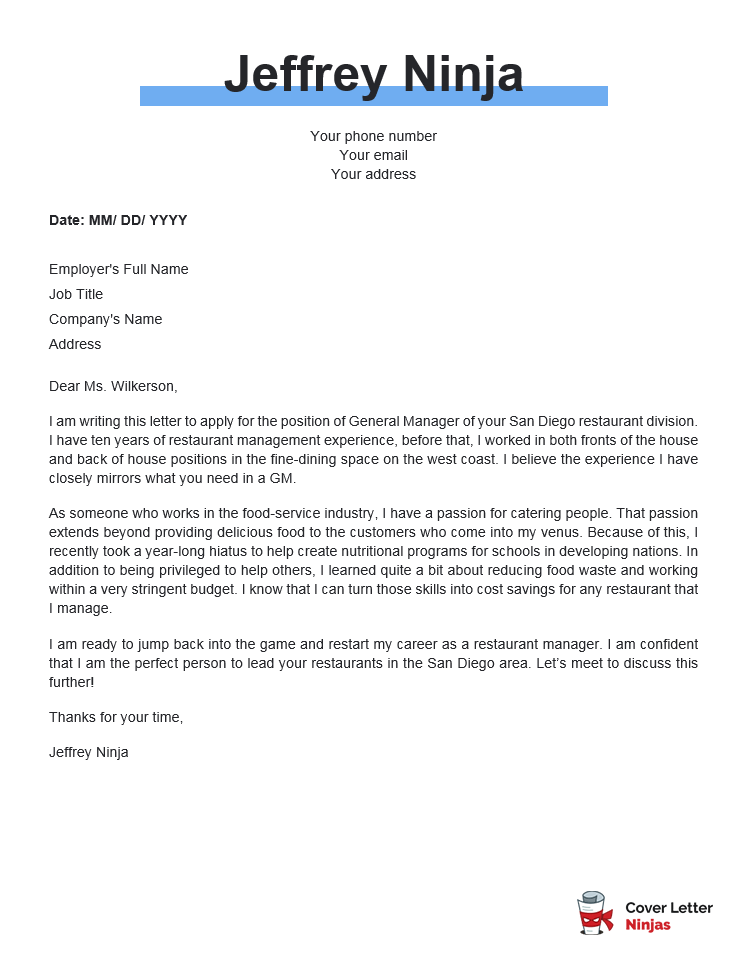 Download example (Word version)
Example Cover Letter Explaining a Gap in Employment – Text Format
Dear Ms. Wilkerson,
I am writing this letter to apply for the position of General Manager of your San Diego restaurant division. I have ten years of restaurant management experience, before that, I worked in both fronts of the house and back of house positions in the fine-dining space on the west coast. I believe the experience I have closely mirrors what you need in a GM.
As someone who works in the food-service industry, I have a passion for catering people. That passion extends beyond providing delicious food to the customers who come into my venus. Because of this, I recently took a year-long hiatus to help create nutritional programs for schools in developing nations. In addition to being privileged to help others, I learned quite a bit about reducing food waste and working within a very stringent budget. I know that I can turn those skills into cost savings for any restaurant that I manage.
I am ready to jump back into the game and restart my career as a restaurant manager. I am confident that I am the perfect person to lead your restaurants in the San Diego area. Let's meet to discuss this further!
Thanks for your time,
Jeffrey Ninja
How To Address a Gap in Employment? More Examples!
Still not sure how to compose the right narrative? Here are several quick snippets you can use in your cover letter:
Explaining a Gap in Employment Due to Family
For the past three years, I've been serving as a Resident Home Educator, to my two kids, aged 6 and 9. While I've been out of my original career lane as a Communications Manager, I still practiced and developed my skills. Homeschooling my children have helped me improve my presentational skills and research skills. I'm now an expert in breaking down complex concepts into engaging short narratives and feel that this ability will help me find success in a new role as an Editorial Strategist with your firm.
Explaining a Gap in Employment Due to Mental Illness
After successfully completing the $50 million M&A deal at my previous consulting firm, I decided to take a year off to restore my mental health. This time has also helped me reflect on my priorities and re-evaluate my career path, leading me to the idea of transitioning to a non-profit sector. I believe Charity Quest can greatly benefit from my past financial advisory experience to ensure better P&L management and cash flow.
Explaining a Gap in Employment Due to Covid-19
I greatly enjoyed working at Nightime Lounge, where I served as a chief mixologist for the past 1.5 years and a half. The restaurant manager, James Welsh, can provide further reference on my performance. Unfortunately, due to the pandemic, I was furloughed. However, I used my free time to create a YouTube channel and short cocktail mixology course with several signature recipes. You can review both on my website.
How Do You Explain Gap Year in Cover Letter?
The easiest way to bring up your gap year is by briefly explaining what you did and what skills or experiences you've obtained along your journey. Don't talk about the fun travel you did or lounge time you had. Instead, focus on the vocations, interests, and perhaps extra education that you've pursued along the way.
Here's a quick example of how to address a gap year in your cover letter:
"After completing my BS degree in Biology at Denver State University, I chose to take a gap year to reflect on my studies and determine which career path may work best for me. During that time, I volunteered with the West Coast Marine Savers and my experience lead me to discover my passion for water conservation. When I noticed an opening at your firm, I was excited to jump at the opportunity for applying."
How to Explain Gaps in Employment Due to Disability?
Becoming temporary or permanently disabled can have a severe mental toll on you, which is understandable. But don't let your doubts or negative emotions get into the way of your job search. Instead of treating (and thus speaking about) your disability as a weakness, merely acknowledge it as one of the facts. Then move on to highlighting some of your other strengths.
Here's a quick example of how you can address disability in your cover letter:
"Two years ago, I got into a bad car accident and was left disabled for the following 1.5 months. Today, I have fully recovered mentally, yet still, have some difficulties walking. However, my condition in no way affects my ability to create user-friendly website designs and, specifically, material design applications."
Final Tip: Keep it Brief, Yet Direct
Don't make the mistake of drawing more attention to gaps in your employment than you need to. Your cover letter should focus on your skills, passions, and fit for the job. If you spend more than a couple of sentences over-explaining a gap in your work history, that's going to be problematic. Be brief and matter of fact.