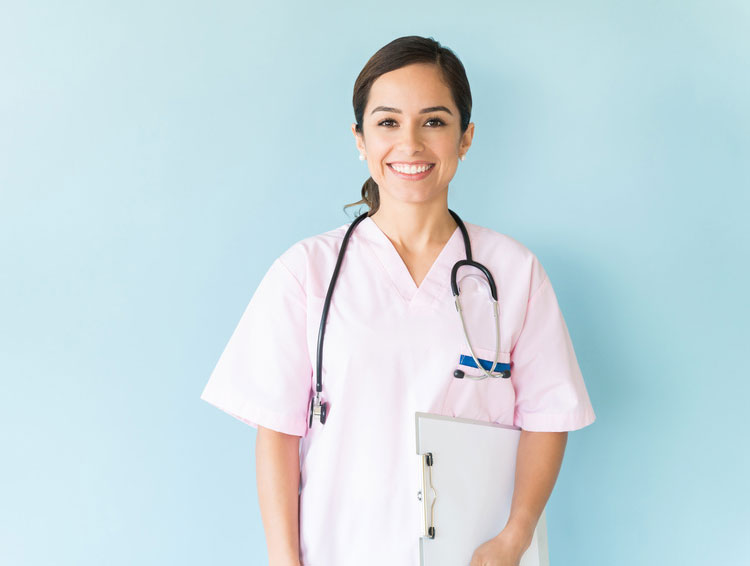 Nursing skills are in high demand right now. On the other hand, competition for the best nursing positions is quite fierce. So you'll need to pick up a discreet fight (like a ninja does) using your resume and cover letter as your secret weaponry.
Your tools are:
A compelling resume that really showcases what you bring to the table for an employer, and your patients.
A cover letter hitting the HRs sweet spot with the right mix of personality and professionalism.
Below, are your tips for writing that perfectly balanced cover letter along with a sample nursing cover letter to help you get started. 
Your Cover Letter Should Be Aligned to Each Facility And Position
Not only do different hospitals, clinics, and doctor's offices have different requirements, each of them has unique values and culture. Avoid sending out a generic, one-size-fits-all cover letter. Instead, learn as much as you can about each nursing job you apply for.

Then, use your findings to add some sweet coating to the letter: 
Greet the hiring manager by name
List skills, education, and certifications mentioned in the job application
Highlight specific characteristics needed by each facility
Share how you can fit seamlessly into your new position
Finally, nurses often work in teams where they must integrate, and maintain friendly relationships with their coworkers. Demonstrate that you understand the company culture, and that you are an excellent fit.
Share Your Passion For Your Work and Your Patients
When people remember the care they receive, what they often recall is the way that they were treated by the nurses with whom they interacted. In fact, chances are you will spend more time with the average patient than their doctor will. Explain why patient care is so important to you, and why you chose your specific specialization.
ADVICE FROM OUR EXPERT
---
If your target role has communication, hospitality, care, or customer service as a central focus, ensure you are letting your relational strengths shine! While cover letters are structured documents, take some creative liberty by giving the reader insight to your personality in the introduction of your letter.

Claire Webber
Career Consultant, CPCC, CPRW
Do you enjoy managing patient cases to help coordinate the ideal outcomes? Perhaps you value the opportunity to provide comfort and nurturing to people during the worst moments of their lives. Maybe your passion is in working with specific populations. Align your passions with the needs of the positions for which you are applying, and you will likely have a fruitful job search.
Don't Be Afraid to Brag a Bit
What nursing awards have you won? What have you done to improve outcomes? Show your work one-size-fit-all and share your accomplishments. This is a great opportunity to share your credentials.
Use a Personal Anecdote If It Fits
If you have a personal story to share, and that story demonstrates that you are a great choice for the job, mix it into your letter. Talk about a mentor who helped your career, or a patient whose experience resonated with you. A good story will get the reader interested and can help forge some early bonds.
Just follow one precaution: make sure that your story fits the narrative you are trying to create. Be sure what you share is concise and authentic.
Cover Letter Sample for Nurse in .docx Format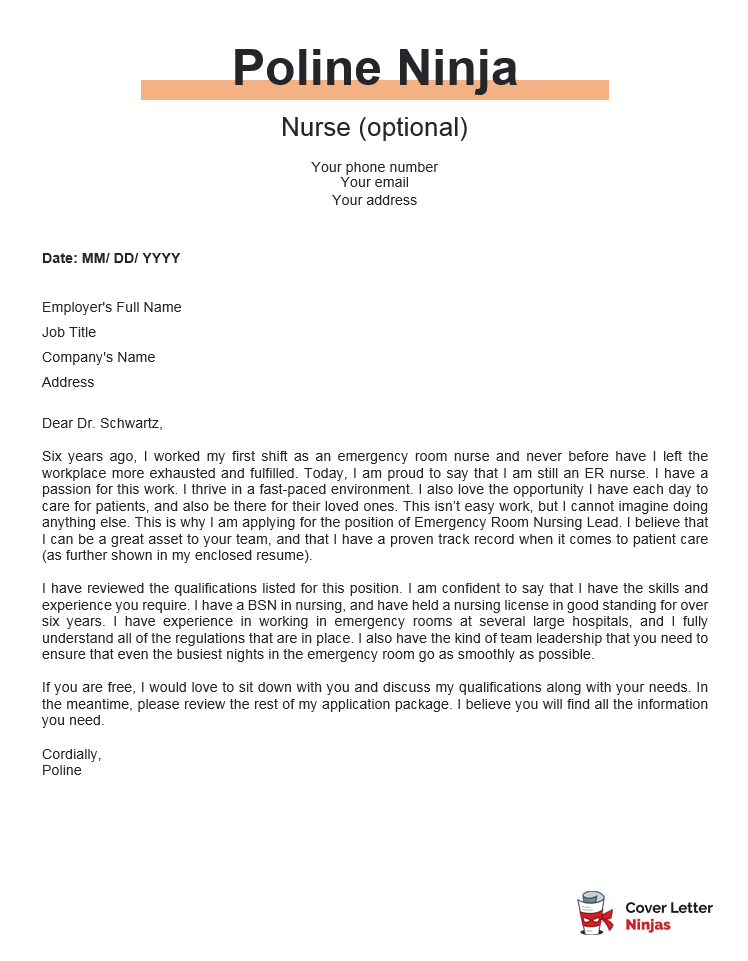 Download example (Word version)
Nursing Cover Letter Example – Text Format
Dear Dr. Schwartz,
Six years ago, I worked my first shift as an emergency room nurse and never before have I left the workplace more exhausted and fulfilled. Today, I am proud to say that I am still an ER nurse. I have a passion for this work. I thrive in a fast-paced environment. I also love the opportunity I have each day to care for patients, and also be there for their loved ones. This isn't easy work, but I cannot imagine doing anything else. This is why I am applying for the position of Emergency Room Nursing Lead. I believe that I can be a great asset to your team, and that I have a proven track record when it comes to patient care (as further shown in my enclosed resume).
I have reviewed the qualifications listed for this position. I am confident to say that I have the skills and experience you require. I have a BSN in nursing, and have held a nursing license in good standing for over six years. I have experience in working in emergency rooms at several large hospitals, and I fully understand all of the regulations that are in place. I also have the kind of team leadership that you need to ensure that even the busiest nights in the emergency room go as smoothly as possible.
If you are free, I would love to sit down with you and discuss my qualifications along with your needs. In the meantime, please review the rest of my application package. I believe you will find all the information you need.
Cordially,
Poline
More Nursing Cover Letter Examples By Role:
Final Tip: Keep Things Short
Stick with demonstrating your passions, showing your skills, and highlighting the training you have received. Your cover letter should never be more than one page long. Use single spacing and pack only the essential details!