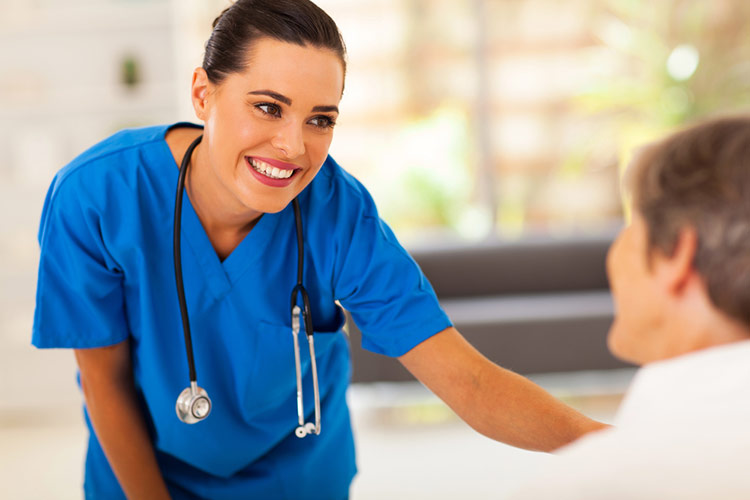 Licensed practical nurses work in hospitals and clinics providing care and comfort to patients. As an LPN you know that patients will usually see you more often than they do their physicians or other care providers. It's a busy, but rewarding profession.
But how do you get the attention of hiring managers when there are so many nurses competing for a single position? Primarily, your application packet must be stellar. That starts with your cover letter.
Below are your tips for writing a compelling job application with an LPN cover letter sample you can use for inspiration.
Anticipate The Employer's Questions
Peruse every job listing carefully. As you do, jot down all the key skills and requirements mentioned. In most cases, your new employer will want to know if you have some of the following qualifications:
Specific clinical skills
Required experience
Communication skills
Critical thinking and decision-making capabilities
Empathy and a good bedside manner
The ability to work well in a team setting to prioritize patient outcomes
Endurance to do the job
A track record of following health protocols and proper procedures
ADVICE FROM OUR EXPERT
---
Successful LPN's need to balance helping patients and working directly with a physician or RN. To set yourself apart, focus on how you work well with varying levels of team members.

Mary Ford
Executive Career Coach
Optimize For Applicant Tracking Systems
If you apply to a smaller clinic or a doctor's office, your cover letter will go directly to the hiring authority. But, if you are pitching your candidacy to a large hospital, or major healthcare network, you'll have to get past an invisible gatekeeper – the applicant tracking software.
ATS is a special system that scans your resume, cover letter, and other documents for relevant keywords to ensure that you are image. For example, when a dialysis center is hiring an LPN, they'll want someone experienced in working with kidney patients. Thus, the applicant tracking system will be configured to look for phrases like pre-dialysis patient assessment.
Connections and Referrals Are Key
This tip is a bit of a departure. Think about your overall job search. Before your cover letter and resume can help land an interview, you have to find the best opportunities. Feel free to look through standard job listings, but also consider the alternatives. One thing to consider is your list of network connections. In most communities, people in healthcare tend to run in tight-knit circles. Let a few people in your LinkedIn list or alumni connections know you are searching for a job. There's a good chance that you may learn about some 'unadvertised' job openings.
if somebody in your network does connect to a job opportunity, mention them in your cover letter. This will create a sense of familiarity with the hiring manager.
Emphasize Continuing Education
Healthcare technologies, regulations, and treatment protocols are changing rapidly. A nurse who stops learning will quickly become ineffective. Let hiring managers know that you want to continue your education. Mention any efforts you are making to improve your skills in your letter.
Include Letters of Recommendation
What can you do to help secure a position when you are a recent graduate without much experience? Contact your nursing school instructors and the healthcare providers where you did your clinicals. Ask them if they would be willing to write a letter of recommendation for you. This can be a real asset when your application packet would otherwise be a bit thin.
Licensed Practical Nurse Cover Letter Sample in .docx Format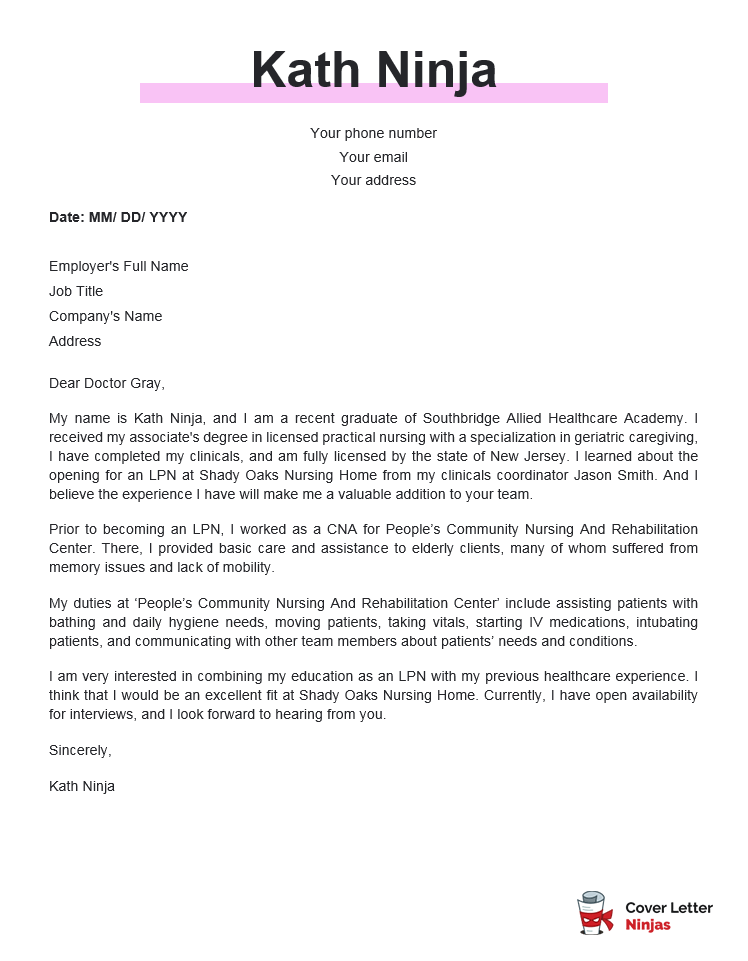 Download example (Word version)
LPN Cover Letter Example – Text Format
Dear Doctor Gray,
My name is Kath Ninja, and I am a recent graduate of Southbridge Allied Healthcare Academy. I received my associate's degree in licensed practical nursing with a specialization in geriatric caregiving, I have completed my clinicals, and am fully licensed by the state of New Jersey. I learned about the opening for an LPN at Shady Oaks Nursing Home from my clinicals coordinator Jason Smith. And I believe the experience I have will make me a valuable addition to your team.
Prior to becoming an LPN, I worked as a CNA for People's Community Nursing And Rehabilitation Center. There, I provided basic care and assistance to elderly clients, many of whom suffered from memory issues and lack of mobility.
My duties at 'People's Community Nursing And Rehabilitation Center' include assisting patients with bathing and daily hygiene needs, moving patients, taking vitals, starting IV medications, intubating patients, and communicating with other team members about patients' needs and conditions.
I am very interested in combining my education as an LPN with my previous healthcare experience. I think that I would be an excellent fit at Shady Oaks Nursing Home. Currently, I have open availability for interviews, and I look forward to hearing from you.
Sincerely,
Kath Ninja
Final Tip: Cast a Wide Net When Searching For a Job
Work as an LPN is often associated with nursing homes, assisted living facilities, even in-home care. However, as you look for a job, consider other career options.
A licensed practical nurse may be able to find work in hospital emergency rooms, labor and delivery, rehabilitation centers, and in public health. Keep in mind that your options may be more open than you think.
We Have in More Amazing Nursing Cover Letters!