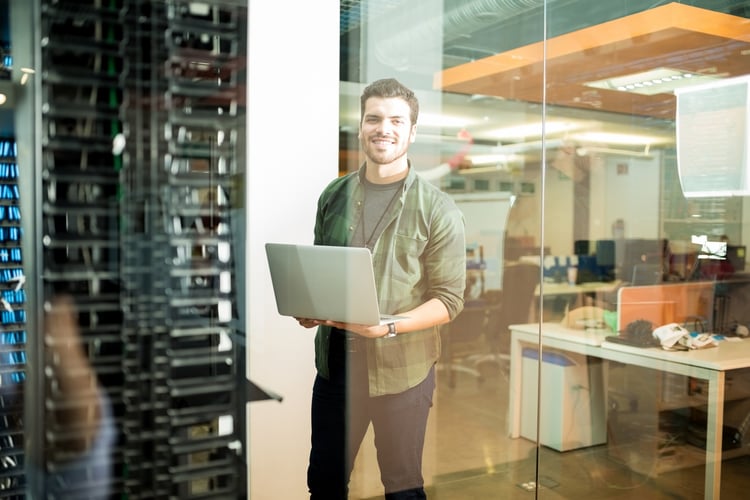 A network engineer designs, configures, monitors, manages, and troubleshoots computer networks for their employers. Without them, there would be no communication using computers inside or outside the company. This includes email, internet access, even voice communication that travels across network cables. As you can imagine, without talented network engineers, businesses would come to a screeching halt.
So it follows that the demand for this role is high among employers. Recent data suggests that the job growth rate for network engineering roles will be 6.5% through 2030. Over the last 12 months, over 140,000 network engineering positions were published by employers.
So if you are an expert network engineer, you have quite a lot of options. Still, you are expected to make at least some effort and submit a professional resume and cover letter. In this post, we provide a sample cover letter for network engineer, followed by some extra writing tips.
Cover Letter Sample for Network Engineer in .docx Format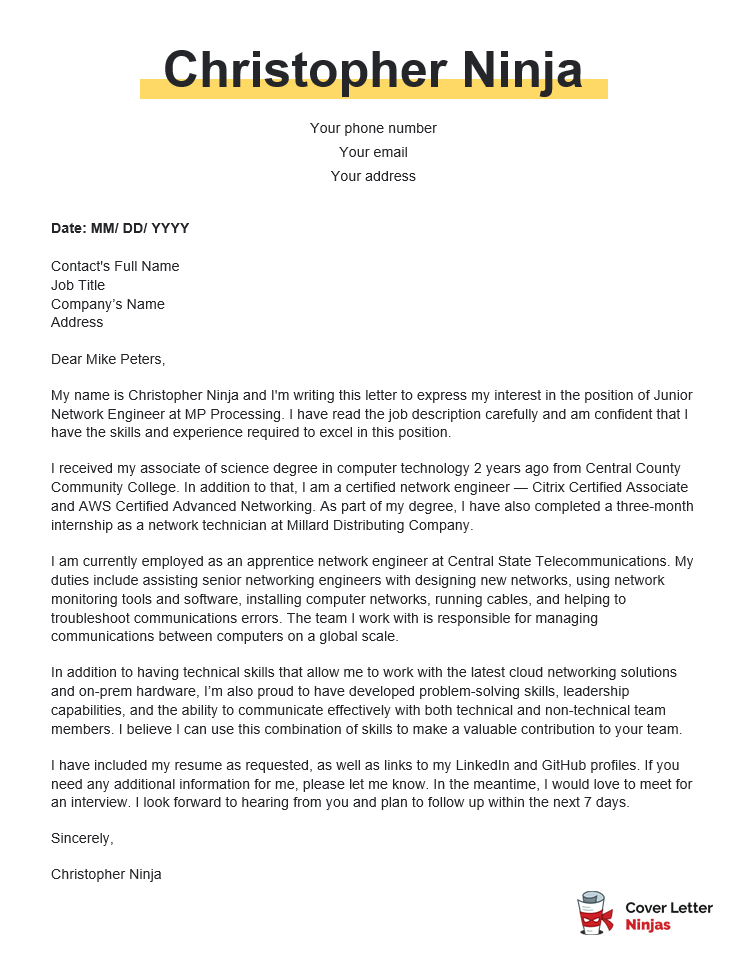 Download example (Word version)
Cover Letter Example for Network Engineer – Text Format
Dear Mike Peters,
My name is Christopher Ninja and I'm writing this letter to express my interest in the position of Junior Network Engineer at MP Processing. I have read the job description carefully and am confident that I have the skills and experience required to excel in this position.
I received my associate of science degree in computer technology 2 years ago from Central County Community College. In addition to that, I am a certified network engineer — Citrix Certified Associate and AWS Certified Advanced Networking. As part of my degree, I have also completed a three-month internship as a network technician at Millard Distributing Company.
I am currently employed as an apprentice network engineer at Central State Telecommunications. My duties include assisting senior networking engineers with designing new networks, using network monitoring tools and software, installing computer networks, running cables, and helping to troubleshoot communications errors. The team I work with is responsible for managing communications between computers on a global scale.
In addition to having technical skills that allow me to work with the latest cloud networking solutions and on-prem hardware, I'm also proud to have developed problem-solving skills, leadership capabilities, and the ability to communicate effectively with both technical and non-technical team members. I believe I can use this combination of skills to make a valuable contribution to your team.
I have included my resume as requested, as well as links to my LinkedIn and GitHub profiles. If you need any additional information for me, please let me know. In the meantime, I would love to meet for an interview. I look forward to hearing from you and plan to follow up within the next 7 days.
Sincerely,
Christopher Ninja
More Relevant Cover Letter Examples
How to Write a Cover Letter for Network Engineer
The following tips will help you compose a letter that stands out, and clearly communicates your talents and interests.
Follow Submission Instructions Precisely
Today, more companies than ever use applicant tracking systems, employ blind hiring methods, or rely on third parties to process applications for them. Because of this, it's important to never assume that you can simply email your resume to the hiring manager. Instead, check the career page on the company website, or read the job listing carefully. There may be special instructions for uploading your cover letter and resume. Follow those to a dot.
ADVICE FROM OUR EXPERT
---
When you are writing a cover letter for a network engineer position, focus on the results you have achieved in previous roles. When possible, quantify those results by using numbers and data to demonstrate a before and after picture of your work.

Debi Douma-Herren
Senior Certified HR Professional & Career Coach
Don't Omit Your Soft Skills
This is an extremely technical position. Of course, you want to showcase that you have the education and experience to do the job effectively. At the same time, a network engineer works within a team of IT professionals, and will frequently engage with coworkers who aren't technically savvy at all. You must have excellent communication skills, time management, and the ability to work within a team. All of this matters nearly as much as your CNE certification.
Mention Your Technical and Professional Profiles
Are you active on GitHub? Have you written interesting technical blogs that you've published to your LinkedIn profile? That's great! Now more than ever, hiring managers want to see well-rounded people who are active within their profession. Pique their curiosity by mentioning your professional profiles and any relevant memberships in your cover letter.
Use Internships and Special Projects to Add Depth
If you don't have a significant amount of experience, there is absolutely nothing wrong with including special projects you have completed, internships, even volunteer work. After all, the goal is to showcase your capabilities and prove you are able to get the job done.
Prepare to Follow Up
Don't leave everything in the hands of the hiring manager. They are exceptionally busy. Unless you are given a clear time and date for follow-up, be sure to send an additional follow-up inquiry about a week after sending your initial application. Mention your intention to do this in your cover letter.
Final Tip: Guide Them to Your Resume
Don't reveal everything in your cover letter. Instead, show your interest, list some of your top qualifications, and give some examples of your experience. Then, guide the reader to your resume. Remember that it's the combination of these two documents that work together to help you land the job.