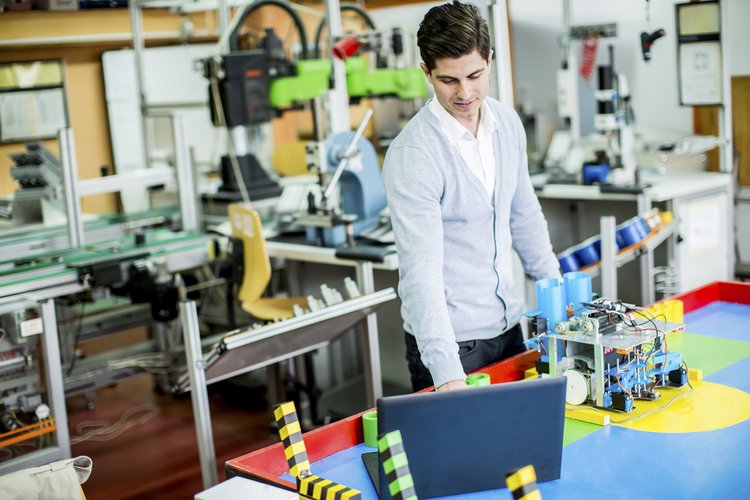 Mechanical engineers make things work. Not only that, but they also make things work better, faster, and more efficiently. Your skills are in high demand in the aerospace industry, manufacturing, automotive, and electronics among other industries.
On the other hand, for every job opening, there will be several other qualified applicants. To get to the next step in the process, you need to stand out. That's where your cover letter rolls in — it helps you get your foot in the door.

How do you craft one? Glad you've asked! Below are several helpful tips, followed by a mechanical engineering cover letter example.
Connect Your Letter With The Needs of The Company
When you read the job posting, pay attention to any special requirements. These might be relevant to the specific position, or the company as a whole. Use your cover letter to show that you are capable of meeting those.
Here's an example: Imagine that you're applying for a position that requires the ability to work independently, and willingness to travel. In your cover letter, you might say:
'Thanks to my experience as a field engineer, I can complete work without direct supervision. I am also accustomed to traveling at least 50% of the time.'
Show That Engineers Have Soft Skills
Eventually, your cover letter and resume will end up in the hands of someone who understands mechanical engineering. For now, assume that the first person to see your cover letter is going to be an HR team member or a department head. They may not understand what tensile strength testing is, but they will understand that you can work well with other team members.
Use your cover letter to show that you can manage your time well, set priorities, communicate effectively, and deal with constructive feedback. Consider something like this:
'In my current position, I regularly participate in user feedback sessions. This has allowed me to learn to communicate very technical concepts to non-technical users. Further, by listening to user feedback regularly, I can use the critiques I receive to improve the work that I do.'
Summarize in Your Cover Letter, Detail in Your Resume
Your resume and cover letter should complement one another. One way to get the two documents to work well together is to summarize your relevant skills in your cover letter, but use your resume to dig into further detail.
For example, you can state in your cover letter that you use prototyping software to design tools for manufacturing. In your resume, you can detail the kind of prototyping software you use, and the cases in which you used them.
ADVICE FROM OUR EXPERT
---
While technically oriented application documents tend to be direct, straight forward, and to the point, take the opportunity to use your cover letter to create your professional brand rather than just listing your technical competencies. It can be tempting to simply list your tools, skills, and programming experience; however, consider including both quantitative and qualitative aspects of your experience as they pertain to your target role to support your technical acumen.

Claire Webber
Career Consultant, CPCC, CPRW
Seek Feedback on Your Cover Letter
Hopefully, you're taking advantage of every bit of help you can get as you look for a job. If not, you should be! Reach out to staffing agencies that specialize in working with engineers and workers in other STEM fields. Also, get in contact with people in your network. Let them know you're looking for a job.
Once you've reached out, remember that these connections are there to help you. Don't hesitate to ask for feedback on your cover letter. Take the recruiter at a staffing agency as an example. When you land a great job, they benefit by earning a commission. They also have in-depth knowledge of the potential employers they connect you with. This means they are in an excellent position to help you ensure that your cover letter hits on all the right marks.
Also, be sure to check cover letter examples from other career niches and compare them with your submission.
Cover Letter Sample for a Mechanical Engineer – .docx Format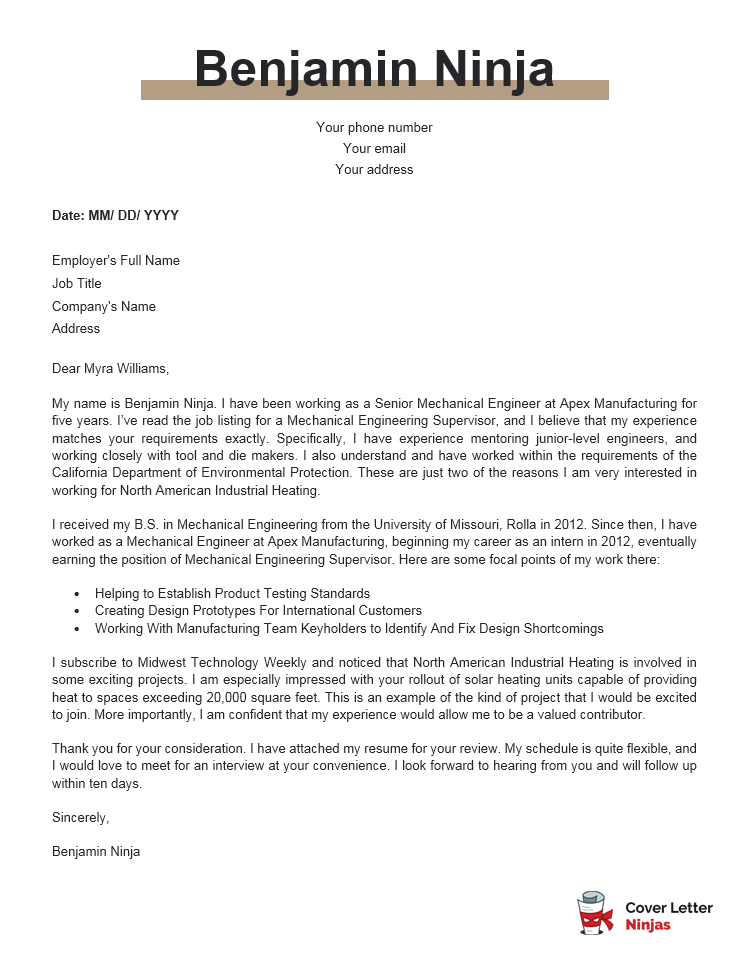 Download example (Word version)
Mechanical Engineering Cover Letter Example – Text Format
Dear Myra Williams,
My name is Benjamin Ninja. I have been working as a Senior Mechanical Engineer at Apex Manufacturing for five years. I've read the job listing for a Mechanical Engineering Supervisor, and I believe that my experience matches your requirements exactly. Specifically, I have experience mentoring junior-level engineers, and working closely with tool and die makers. I also understand and have worked within the requirements of the California Department of Environmental Protection. These are just two of the reasons I am very interested in working for North American Industrial Heating.
I received my B.S. in Mechanical Engineering from the University of Missouri, Rolla in 2012. Since then, I have worked as a Mechanical Engineer at Apex Manufacturing, beginning my career as an intern in 2012, eventually earning the position of Mechanical Engineering Supervisor. Here are some focal points of my work there:
Helping to Establish Product Testing Standards
Creating Design Prototypes For International Customers
Working With Manufacturing Team Keyholders to Identify And Fix Design Shortcomings
I subscribe to Midwest Technology Weekly and noticed that North American Industrial Heating is involved in some exciting projects. I am especially impressed with your rollout of solar heating units capable of providing heat to spaces exceeding 20,000 square feet. This is an example of the kind of project that I would be excited to join. More importantly, I am confident that my experience would allow me to be a valued contributor.
Thank you for your consideration. I have attached my resume for your review. My schedule is quite flexible, and I would love to meet for an interview at your convenience. I look forward to hearing from you and will follow up within ten days.
Sincerely,
Benjamin Ninja
Final Tip: Set a Day to Follow Up
Hiring managers are notoriously bad about following up. Close your cover letter with a bit of motivation for them. Let them know that you'll be back in contact with them, and tell them when you intend to do that!
Need More Tips? Check Other Engineering Cover Letters!