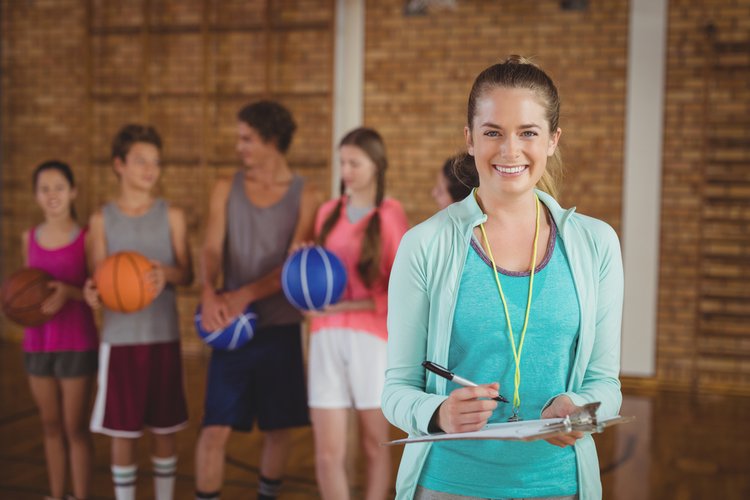 The most successful students enjoy a school environment that balances academics, service to others, citizenship, and physical health. Without physical education, students may struggle with focus, self-management, and health issues. As a physical education teacher or specialist, your guidance in this area is invaluable.
You deserve a job where you can thrive, and your skills are valued. To find that job, you must introduce yourself to schools with a great cover letter. To do that, take some time to check out our tips, then read our perfect physical education cover letter sample.
Showcase a Breadth of Skills
In most cases, job applicants should pick two or three skills to emphasize in their cover letter. As a physical education instructor, you might want to go a bit broader and show that you have a range of skills, ranging from instruction to sports coaching. Your goal is to position yourself as a well-rounded professional that can be a valuable addition to any teaching staff.
ADVICE FROM OUR EXPERT
---
Consider what capabilities you possess that would support the industry and company you're applying for. Demonstrate how your passion and professional qualifications go hand in hand to make you the best candidate for the role by drawing a close connection between the position and your professional experience.

Claire Webber
Career Consultant, CPCC, CPRW
Of course, you'll want to indicate that you are capable of lesson planning and classroom management, but be sure to describe the following abilities too:
Understanding healthy habits
Helping students incorporate fitness into their daily lives
Maintaining safety in physical education
Designing courses that emphasize accessibility
Incorporating technology into physical education
Computer skills and record-keeping
Communication and time management
Coaching and mentoring
Highlight Your Teaching Style With an Example
Your approach to teaching will really impact how well you fit into the school environment. Hiring committees will also want to know if you'll fit in with their students and other benches of staff. The easiest way to 'hit the mark' is to adopt an engaging, energetic, effective approach in your letter. So, show them what you can do, by sharing a brief story about your experiences as a gym teacher.
Here's an example:
"I recently designed a summer school program for students who required physical education credits along with other remedial coursework to graduate from high school. We did not have any on-site facilities or outdoor space. To provide students with a classroom experience that met their needs, I coordinated with two local gyms and a dance studio. At the end of the summer school session, all students had made significant fitness gains, more than half decided to continue pursuing fitness goals on their own time."
Mention Any Relevant Certifications
You should definitely mention your teacher's certification in your cover letter, but that's not all. Have you completed any training that allows you to specialize in working with at-risk kids? What about special education? Maybe you're pursuing an advanced degree that will allow you to supervise other teachers or design a curriculum. These are the things that can help you stand out from other applicants! For example:
"In addition to being certified to teach health and physical education for grades 6th through 12th, I have also pursued education and career growth in other areas. I am a special education certified. I have also earned my qualification in accessible physical education studies with an emphasis in coaching students with cognitive and mobility issues."
If you are looking to obtain extra certifications, take a look at the following options:
First aid and CPR certification
Lifeguard certifications
Sports therapy certifications
Physical Education Cover Letter Sample in .docx Format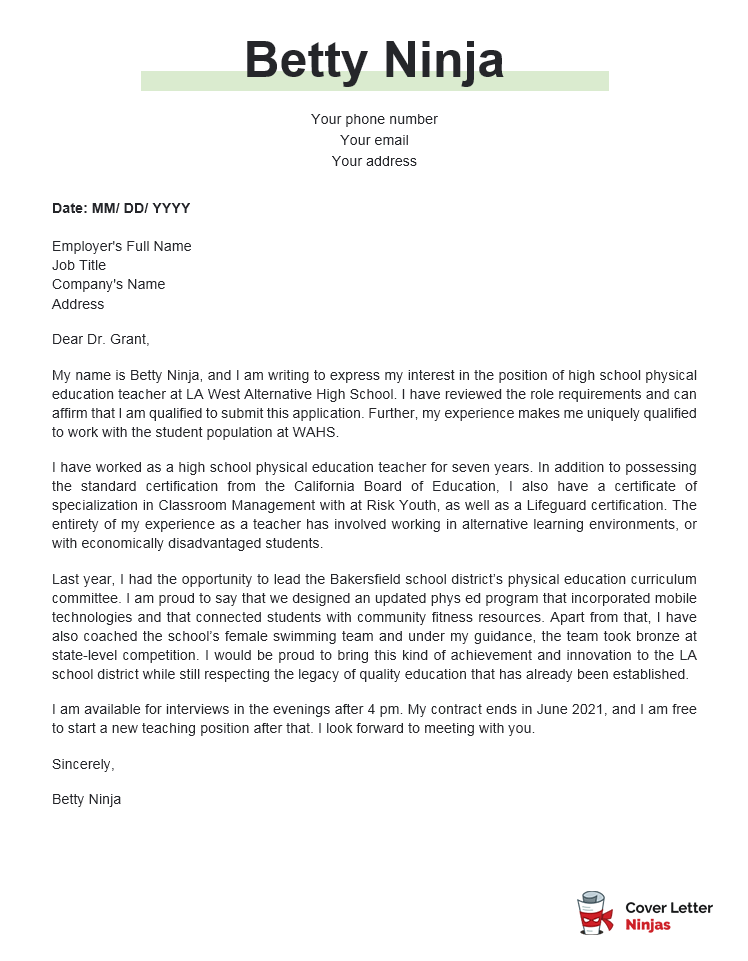 Physical Education Cover Letter Example – Text Format
Dear Dr. Grant,
My name is Betty Ninja, and I am writing to express my interest in the position of high school physical education teacher at LA West Alternative High School. I have reviewed the role requirements and can affirm that I am qualified to submit this application. Further, my experience makes me uniquely qualified to work with the student population at WAHS.
I have worked as a high school physical education teacher for seven years. In addition to possessing the standard certification from the California Board of Education, I also have a certificate of specialization in Classroom Management with at Risk Youth, as well as a Lifeguard certification. The entirety of my experience as a teacher has involved working in alternative learning environments, or with economically disadvantaged students.
Last year, I had the opportunity to lead the Bakersfield school district's physical education curriculum committee. I am proud to say that we designed an updated phys ed program that incorporated mobile technologies and that connected students with community fitness resources. Apart from that, I have also coached the school's female swimming team and under my guidance, the team took bronze at state-level competition. I would be proud to bring this kind of achievement and innovation to the LA school district while still respecting the legacy of quality education that has already been established.
I am available for interviews in the evenings after 4 pm. My contract ends in June 2021, and I am free to start a new teaching position after that. I look forward to meeting with you.
Sincerely,
Betty Ninja
Final Tip: Talk Contract
Schools are reluctant to step on one another's toes. That's why you should use your letter to ensure any hiring authority that you are contractually allowed to pursue a new position. This way you can speed up their decision-making process!