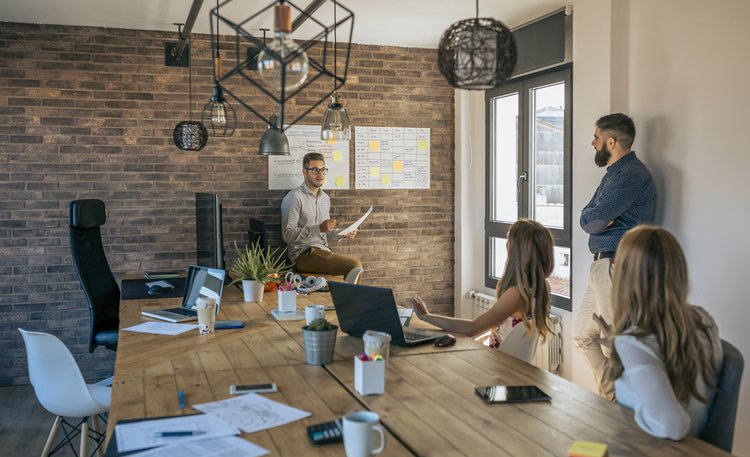 Product managers are having their moment right now. The career growth in this field is above average, plus the median salaries fall into the six-figure range. What's more, product managers are in high demand both at smaller startups and within large tech corporations such as Amazon, Google, YouTube, and the likes.
So your primary challenge is determining the optimal career trajectory and, afterward, pitching the employers via your cover letter and resume. In this post, we'll show you how to write a stellar cover letter, plus share a working product manager cover letter sample.
Understand What The Company Wants to Know About You
Every time a hiring manager opens a cover letter, they are hoping to find relevant information about the applicant. Your job is to second-guess what exactly they want to know and deliver those insights within a page. Here are a few general questions your cover letter should answer:
In what areas of product management do you specialize?
Why do you want to work for this particular company?
Have you been successful in this position or a similar role(s) before?
Plus, don't forget to re-read the job listing again. There may be other questions that you'll need to answer, including how much experience you have or what educational credentials you hold.
ADVICE FROM OUR EXPERT
---
As a Product Manager, you will be responsible for wearing many hats over the course of a day. Often times the Product Manager owns, develops, and implements the business strategy behind a product. Including brief examples of key competencies, such as communication, planning, multi-tasking, and partnering with cross-functional teams, within your cover letter is a great way to gain hiring manager buyin.

Claire Webber
Career Consultant, CPCC, CPRW
Choose The Most Relevant Skills to Demonstrate
The position of a product manager comes with a long list of desired hard and soft skills. There's no way to address all of them in your cover letter. In fact, most companies aren't really interested in every skill imaginable.
What they do want to ensure is that you have the select-few competencies that are the most important to them. Usually, you'll find these highlighted in the Candidate Requirements section of the job posting. If not, here are several example skills to include:
UX Design
Digital Marketing
Product Strategy
Analytics
Communication Skills
Organization
Leadership
Tech companies also favor product managers with software engineering, business analysis, or data analysis experience.
Be Clear Without Dumbing Things Down
Here's an interesting challenge: not everyone knows what a product manager is. Some may even confuse the position with 'project manager'. This is especially true if you are applying to a large organization. There, the first person to review your resume is likely to be an HR staff member with little to no understanding of the position.
So to avoid any misunderstanding, it's best if you demonstrate what you do at your job:
Use an example or two.
Show how your work benefits the company and its customers.
Use numbers. Example: I increased customer satisfaction rates for our website by 35%.
Describe the work you do in terms of a problem that you solve.
Use common terms, and avoid jargon.
Use The Active Voice
If you aren't careful, you can slip into the habit of using the passive voice. For example, 'the average budget for software upgrades was decreased by 15%' instead of, 'My team and I were able to reduce the average budget per software upgrade by 15%'. Remember that in your letter, you are the one who should be doing things. So switch to active voice whenever possible! Otherwise, it may seem that you don't like taking credit for your achievements.
Product Manager Cover Letter Sample in .docx Format
Here is a great example of a cover letter from an experienced professional.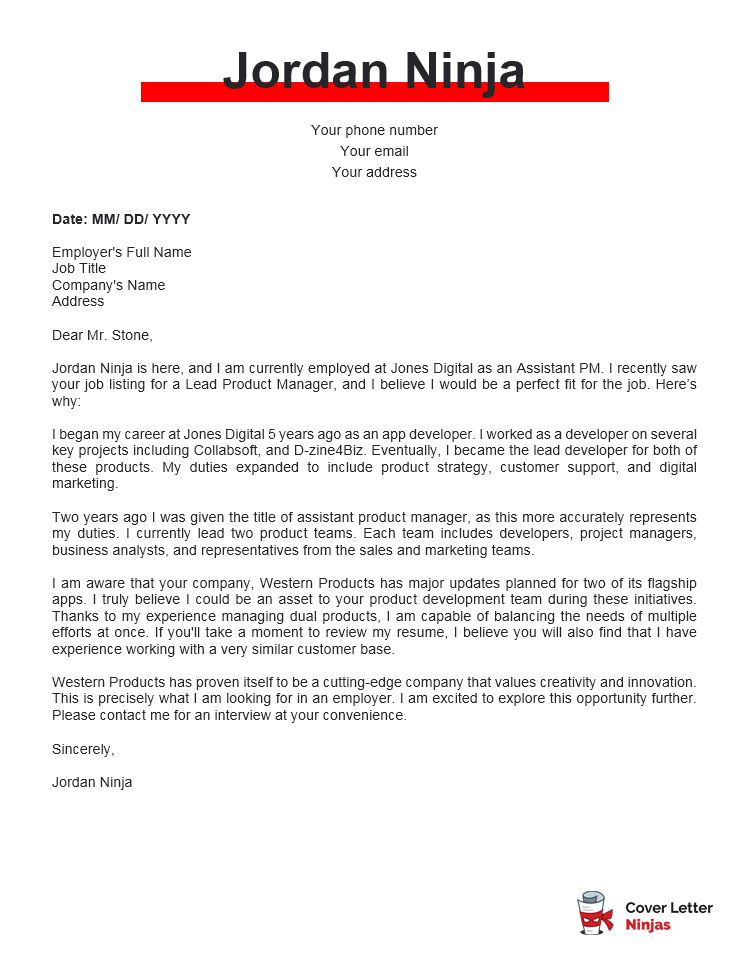 Download example (Word version)
Product Manager Cover Letter Example – Text Format
Dear Mr. Stone,
Jordan Ninja is here, and I am currently employed at Jones Digital as an Assistant PM. I recently saw your job listing for a Lead Product Manager, and I believe I would be a perfect fit for the job. Here's why:
I began my career at Jones Digital 5 years ago as an app developer. I worked as a developer on several key projects including Collabsoft, and D-zine4Biz. Eventually, I became the lead developer for both of these products. My duties expanded to include product strategy, customer support, and digital marketing.
Two years ago I was given the title of assistant product manager, as this more accurately represents my duties. I currently lead two product teams. Each team includes developers, project managers, business analysts, and representatives from the sales and marketing teams.
I am aware that your company, Western Products has major updates planned for two of its flagship apps. I truly believe I could be an asset to your product development team during these initiatives. Thanks to my experience managing dual products, I am capable of balancing the needs of multiple efforts at once. If you'll take a moment to review my resume, I believe you will also find that I have experience working with a very similar customer base.
Western Products has proven itself to be a cutting-edge company that values creativity and innovation. This is precisely what I am looking for in an employer. I am excited to explore this opportunity further. Please contact me for an interview at your convenience.
Sincerely,
Jordan Ninja
Final Tip: Share Your Work
Have you taken charge of a product that has been wildly successful among customers? Take advantage of that popularity and notoriety. As long as you aren't bound by any non-disclosure agreement, link to the product you manage to clearly demonstrate what you have accomplished during your tenure.