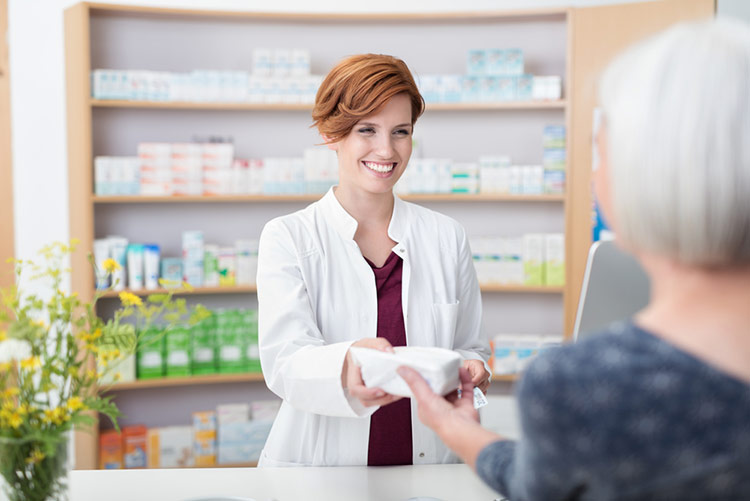 Medicine has always been a rewarding and well-compensated career. For pharmacists, in particular, the job outlook for the next 5 years is remaining steady. More importantly, a pharmacist can expect to make a median salary of about $126,000 a year.
Of course, to land a job in this field, you'll have to make a bit of an effort when it comes to your resume and cover letter. As a pharmacist, you'll need to have solid theoretical knowledge along with good customer and communication skills. These are the things you should highlight in your letter. The following tips will show you how that's done. Also, refer to our sample cover letter for pharmacists at the end of the post for more guidance!
Understand The Needs of The Pharmacy
Both your cover letter and resume should communicate how you can use your skills and experience to meet the needs of a pharmacy you are applying to. Mind that every pharmacy serves a different customer group, and may have areas in which they specialize.
For example, a rural pharmacy that largely serves senior citizens is likely to have different requirements than a pharmacy attached to a children's hospital. Read the job listing carefully, and research the pharmacy online. Try to answer the following questions:
Who is the primary customer group?
What are the customers' most common questions and concerns going to be?
What types of insurance will I need to deal with?
Are there any diseases and health concerns that are prevalent with this group?
what other duties will I be expected to perform?
Once you answer these questions, you will know what to emphasize in your cover letter and resume.
ADVICE FROM OUR EXPERT
---
Avoid being generic in a cover letter for pharmacist positions. Besides filling prescriptions according to orders and maintaining a compliant pharmacy, companies want to know about your customer service experience, how you work with others, and how you handle fiscal responsibility.

Debi Douma-Herren
Senior Certified HR Professional & Career Coach
Create a Master List of Your Core Competencies
What are the most important skills that you bring to the table? Jot down a list of yours, so that you have something to refer to as you craft your resumes and cover letters.
For cover letters, focus on five or so relevant skills that a particular employer would be interested in. Then, on the skills section of your resume, feel free to share all of your other skills from earlier positions such as a pharmacy technician or intern. Doing so will help your resume and cover letter get by the initial screening from an applicant tracking system and land in the hands of the decision-maker.
Just what competencies should you highlight? Here are some examples:
Inventory management
Patient counseling and advising
Verifying and dispensing prescriptions
Community education initiatives
Vendor relationships
Medicaid and Medicare
Tricare and champus
Customer service
Diabetes Care
Addiction education and awareness
Compounding
Fraud prevention
P.S. You can find more skills to add to your letter from other medical cover letter examples listed on our website.
Consider Adding a Career Highlights Section
If you're an experienced pharmacist who has had a positive impact on the places you have worked, consider including a career highlights section for each job history entry. This is where you can provide quantified information about your successes at each position. These might include:
Increased customer satisfaction ratings in mystery shops by 20%.
Negotiated new pricing tiers with providers.
Successfully help elderly and low-income customers connect with drug discount programs through pharmaceutical companies.
Created and implemented an opiate awareness training program for pharmacists and pharmacy technicians.
Assisted in the implementation of an automated refill system.
Pharmacist Cover Letter Sample in .docx Format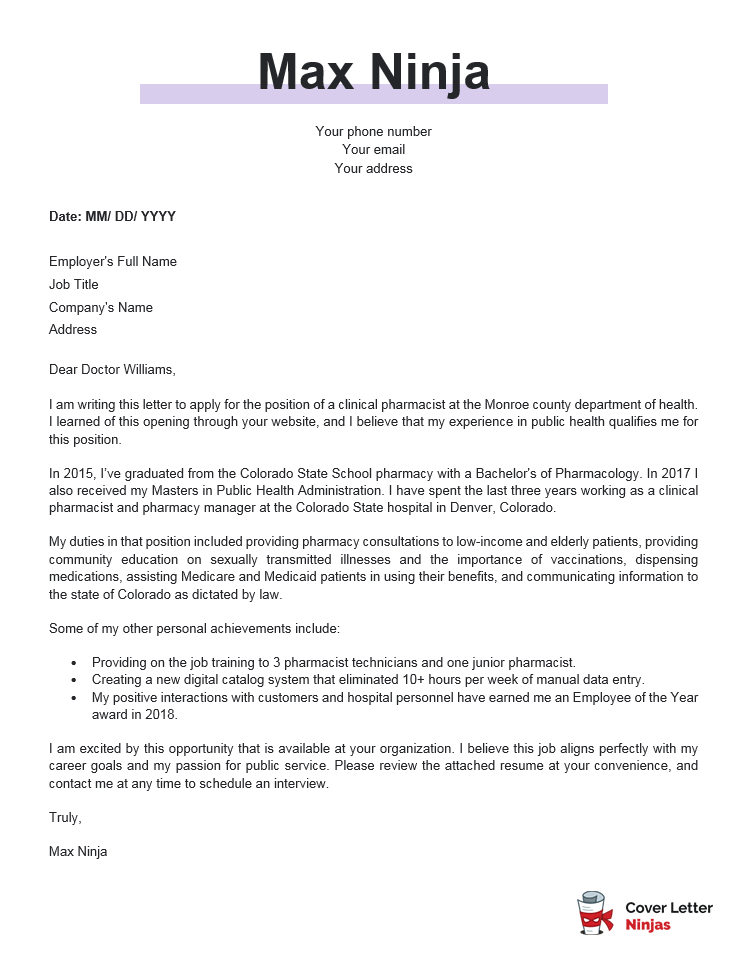 Download example (Word version)
Cover Letter Example For Pharmacist – Text Format
Dear Doctor Williams,
I am writing this letter to apply for the position of a clinical pharmacist at the Monroe county department of health. I learned of this opening through your website, and I believe that my experience in public health qualifies me for this position.
In 2015, I've graduated from the Colorado State School pharmacy with a Bachelor's of Pharmacology. In 2017 I also received my Masters in Public Health Administration. I have spent the last three years working as a clinical pharmacist and pharmacy manager at the Colorado State hospital in Denver, Colorado.
My duties in that position included providing pharmacy consultations to low-income and elderly patients, providing community education on sexually transmitted illnesses and the importance of vaccinations, dispensing medications, assisting Medicare and Medicaid patients in using their benefits, and communicating information to the state of Colorado as dictated by law.
Some of my other personal achievements include:
Providing on the job training to 3 pharmacist technicians and one junior pharmacist.
Creating a new digital catalog system that eliminated 10+ hours per week of manual data entry.
My positive interactions with customers and hospital personnel have earned me an Employee of the Year award in 2018.
I am excited by this opportunity that is available at your organization. I believe this job aligns perfectly with my career goals and my passion for public service. Please review the attached resume at your convenience, and contact me at any time to schedule an interview.
Truly,
Max Ninja
Final Tip: Consider Additional Education
Many states require a minimum number of continuing education hours for pharmacists. Because you can learn some valuable things in these classes, consider adding them to the education section of your resume. Beyond that, showing that you are a lifelong learner can earn you some bonus points with an employer.