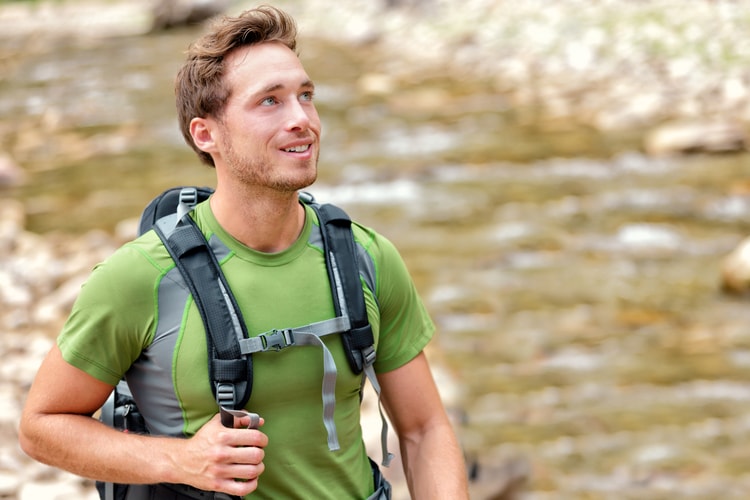 When you think of a camp counselor you probably remember an active, cheery person from your childhood. Indeed, if you love kids, a camp counselor is possibly one of the most fun jobs that one could acquire!
However, it also comes with a lot of responsibility. You need to be able to engage with children of various ages and backgrounds through a variety of activities such as crafts, hiking, swimming, and even more. You also need to ensure that each child has their individual social, mental, and physical needs met. Finally, some camps might also require you to have special education such as CPR or AED certification or even a formal degree.
That said, many camps also accept college students and high school graduates for summer jobs. In most cases, your personality will be detrimental to you scoring a camp counseling job (or not).
A cover letter is your primary way to showcase your personality traits and positive demeanor. To help you out, we've made a compelling sample cover letter for camp counselor jobs, as well as some tips to help you with creating your own version.
Camp Counselor Cover Letter Sample – Word Format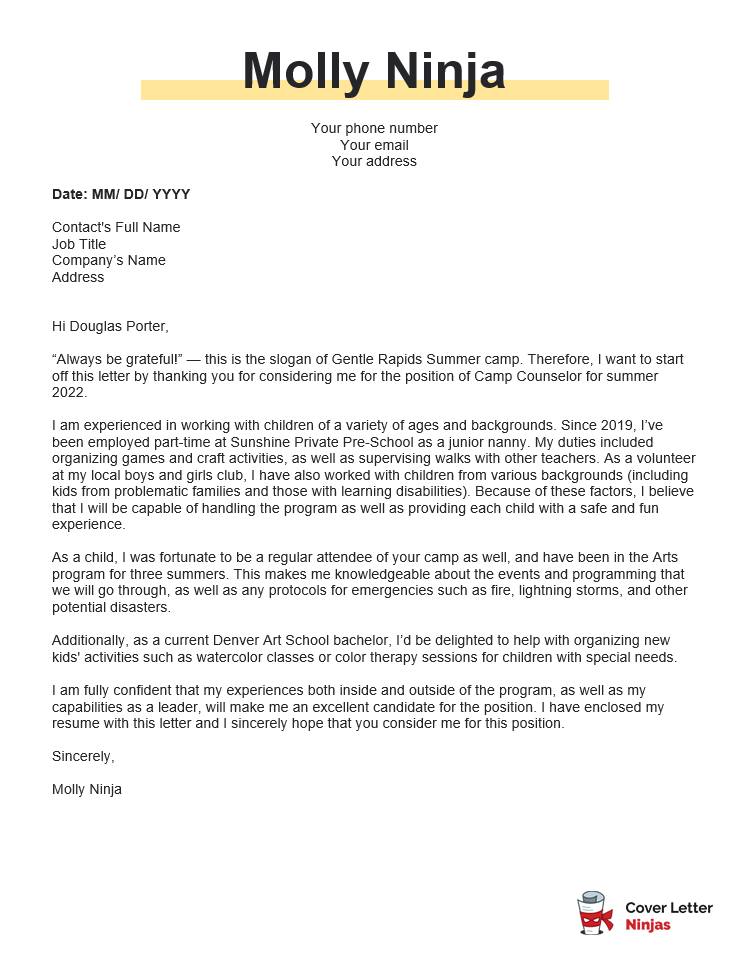 Example Cover Letter For Camp Counselor – Text Format
Hi Douglas Porter,
"Always be grateful!" — this is the slogan of Gentle Rapids Summer camp. Therefore, I want to start off this letter by thanking you for considering me for the position of Camp Counselor for summer 2022.
I am experienced in working with children of a variety of ages and backgrounds. Since 2019, I've been employed part-time at Sunshine Private Pre-School as a junior nanny. My duties included organizing games and craft activities, as well as supervising walks with other teachers. As a volunteer at my local boys and girls club, I have also worked with children from various backgrounds (including kids from problematic families and those with learning disabilities). Because of these factors, I believe that I will be capable of handling the program as well as providing each child with a safe and fun experience.
As a child, I was fortunate to be a regular attendee of your camp as well, and have been in the Arts program for three summers. This makes me knowledgeable about the events and programming that we will go through, as well as any protocols for emergencies such as fire, lightning storms, and other potential disasters.
Additionally, as a current Denver Art School bachelor, I'd be delighted to help with organizing new kids' activities such as watercolor classes or color therapy sessions for children with special needs.
I am fully confident that my experiences both inside and outside of the program, as well as my capabilities as a leader, will make me an excellent candidate for the position. I have enclosed my resume with this letter and I sincerely hope that you consider me for this position.
Sincerely,
Molly Ninja
More Cover Letter Samples to Check
How to Write a Cover Letter for Camp Counselor Position
Now, you have a solid sample letter to use as an example. Check out these writing tips to truly help you compose an attention-grabbing cover letter.
Know What to Highlight in Your Letter
Working as a camp counselor means working with children from varying backgrounds. Some might come from happy, upper-class families. Others might be facing issues at home or have special physical needs. Therefore, you should demonstrate your ability to adapt to the childrens' circumstances.
Have you babysat for a variety of children in the past? Highlight that experience in your letter. Perhaps you have volunteered for local programs that help children? Mention that as well. Maybe you have gone to the camp you are applying for and thus know how it is run and are knowledgeable about the activities that you will lead the kids through. Bring it up too. Most camps want counselors who can easily "fit" into their environment.
Show Off Your Personality
A cover letter is going to be the hiring professional's first impression of you. So make that impression count! If you are a calm and patient person you should make that evident in how you write out your letter. The same goes if you are excited, knowledgeable, and have any other positive personality traits. By showing off who you are in a professional manner it will be easier for the hiring staff to see if you'll fit with the rest of the staff.
Final Tip: Go Beyond The Resume
Remember that a cover letter is essentially an addition, not an extension to your resume. Therefore it is best to go beyond what your resume says about you. Talk about relevant experiences outside the professional work environment, and highlight your skills and capabilities. Give examples of times where you have demonstrated certain traits that they are looking for. For many of us, each day is filled with learning moments that make us better than we are before them. Use those moments to help you create an effective cover letter.