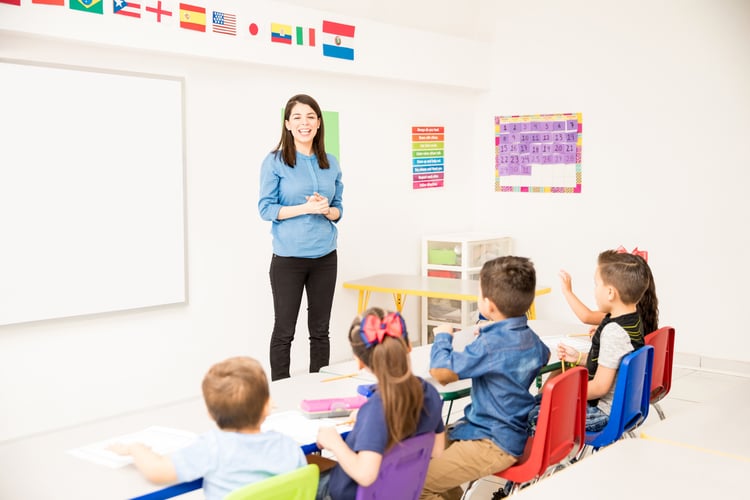 At first sight, it may appear that preschool teachers are those slightly childish adults, who love playing "twucks" and "duckies" all day long with the 5-year-olds. But this is just the facade many people see. In reality, pre-school teachers are responsible for promoting early child development. They nurture the basic social and physical skills among kids, plus employ a variety of educational techniques to both tutor and entertain the smallest ones.
Understandably, this position requires the applicant to be great with kids. However, preschool teachers should also be able to find common ground with parents and school administrators. To help you showcase that you are well capable of both, we've prepared this cover letter example for a preschool teacher, followed by some extra writing tips.
Preschool Teacher Cover Letter Sample in .docx Format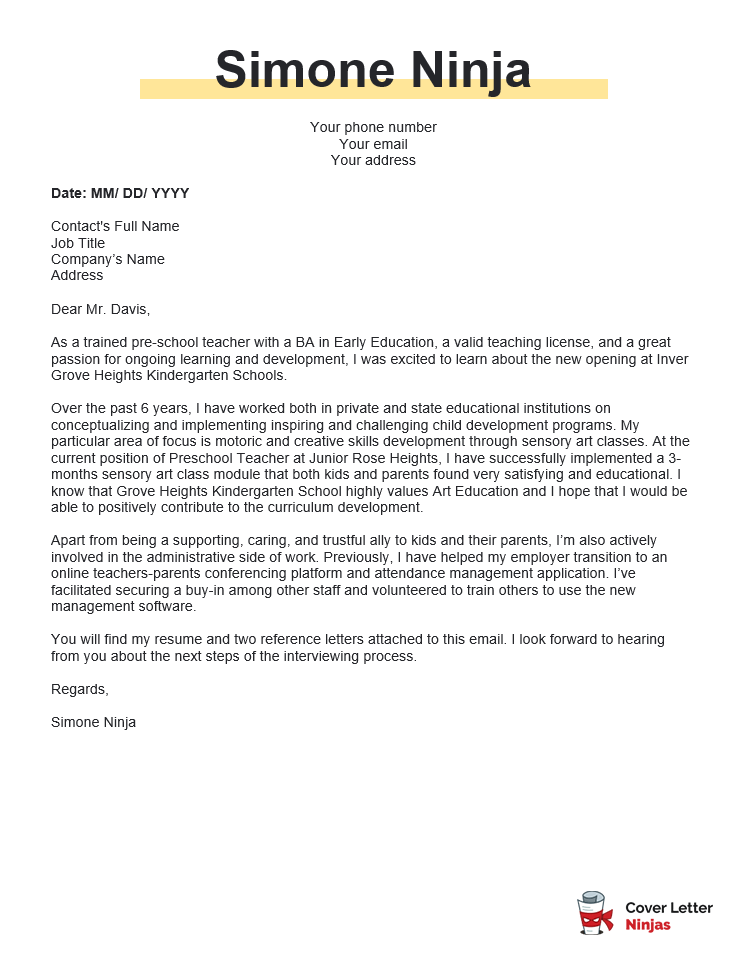 Download example (Word version)
Cover Letter Example for Preschool Teacher – Text Format
Dear Mr. Davis,
As a trained pre-school teacher with a BA in Early Education, a valid teaching license, and a great passion for ongoing learning and development, I was excited to learn about the new opening at Inver Grove Heights Kindergarten Schools.
Over the past 6 years, I have worked both in private and state educational institutions on conceptualizing and implementing inspiring and challenging child development programs. My particular area of focus is motoric and creative skills development through sensory art classes. At the current position of Preschool Teacher at Junior Rose Heights, I have successfully implemented a 3-months sensory art class module that both kids and parents found very satisfying and educational. I know that Grove Heights Kindergarten School highly values Art Education and I hope that I would be able to positively contribute to the curriculum development.
Apart from being a supporting, caring, and trustful ally to kids and their parents, I'm also actively involved in the administrative side of work. Previously, I have helped my employer transition to an online teachers-parents conferencing platform and attendance management application. I've facilitated securing a buy-in among other staff and volunteered to train others to use the new management software.
You will find my resume and two reference letters attached to this email. I look forward to hearing from you about the next steps of the interviewing process.
Regards,
Simone Ninja
Other Relevant Cover Letter Examples to Check
How to Write a Cover Letter for a Preschool Teacher
Similar to cover letters for other types of teaching positions, a preschool teacher should mention several things in their cover letter:
Educational credentials
Levels of experience
Licenses and other credentials
Ideally, you should highlight these in the first several sentences to reassure the reader that you have all the necessary qualifications. Afterward, double down on elaborating why you'd be a perfect fit for the job. Here's how to do this.
Vary Your Sentence Structure
A cover letter is your calling card. So of course, you'd want to advertise all your main accomplishments and skills. But as you do so, watch your writing flow. Don't start every sentence with the "I" pronoun. Doing so makes your writing sound repetitive and a bit self-centered. Change up your sentence structure a bit using transition words like "also", "however", "additionally", "accordingly", etc.
Show How You Drive Change
Experienced teachers often fall into the trap of recounting their main work experience in the cover letter. But that's the story your resume already tells. In your cover letter, the reader expects to learn about the impacts you've made. They want to know which initiatives you took, what types of changes you've fostered, and how those changes became the new go-to practice.
The easiest way to show your ability to achieve specific outcomes is by briefly mentioning a problem you've noticed and then solved. Specifically, highlight the achieved results as the writer does in the sample above.
Mention Specific Skills
On the other hand, re-emphasizing some of your core competencies once again is a good practice. After all, the decision-maker will likely see your cover letter first. So give them a quick preview of your abilities.
But don't just list your skills — contextualize them through specific examples. Doing so lends extra credibility to your words and helps the reader picture you in the work settings. For example, if you are a pro in "parent interaction", provide a brief example of how you managed to solve a complex issue. You can write something like this:
"I'm a highly empathetic and diplomatic person, capable of handling conflicts and misunderstandings among parents. Recently, one parent was on the verge of taking their child out of pre-school because they believed that the other kids were bullying his son. But I have helped them understand that this was far from being the case."
Final Tip: Ask For Feedback
It would probably take you several ugly drafts to arrive at a satisfying cover letter. Still, you may be tempted to tweak it even further and further…and then never send it. If you are doubting about the quality and accuracy of your letter, ask a friend or a colleague to have a read-over and provide their feedback. Another pair of eyes will help you notice some gaps and goofs. Or merely reassure you that your letter is just fine!