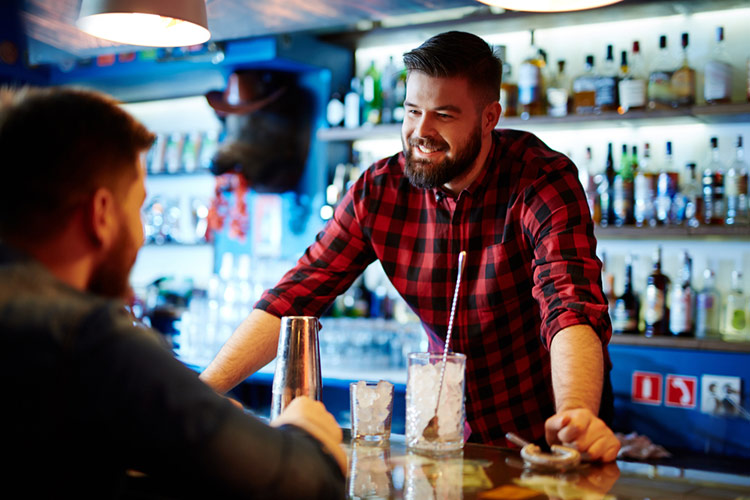 A bartender is part social director, part confidante, and part mixology ninja. A good bartender can create a great time, even when their customers are feeling down. Even better, with the right professional and people skills, you can land a job at a bar or nightclub earning some serious cash.
Of course, if you want a great bartending gig at an upscale venue, you'll have to prove you have what it takes. Eventually, someone is going to want to see what you can do behind the bar. That's where you can shine. Before that happens, you'll need to get your foot in the door with an impressive cover letter.
We can help with that! Here are some actionable cover letter tips, followed by a bartender cover letter sample.
Cover The Formalities First
Good news! You don't need a bartending license. However, in some places, you may need a certification that you've completed a required course. Usually, it covers topics such as serving alcohol responsibly, and how to identify a fake ID.
If you have done this, mention it in your cover letter. This will let a potential employer know that they don't have to send you to be certified and that you can begin working right away.
Next, if you are applying at a particularly upscale venue, you might mention any formal training you have. It's rare to have a degree in bartending, but several culinary arts programs offer certificates. Also, a dedicated bartending school may be worth it but do your research.
Maybe you've taken classes on craft brews, have apprenticed under a master mixologist, or are on your way to becoming a sommelier. If you think it's important to the employer, you should mention this in your cover letter.
Visit The Bar Before You Write Your Cover Letter
As someone in the service industry, you have a great advantage. You can visit a bar or nightclub as a customer before you apply. This is an amazing way to do some investigative research. When you visit ask yourself the following questions:
What kind of drinks do they serve?
How would I describe the atmosphere?
What experience do I have that would fit in here?
Is my personality a match for this environment?
Can I create a personality that is a match for this environment?
How does the staff engage with customers?
Once you have the answers to these questions, you will be able to better customize your cover letter. This includes adding relevant keywords. For example, if the place seems to emphasize craft beers, be sure to include a note about your passion or experience for that in your letter.
ADVICE FROM OUR EXPERT
---
Let your personality shine in a cover letter for bartending positions. Explain why you are excited about the opportunity and working for that establishment. Remember to mention your passion working with people and your excellent customer service skills.

Debi Douma-Herren
Senior Certified HR Professional & Career Coach
Include Something About Your Soft Skills
A good bartender is adept at making people feel welcome and included. They can recognize a conflict brewing before it bubbles over. Better yet, they know exactly what to say to cut that conflict short and keep the good times rolling. They work well with servers, bouncers, barbacks, and back of house staff. All of these things represent soft skills.
Almost anyone can learn to make a drink. Not everybody has the personality and emotional intelligence it takes to succeed in this high-pressure industry. Mention yourself skills in your cover letter to let the bar manager know that you have teamwork and customer service skills.
A Great Bartender Cover Letter Sample in .docx Format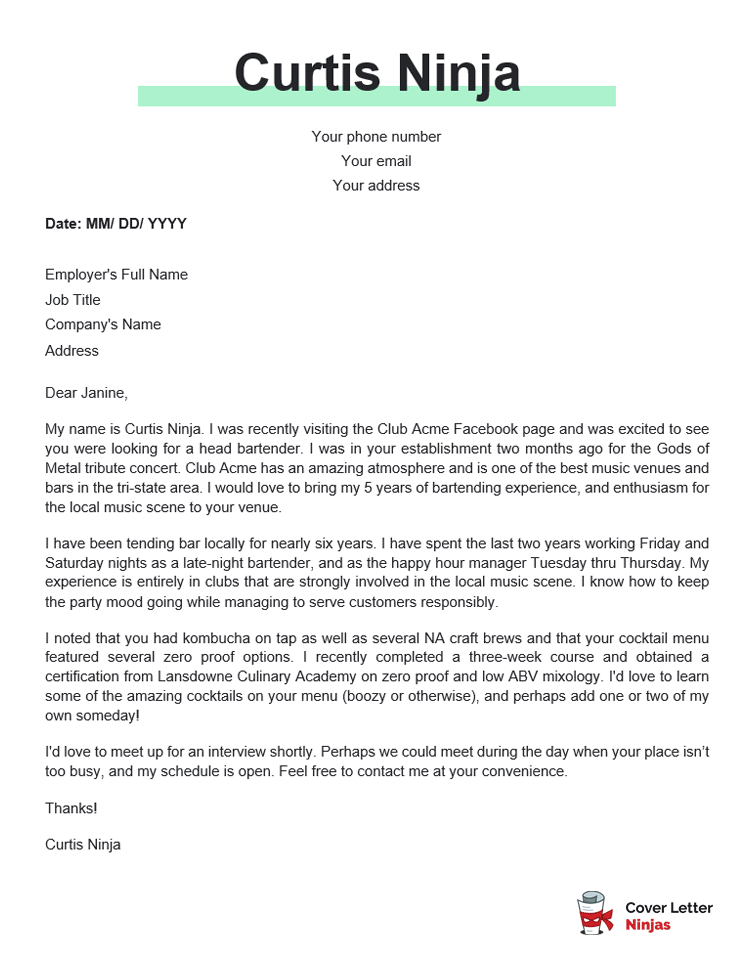 Download example (Word version)
Bartender Cover Letter Example – Text Format
Dear Janine,
My name is Curtis Ninja. I was recently visiting the Club Acme Facebook page and was excited to see you were looking for a head bartender. I was in your establishment two months ago for the Gods of Metal tribute concert. Club Acme has an amazing atmosphere and is one of the best music venues and bars in the tri-state area. I would love to bring my 5 years of bartending experience, and enthusiasm for the local music scene to your venue.
I have been tending bar locally for nearly six years. I have spent the last two years working Friday and Saturday nights as a late-night bartender, and as the happy hour manager Tuesday thru Thursday. My experience is entirely in clubs that are strongly involved in the local music scene. I know how to keep the party mood going while managing to serve customers responsibly.
I noted that you had kombucha on tap as well as several NA craft brews and that your cocktail menu featured several zero proof options. I recently completed a three-week course and obtained a certification from Lansdowne Culinary Academy on zero proof and low ABV mixology. I'd love to learn some of the amazing cocktails on your menu (boozy or otherwise), and perhaps add one or two of my own someday!
I'd love to meet up for an interview shortly. Perhaps we could meet during the day when your place isn't too busy, and my schedule is open. Feel free to contact me at your convenience.
Thanks!
Curtis Ninja
Final Tip: Show Your Personality!
People can drink anywhere. They go to the clubs and pubs they love, because of the folks behind the bar. Write your letter in the same open, friendly personality that you will show your customers each night!