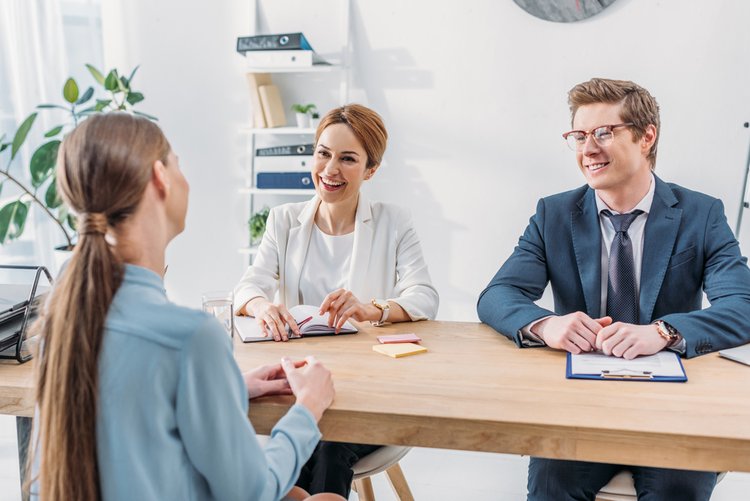 If you're pursuing an internship in the human resources field, your application packet needs to be on point. After all, who should know more about resumes and cover letters than an emerging HR professional?
We're here to help you make that perfect first impression. If your resume is ready to go, it's time to think about your cover letter. To help with that, we've got several tips and an excellent human resource internship cover letter sample.
Know What You Want to Learn
The best companies offer internship programs because they understand the value of bringing talented newcomers into the profession. However, most don't want to waste time mentoring students who are rudderless.
So before you apply, prep a list of goals and objectives. What is it that you want to get out of your internship? If you'd like, you can include that in the form of a bullet list like this:
"I'd like to learn as much as I can about: technical recruiting process, workmen's compensation, employee onboarding, and developing a diverse workforce."
Don't Forget What You Can Bring to The Table
While the purpose of an internship is to mentor and develop new professionals, you can increase your chance of landing the spot you want if you have something to contribute too. Think of it as doing a bit of work in return for a lot of knowledge.
ADVICE FROM OUR EXPERT
---
As with most internship positions, hiring managers are aware you might not have an abundance of experience in this specific industry. Take your cover letter as an opportunity to relay what leadership and management qualities, skills, and experiences you contribute that make you an asset for the role.

Claire Webber
Career Consultant, CPCC, CPRW
Let the hiring manager know if you have basic digital skills such as software proficiency, data entry, customer support, file management, etc. Even if your experience has been limited to work-study or other part-time positions, your ability to contribute is important.
Here's a brief example for your letter:
"As secretary of the HR Students Association at the University of Iowa, I have developed many relevant skills through:
Entering and maintaining a club member database.
Assisting the treasurer with cash handling duties.
Updating club activities spreadsheet.
Soliciting donations from club alumni.
Scheduling meeting and event spaces."
Make Your Connection Clear
Has someone encouraged you to apply for this internship? Perhaps you have a connection with the company or have a recommendation from your Director of Student Services. If so, open your letter with a brief sentence or two that mentions this. This will help you to create a sense of familiarity and can help move your application to the top of the list. Take a close look at this example:
"I recently spoke with your COO, Davis Brady, at a Future Business Leaders event. He told me that you were looking for HR interns for the summer of 2021, and encouraged me to apply. I've looked into this wonderful opportunity further, and I am happy to follow his advice."
Prove That You're a Motivated Applicant
What is it that you need to do to move forward with your application? Do you need letters of recommendation? What about copies of your transcripts? Be proactive!
Get these little tasks taken care of ASAP to show the hiring manager that you are serious about this internship. Then mention that you've taken the steps you need to in order to get the ball rolling:
"I've taken the initiative to obtain and include all the documents you've requested in your job listing. Please review the attached documents for three letters of recommendation, my unofficial transcripts, and verification of my ability to work in a healthcare facility."
HR Internship Cover Letter Sample in .docx Format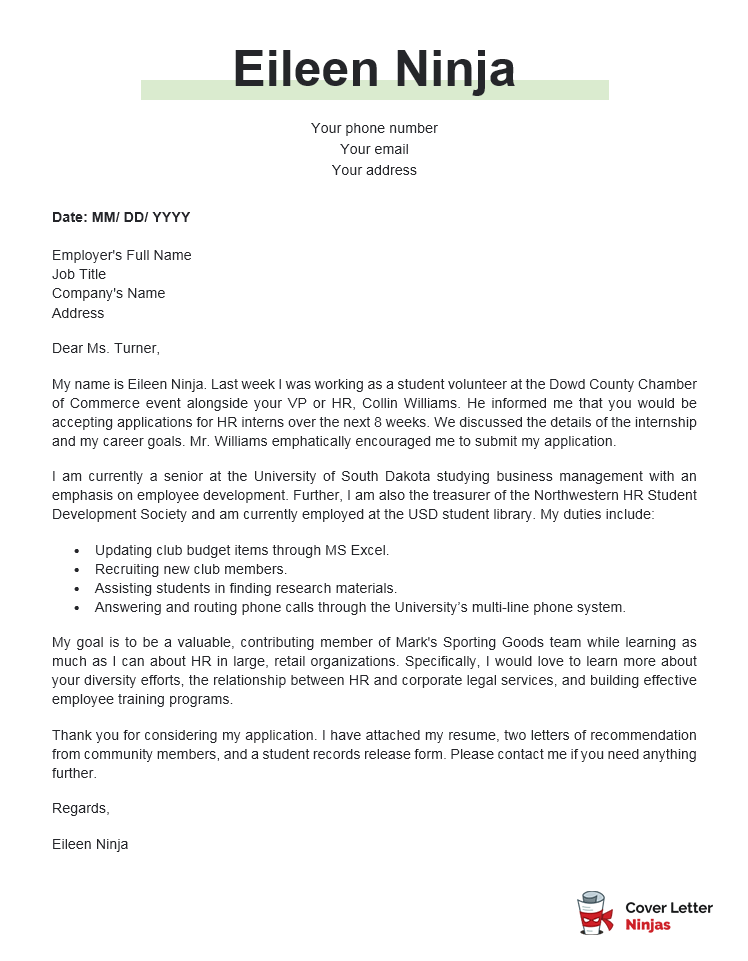 Download example (Word version)
HR Internship Cover Letter Example – Text Format
Dear Ms. Turner,
My name is Eileen Ninja. Last week I was working as a student volunteer at the Dowd County Chamber of Commerce event alongside your VP or HR, Collin Williams. He informed me that you would be accepting applications for HR interns over the next 8 weeks. We discussed the details of the internship and my career goals. Mr. Williams emphatically encouraged me to submit my application.
I am currently a senior at the University of South Dakota studying business management with an emphasis on employee development. Further, I am also the treasurer of the Northwestern HR Student Development Society and am currently employed at the USD student library. My duties include:
Updating club budget items through MS Excel.
Recruiting new club members.
Assisting students in finding research materials.
Answering and routing phone calls through the University's multi-line phone system.
My goal is to be a valuable, contributing member of Mark's Sporting Goods team while learning as much as I can about HR in large, retail organizations. Specifically, I would love to learn more about your diversity efforts, the relationship between HR and corporate legal services, and building effective employee training programs.
Thank you for considering my application. I have attached my resume, two letters of recommendation from community members, and a student records release form. Please contact me if you need anything further.
Regards,
Eileen Ninja
Final Tip: Remember You'll be Held to High Standards
Anyone applying for an HR internship will be expected to understand the importance of submitting a quality resume and cover letter. Please review all of your application documents carefully to ensure you haven't made any mistakes or missed any important details.